Today, we're pleased to present a guest contribution by Rob Fairlie Professor of public policy and economics at UCLA.
 Federal, state and local governments spend billions of dollars each year on incubators, training programs, loan programs, tax breaks, and investor incentives to encourage business formation with one of the primary goals being to create jobs. However, these expenditures are often made without knowing whether these programs create lasting, decent-paying jobs.
Over the past seven years, I have been working on a project at the U.S. Census Bureau with Zachary Kroff, Javier Miranda and Nikolas Zolas to provide a new set of statistics on job creation and survival using all business startups. The findings were recently published in a book of entitled, "The Promise and Peril of Entrepreneurship: Job Creation and Survival among US Startups" with MIT Press. https://mitpress.mit.edu/9780262545358/the-promise-and-peril-of-entrepreneurship/
Two summary statistics from federal government releases on startup job creation and survival rates are often highlighted – each startup creates 6 new jobs on average, and 50 percent of startups survive up to 5 years. But those numbers focus only on new businesses with employees. Millions of businesses start with no employees every year and a small percentage of them ever reach the hiring stage.
We find that job creation per startup is much lower than federal statistics on new employer businesses that are typically quoted. We find that each startup in the United States creates from 0.7 to 2.6 jobs in the first year after startup – numbers that are much lower than 6 jobs per startup. We also find lower survival rates for startups. A large shakeout occurs in the first few years, leading to only 33-45 percent of startups surviving after five years.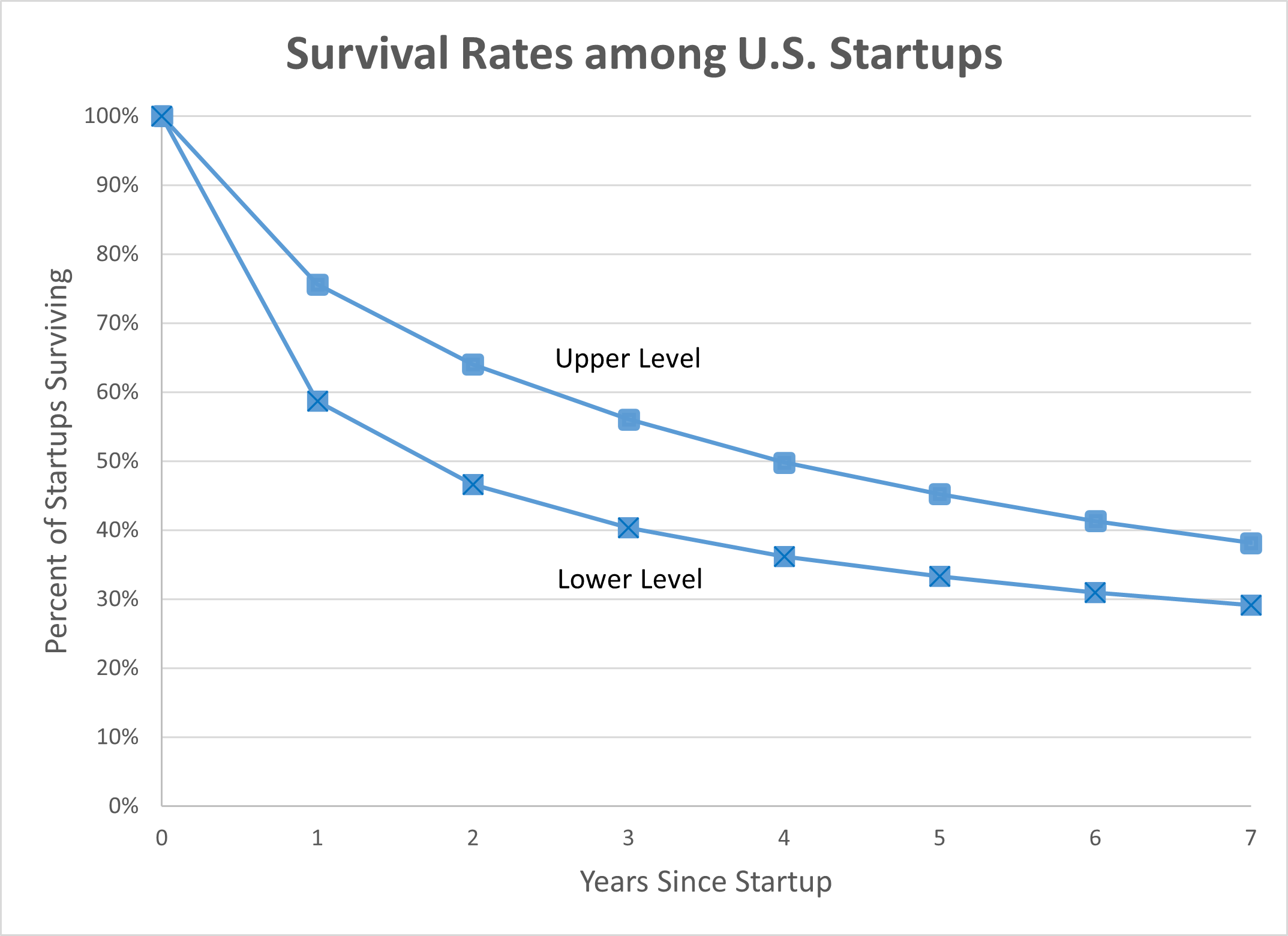 Figure 1.
Startups, however, are still very important for job creation in the U.S. economy. The average annual cohort of 4.1 million startups in the United States creates a total of 3.0 million jobs in the first year after startup and employs 2.6 million workers five years later. Without these jobs created by startups, net job creation would be negative as older businesses lose jobs on average.
We hope that these new findings make it clear that public policies attempting to spur business creation need to consider the wide variety of businesses types and entrepreneurs, and be realistic about how many jobs can be created by new entrepreneurs.
---
This post written by Rob Fairlie.