I'm not of the mind that a recession is going to be avoided, despite increasing confidence this will be the outcome. However, it is hard to find indicators the recession is here, even when looking at measures Steve Kopits (of 2022H1 recession fame) has mentioned.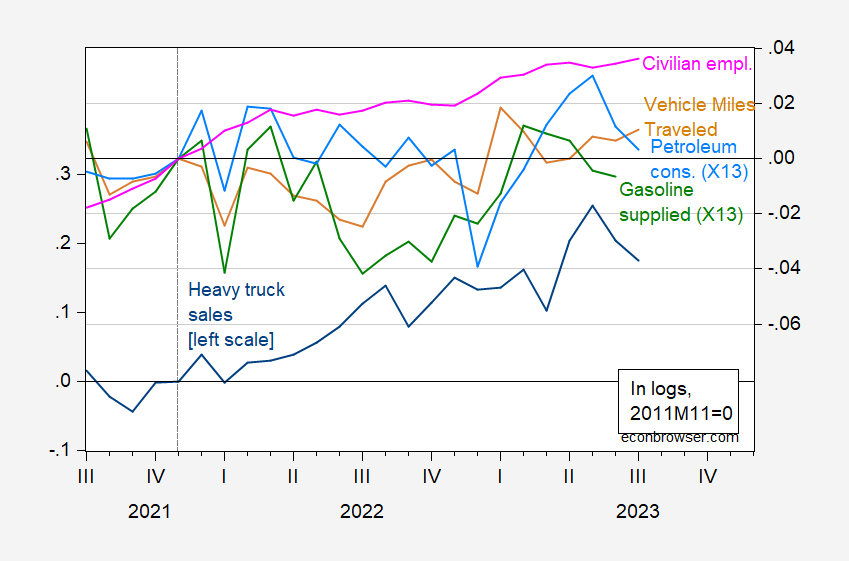 Figure 1: Heavy truck sales (blue, left log scale), civilian employment from CPS (pink, right log scale), Vehicle Miles Traveled (tan, right log scale), Petroleum Consumption seasonally adjusted by author using Census X13/X11 ARIMA (light blue, right log scale), and Gasoline Supplied s.a. by author (green, right log scale), all 2021M11=0. Source: Census, NHTSA, EIA via FRED, EIA STEO, and author's calculations. 
As discussed in other posts, VMT and petroleum related measures have not been very useful in predicting NBER-defined recessions [1] [2] [3]. I think that these measures have also become less informative as work-from-home has increased in prevalence. Civilian employment, which Mr. Kopits also mentioned, (and which most macroeconomists agree has lower signal-to-noise ratio than NFP) is still rising.
Heavy truck sales is still strongly positive relative to 2021M11, although it is way off recent peak (by 7 percent).
While the Sahm rule indicator rose, it too (at 0.13) is still far below the trigger threshold (0.50).
I had wanted to add in SPAM sales, which I see some people refer to, but could not find a time series.