The BEA has released a new quarterly Gross State Product (GSP) series for states — a tremendous innovation for those of us interested in tracking state economies.
One interesting comparison is Minnesota vs. Wisconsin. With GSP data, one can look at the ratio of per capita income expressed in Chained 2009$ (rather than the ratio of indices, as I have been doing using the Philadephia Fed data, e.g., [1]).
Here is the log ratio: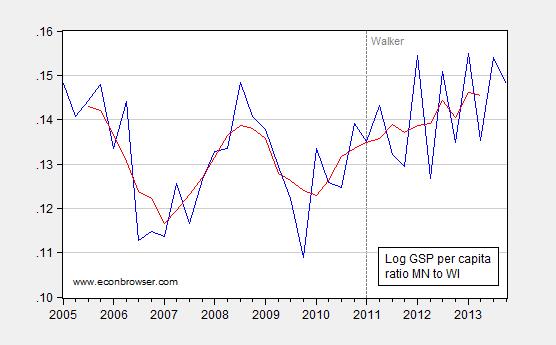 Figure 1: Log ratio of GSP per capita of Minnesota to Wisconsin (blue) and five quarter centered moving average (red). GSP in Ch.2009$, SAAR; population is annual resident population, interpolated using quadratic match average. Source: BEA, FRED, and author's calculations.
Notice that Minnesota starts moving up and away from Wisconsin around 2011. That's eyeballing. Using a structural break test (n-step ahead recursive residuals test) confirms that conjecture.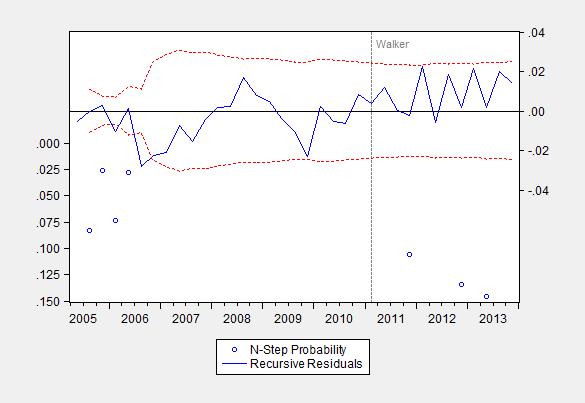 Figure 2: n-step ahead recursive residuals test for constant percent difference in MN and WI per capita income.
There is a break with borderline significance indicated at 2011Q4.The recursive residuals indicate that Minnesota per capita income has been statistically significantly higher than Wisconsin since end 2011 (equivalently, Wisconsin's per capita income lower than Minnesota's).
Update, 8:45AM Pacific, 8/23: Louis Johnston also delves into the new quarterly data series, focusing in with much greater detail on Minnesota.