Today, we are pleased to present a guest contribution written by Laurent Ferrara (Banque de France, Head of the International Macro Division) and Clément Marsilli (Banque de France, Economist in the International Macro Division). The views expressed here are those of the authors and do not necessarily represent those of the Banque de France.
---
The latest update of the IMF WEO report has been released on April 12, 2016, and can be downloaded from the IMF web site (for a summary see also this Econbrowser post here). The salient fact of this report is that global GDP growth in 2016 has been revised downwards by -0.2pp years, from 3.4%, as assessed in the WEO update of January 2016, to 3.2%. Those revisions are quite homogeneous across countries (-0.2pp for both advanced and emerging/developing countries), although some commodity-exporters countries are more impacted.
Unfortunately, this is not the first time that IMF forecasts are revised downwards; it seems to be a stylized fact since 2011 (see Figure 1 below).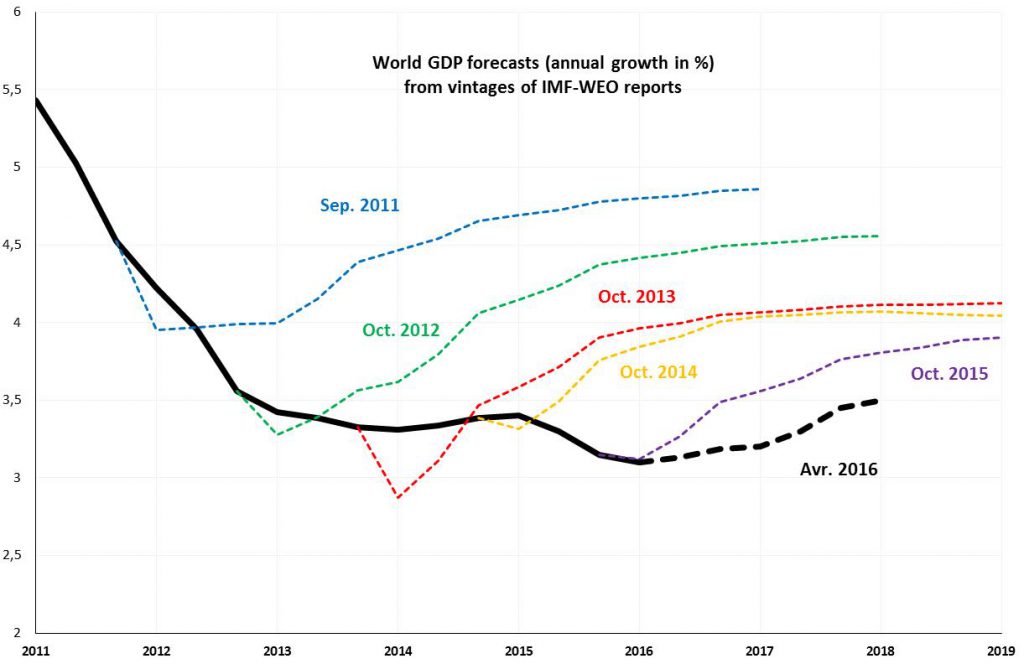 Figure 1: Evolution of IMF-WEO forecasts for world GDP (annual growth in %). Source: IMF-WEO
Remember that the first time the GDP growth rate for the year 2016 was predicted was in the WEO report published in April 2011: the estimated value was about 4.7% (see Figure 2). This large revision of 1.5 pp between April 2011 and April 2016 is mainly due to emerging countries (from 6.8% in to 4.1%), while forecasts for advanced economies were only moderately revised (from 2.4% to 1.9%). In fact, it seems that one of the major issues for forecasters was to integrate the structural shift in emerging economies, mainly in China, and to realize that the slowdown was more structural than conjunctural and was thus likely to persist.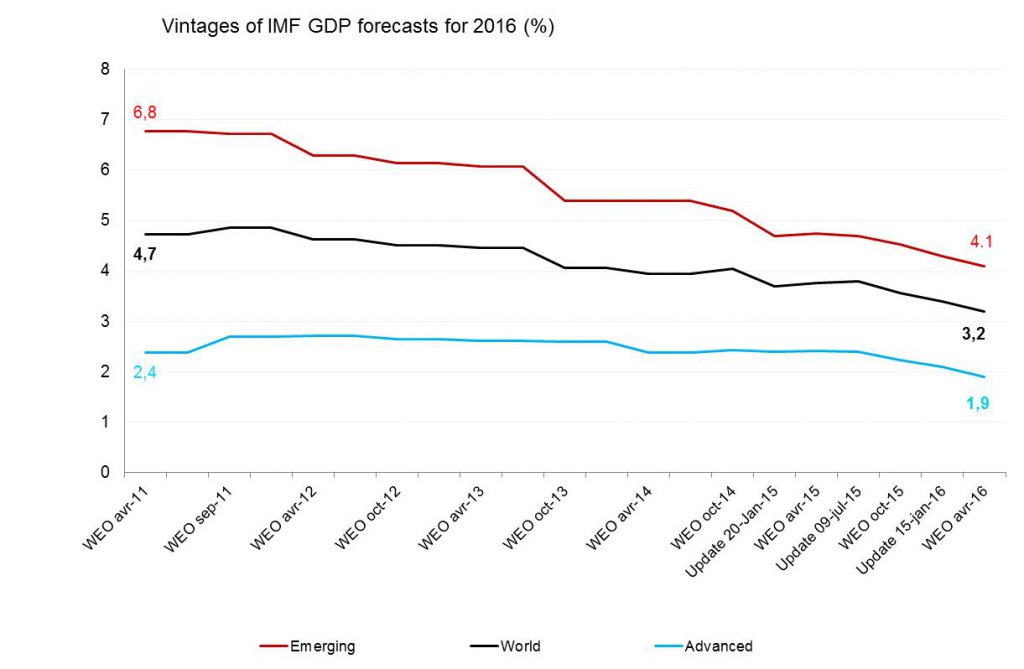 Figure 2: Vintages of IMF-WEO forecasts for world GDP in 2016 (annual growth in %). Source: IMF-WEO.
Against this background, one may wonder where the global economy is heading. Are we going to continue to follow this pattern of systematically downgrading economic growth? We recently developed a tool to monitor in real-time the global GDP growth on a high-frequency basis using a large database and recent econometric models (see a summary on Econbrowser). The latest results have been published in a Banque de France economic letter and show that with data used until April 4, the world GDP growth rate is estimated to be at 2.9%. This nowcast for 2016 is below IMF estimates, but close to OECD value estimated at 3.0%. Thus, the IMF estimation of world GDP could be revised downwards in the coming months, taking it to its lowest level since 2009.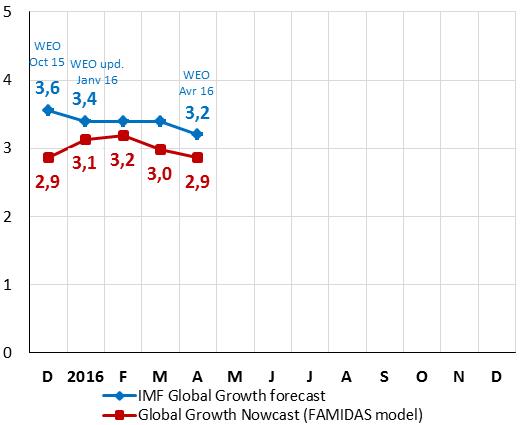 Figure 3: Nowcasts for world GDP in 2016 (annual growth in %). Source: Ferrara and Marsilli (2016), Rue de la Banque No. 23, Banque de France, April 2016.
This assessment has been reinforced by the recent GDP release for the US economy in Q1 2016 (see comments on Econbrowser here). The first GDP figure estimated by the BEA is about 0.5% (annual rate) for Q1, below expectations and well below growth rates observed in previous quarters. Today, the carry-over for 2016 is about 0.9%, meaning that it will likely be difficult to reach the IMF forecast of 2.4%. Two nowcasting tools for the US economy have been developed by the Atlanta Fed (GDPNow) and the NY Fed (FRBNY Nowcast). Both indicators point to a moderate GDP growth for Q2: The NY Fed estimates a GDP growth of about 0.8% (with data up to April 29) while Atlanta Fed is a bit more optimistic and nowcasts a GDP growth of 1.8% (with data up to May 2).
Looking forward, a key issue for international economists is to assess whether this sluggish global growth is likely to persist in upcoming years. In a recent FT post, Olivier Blanchard acknowledges that this slow growth is "a fact of life in the post-crisis world". Indeed, it seems that the catching-up process of some large emerging countries comes to an end while we cannot expect in the upcoming months a huge boost to global growth stemming from more mature economies. A least in the short-run, it seems that the global economy is expected to grow below the pace of the pre-Global Financial Crisis period (around 4.5% on average over 2000-07).
---
This post written by Laurent Ferrara and Clément Marsilli.