Or statistical incompetent, just for the record for the new year.
Since reader Rick Stryker is still busily trying to defend lying in the cause of a deeper truth, let me document fully the mendacity of Stephen Moore. On May 31st on CNN, he states the budget deficit is $1 trillion.
Here are actual data on actual budget deficit as reported by the Office of Management and Budget (bold blue).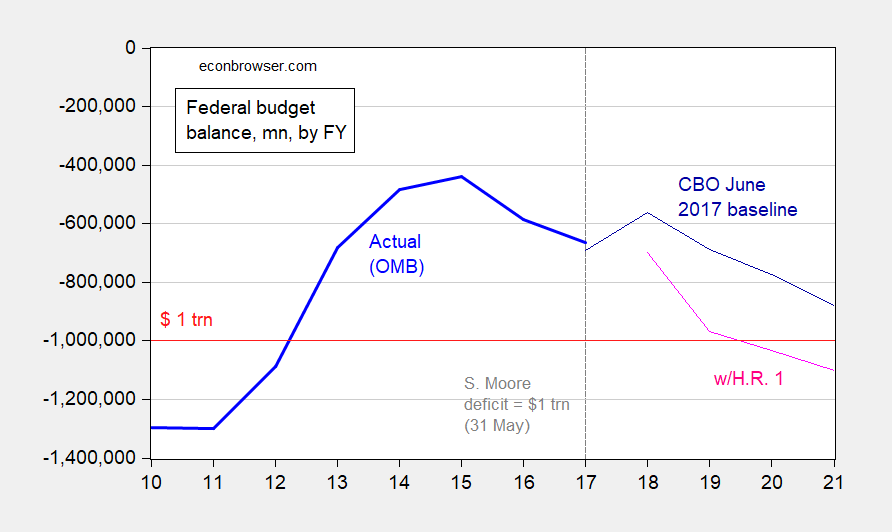 Figure 1: Federal budget balance as reported by OMB (bold blue), and CBO projection (dark blue), and implied budget balance under HR 1 Tax Cuts and Jobs Act (pink), in millions of dollars by fiscal year. Source: OMB via FRED, CBO.
Rick Stryker today leaps to Mr. Moore's defense to write:
Menzie accused Steven Moore of being a liar or statistically incompetent (or both) since Moore said that the last time he checked the deficit was $1 trillion but in fact the budget deficit is on the order of $600 billion. Here, Menzie was making the incorrect assumption that the budget deficit is always an accurate estimate of the change in borrowing actually performed by the Treasury and that therefore the budget deficit is the only legitimate way to measure that change.
Since I was listening to CNN, I think I know what I heard (as opposed to mind reading Mr. Moore, and asserting he meant Federal borrowing) — he said budget deficit. For this, there is an official definition, one that OMB reports, CBO uses, etc. But if you doubt me, here is the exact quote from a transcript:
MOORE: Because, the reason is that the rest of the world wants our money. And that is all about financing a climate change industrial complex around the world, and we're the ones who are going the fund it. And last time I checked, we have a trillion-dollar budget deficit and we don't have the money to send to all of the countries.
Apparently Mr. Moore had not checked for some four years, if we are to take this statement at face value. (Of course, Rick Stryker will assert this transcript is "fake news" since it came from CNN). Do note, he says "budget deficit", not Federal borrowing…if we are to believe CNN (and my recollection).
But let's say borrowing is what he meant. Well, as of 2017Q3, the one year change in Federal debt held by the public (so matching FY2017) was $504 billion — still short of a trillion dollars. Let's give Mr. Moore a break, and remember he made the comment on May 31st. As of the end of 1st quarter, the one year change was $445 billion. For me (I don't know what kind of math other people use), that's a lot less than $1 trillion.
So, prepare for more alternative facts, alternative definitions, mind-reading, general dissemblement and other mental gyrations in defense of lying in the new year. It's already started.
Addendum: Rick Stryker writes I should apologize to Stephen Moore for misrepresenting his comments. He writes:
…I feel compelled to point out that on this New Year's Day that a good New Year's resolution for you would be to put up a (very long) special post apologizing to everyone you attacked with mistaken analysis over the previous year. You could start the post by apologizing to Stephen Moore. …
Let's take a poll — how many agree with Rick Stryker?