Ever since the Walker Administration ended the issuance of the Wisconsin Economic Outlook (last issue May 2015), those of us outside of the government have been a little in the dark when trying to assess state level economic conditions in a systematic manner. In a recent paper (updated version 8/1), Ryan LeCloux and I assess how various macroeconomic aggregates track the Wisconsin economy at higher-than-annual frequency. Investigating the behavior of these series yields the following graph.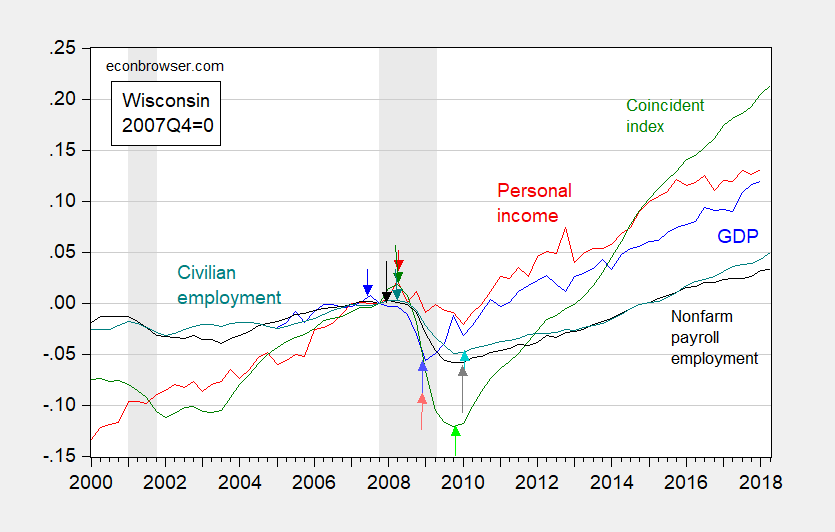 Figure 1: Wisconsin Real GDP (blue), real personal income (red), coincident index (green), nonfarm payroll employment (black) and civilian employment (teal), all in logs, normalized to 2007Q4=0. Dark arrows (↓) denote peaks, light arrows (↑) denote troughs. NBER defined national recession dates shaded gray.
GDP peaks 2007Q3, a bit before nonfarm payroll employment (2008Q1), and coincident index, personal income and civilian employment (2008Q2). The trough is identified at 2009Q1 by GDP and personal income, and at 2009Q4 by the coincident index, and 2010Q1 by both employment series. Hence, regarding turning points, there is a high degree of coherence between the various series, at least insofar as Wisconsin is concerned.
What jumps out from the figure is that the coincident index trends differently that GDP, despite the fact that the trend component of the coincident index is calibrated to match that of GDP. The series might differ in practice because we are plotting a fairly short span of GDP (the period for which we have quarterly state GDP).
In our paper, we estimate the sensitivity of real state GDP growth (measured at national prices) to coincident index growth at 0.29 (signficantly different from zero at the 5% level, using HAC robust standard errors). From the trough in GDP onward, the sensitivity of GDP growth to index growth is 0.28 (significant at 5%); from the trough in the coincident index, the sensitivity is not statistically different from zero, unless the constant term is constrained to zero (the null of zero on the constant can't be rejected at the 10% level).
One thing to recall that these assessments are made with a mix of revised and unrevised data, in a way consistent with how the NBER Business Cycle Dating Committee makes decisions regarding turning points sometimes long after the turning point has occurred. In order to call turning points in real time, we'd need to be able to measure at even higher frequency than quarterly, or be able to assess the relationship between different vintages of quarterly state GDP and the other variables, or both. That's work we're contemplating for future research.
In the meantime, we can assess what the coincident index, nonfarm payroll and civilian employment numbers suggested back in September 2008…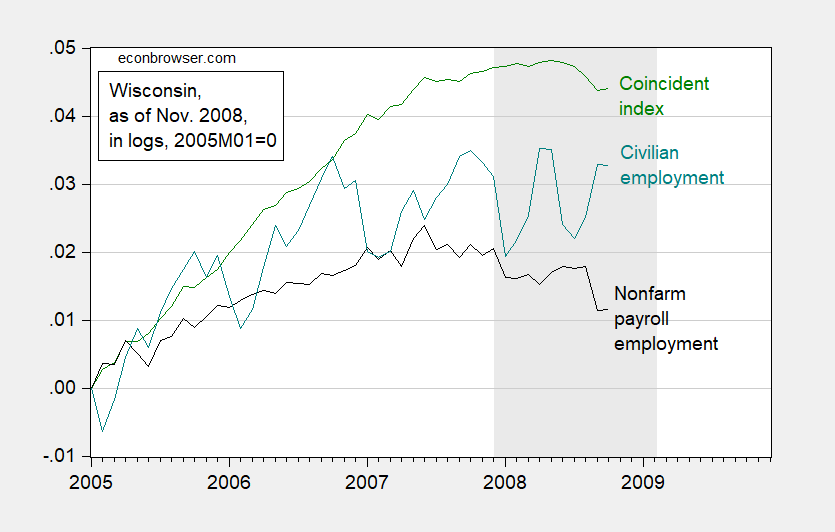 Figure 2: Wisconsin coincident index (green), nonfarm payroll employment (black) and civilian employment (teal), in logs 2005M01=0, as of November 2008. Civilian employment calculated using seasonally adjusted unemployment rate and labor force. Source: ALFRED, and author's calculations.
As the graph clearly shows, despite substantial revisions to these series since 2008, the data as of November 2008 indicated a slowdown and possible recession was underway. The one ambiguous reading comes from the household survey based civilian employment series, due to its high volatility. That argues for relying more on the payroll survey-based series, and indicators based on those series (like the coincident index). For more on the household series, see this post.