I'm talking Stephen Moore. From CNN Business (1/24):
… the December Consumer Price Index number released earlier this month showed that prices declined by 0.1% over the previous month. Granted, it was a small decline over a period of just one month, but when prices fall, that's called deflation.




Moore has used judicious rounding. The exact calculation based on the level of the index itself, the month-on-month (m/m) decline is 0.06%, and on an annualized basis 0.7%. More to the point, the 0.06% decline should be placed in the context of the variability of the CPI, which on a m/m basis is 0.26 percentage points (standard deviation, over the Great Moderation period, 1986-2018). In other words, this is nowhere near a statistically significant decline.
Hence BLS notes report:
Users should exercise caution when using CPI estimates to make inferences about index changes for relatively short time periods, for individual goods and services, or for local areas. The standard errors of those estimates may be on the same order of magnitude as the estimates themselves; and, thus, few inferences about them are reliable.
What about longer horizons? Annualized year-on-year and quarter-on-quarter inflation rates are 1.9% and 1.2% vs. annualized m/m -0.7%…
I think Mr. Moore, had he learned some macroeconomics and statistics, would be advised to consider the correlation between the dollar and commodity prices, as discussed here.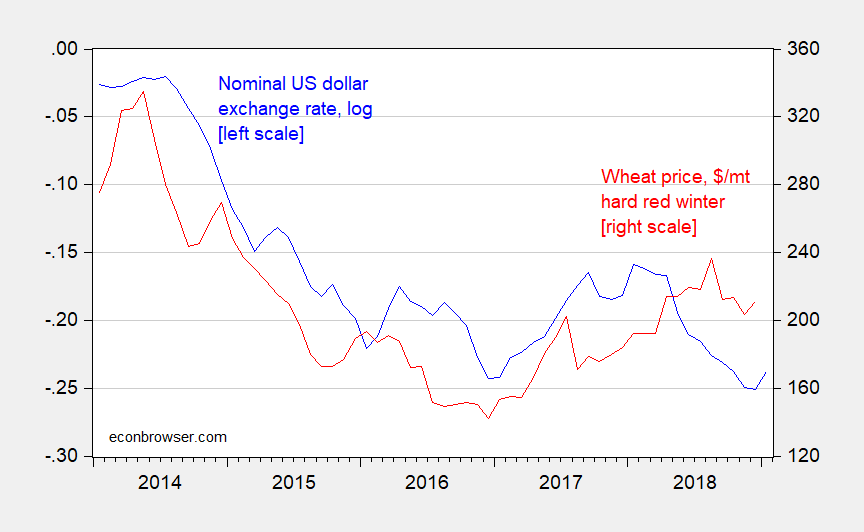 The evidence that commodity price shocks lead to sustained inflation effects is weak; for recent analysis, see here.
Bottom line: CNN – fire Stephen Moore.