Almost exactly 12 years ago, I noted the decline in equipment and software investment and the contemporaneous plateauing of capital goods imports, and repeated my worries in mid-June. At the time, I didn't dare suggest an impending recession. Jim Hamilton (in July) warns "All of which is a reminder that the latest GDP numbers do not prove that we're out of the woods yet" as the recession probability indicator rises to 26.2%.
I was reminded of these developments as I read over the 2019Q1 GDP release Jim discussed in Friday's post. Here is what I found of interest.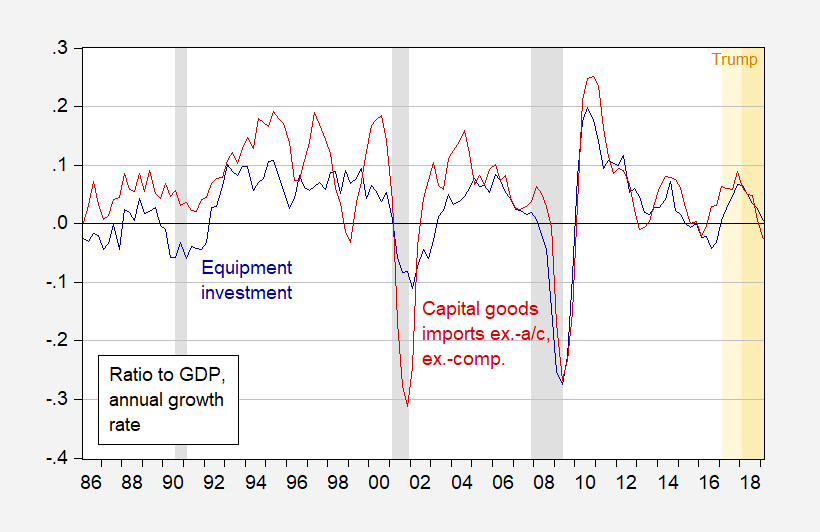 Figure 1: Equipment investment (dark blue), and capital goods imports excluding aircraft and computers (red), four quarter change  as log ratio to GDP, all in 2012Ch.$. NBER defined recession dates shaded gray. Light orange denotes Trump administration. Orange denotes TCJA in effect. Source: BEA 2019Q1 advance, NBER, and author's calculations.
Capital goods imports (as a share of GDP) growth is now below zero, while equipment investment growth is at zero. Concurrent negative growth rates signalled the beginning of the 2001 recession, and the worst part of the 2007-09 recession. Of course, concurrent negative growth also signalled the mini- (but not actual) recession of 2016 (2015Q3).
Estimating a probit regression using the investment variable as coincident (not leading) variable, one obtains (1986Q1-2019Q1):
Pr(recession) = –1.57 – 12.05dinvgdp + u
McFadden R2 = 0.36, n = 127. bold denotes significance at 5% msl.
The current implied probability of recession as of 2019Q1 is 5%; in 2007Q3 (using latest revised data), the probability was…4%.