Accompanying the release of the President's budget (link corrected 3/5 1:20) was the Administration's forecasts, including forecasts of GDP. These forecasts are produced by the Troika (Treasury, CEA, OMB). Some observers have asked "Is the White House's 3.1% growth forecast still too rosy?". Time for some comparisons.
Figure 1 depicts the Administration's forecast as well as the CBO's.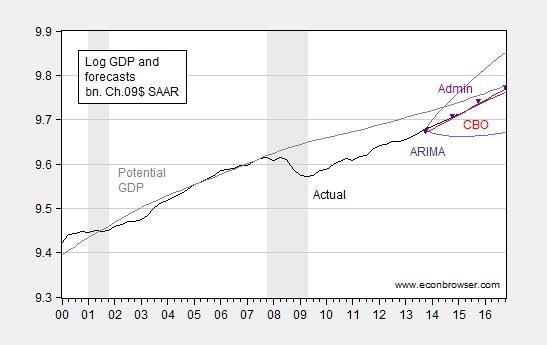 Figure 1: Log GDP (black), ARIMA(1,1,1) forecast (blue), plus/minus 2 se band (light blue lines), CBO February forecast (red), Administration forecast (purple inverted triangles), and CBO estimate of potential GDP (gray). Note that Administration forecasts of level of GDP are calculated using growth rates, and level of GDP available at the time of finalizing forecasts in mid-November. Source: BEA, various GDP releases, CBO Budget and Economic Outlook (February 2014), President's FY2015 Budget (March 2014), Table S-12, and author's calculations.
Through 2014, the Administration's forecast is virtually indistinguishable from CBO's, and for that matter from those of the Philadelphia Fed Survey of Professional Forecasters' median forecast (not shown). Looking forward to the end-2016, the Administration forecast for the level of GDP is 0.4 percentage points higher than that of the CBO's (log terms).
In Figure 1, I have also plotted a dynamic forecast of an ARIMA(1,1,1) estimated over the 1967Q1-2013Q4 period, along with a plus/minus two standard error band. Relative to this forecast, the Administration is slightly more optimistic, with the gap in levels at 1.1% by end-2016. However, the difference is not particularly large given the size of the standard errors accompanying the ARIMA forecast.
Previous discussions of forecasts here and here.
Update, 3/5 8PM: W.C. Varones apparently believes that the past fifty years record of rising credit-to-GDP is anomalous, and we will soon revert to a long term trend in decreasing credit-to-GDP ratios. This could happen, but I'm dubious. Figure 2 below highlights this point.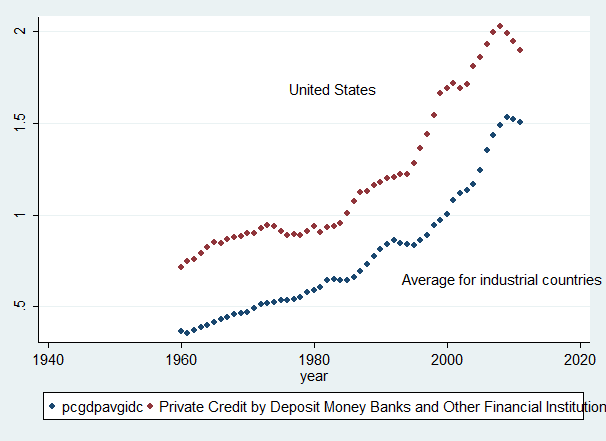 Figure 2: Ratio of private credit to GDP for US (red) and average across industrial countries (blue). Source: IMF International Financial Statistics.
Deleveraging has occurred in the past; but the episodes have ended, and the rising ratios have continued, at least over the past half century plus.