From Zeng and Wei in the Wall Street Journal today:
Central banks around the world are selling U.S. government bonds at the fastest pace on record, the most dramatic shift in the $12.8 trillion Treasury market since the financial crisis.
The article continues:
many investors say the reversal in central-bank Treasury purchases stands to increase price swings in the long run. It could also pave the way for higher yields when the global economy is on firmer footing, they say.

…

Foreign official net sales of U.S. Treasury debt maturing in at least a year hit $123 billion in the 12 months ended in July, said Torsten Slok, chief international economist at Deutsche Bank Securities, citing Treasury Department data. It was the biggest decline since data started to be collected in 1978. A year earlier, foreign central banks purchased $27 billion of U.S. notes and bonds.
Using estimates in Kitchen and Chinn (2012), we can calculate the increase in yields that have already occurred. Table 1 presents estimates from a regression of ten year yields on the cyclically adjusted budget surplus, Fed purchases and foreign purchases (plus activity variables).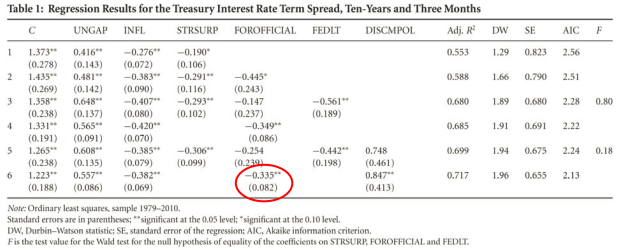 Source: Kitchen and Chinn (2012)
Constraining the slope coefficient on these three variables to be equal (after sign switches), we obtained a point estimate of 0.335 (circled in red).
Potential GDP according to CBO in 2015Q2 was $18425 billion (SAAR). The ratio of net sales to potential GDP is thus is 0.0067 (0.67%) Using our estimate of 0.335, I get an elevated ten year yield of 0.22 percentage points relative to what otherwise would have occurred.
None of this should be too surprising; back in April, I pointed out that foreign exchange reserves (of which 60% of emerging market/LDC holdings are in US dollars) were declining.
For those who are attracted to apocalyptic views (e.g., here), a $1 trillion net sale of Treasurys would result in a 1.82 percentage points increase in yields (0.0543 ratio to potential GDP times 0.335, indicating a 1.82 ppt increase). That being said, there are other downward forces on yields, including deficient aggregate demand (aka secular stagnation).
Nonetheless, the prospects for upward pressure on long term yields (on top of the appreciated dollar) suggests caution in tightening monetary policy.