There are various ways of estimating potential output. I typically refer to the CBO's estimates, which are basically a production function approach (use trend labor and capital stock, and total factor productivity growth, to infer potential output). However, An alternative is to examine price pressures to infer potential output, as in Ball and Mankiw (JEP, 2002).
This is a particularly critical question, given the debate over the desired Fed funds rate, even when just operating within the Taylor rule framework, as discussed in this post.
There are a variety of other methods than the CBO's (which is essentially a production function approach), including statistical detrending methods such as the Hodrick-Prescott filter (see [1] [2] [3]). Here, I am going to use economics to infer the output gap and hence the level of potential GDP, i.e., exploiting the expectations-augmented Phillips curve, as recounted in this post.
The methodology follows that forwarded by Ball and Mankiw (JEP, 2002), which involves inverting a simple expectations-augment Phillips Curve (without supply shocks, but allowing for random shocks), and assuming adaptive expectations (consistent with the accelerationist hypothesis).
(1) πt = πet – a(Ut-U*t) + vt
(2) Δ πt = a U*t – a Ut + vt
(3) U*t + vt/a = Ut + Δ πt/a
Notice that NAIRU plus a random error is equal to actual unemployment plus the change in inflation divided by a. This suggests that NAIRU can be estimated by filtering the object on the right side of the last equation.
I follow the same procedure, replacing NAIRU with potential GDP, and using core personal consumption expenditure deflator inflation (q/q at annualized rates) for π.
(4) y*t – vt/a = yt – Δ πt/a
I estimate the analogous a parameter over the 1967Q1-2002Q4 period (so I'm assuming the accelerationist model holds over this sample); the estimate I obtain is approximately 0.08. (See this post for an earlier implementation.) I then make two assumptions. First, that adaptive expectations hold, and second that expected inflation equals 2% over the 2003Q1-2015Q3 period — which is pretty close to the average 1-year-ahead CPI inflation rate reported by the Survey of Professional Forecasters over this period, as discussed in this post. In other words, in this second case, I am assuming that inflation expectations are now well-anchored. Hence, the variable on the RHS of (4) is:
(5) yt – (πt-0.02)/a
I then HP filter this variable using the default smoothing parameter for quarterly data suggested by Hodrick and Prescott, to obtain an estimate of potential GDP shown in Figure 1, with green line corresponding to adaptive expectations and red line to anchored.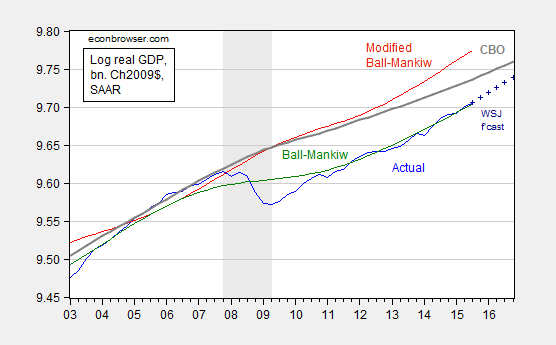 Figure 1: Log GDP (blue), mean forecast from October Wall Street Journal survey (dark blue +), potential GDP as estimated by CBO (gray), and an estimate of potential GDP estimated by use of a modified Ball-Mankiw (2002) method under accelerationist assumption (green), and under anchored inflation expectations (red), all in bn.Ch2009$ SAAR. NBER defined recession dates shaded gray. Source: BEA 2015Q3 advance release, CBO, An Update to the Budget and Economic Outlook (September 2015), NBER, and author's calculations.
The CBO estimate of potential implies an output gap of -3.2% (in log terms) at 2015Q3. Using the October Wall Street Journal survey estimate for growth over the next year, the gap will still be -2.1% as of 2016Q4! Now, if one believes that the simple accelerationist model of inflation holds (i.e., today's inflation rate equals last period's), then the output gap is essentially zero. However, if one believes that inflation expectations are pretty well anchored at 2% (which seems reasonable, given Figure 1 in in this post), the the output gap is nearly -7%! That seems implausible to me, but then, so too does a nearly zero gap, given the lagging inflation rate.