That's the first line of an op-ed published Monday. In other news, Wisconsin nonfarm payroll employment (NFP) and private nonfarm payroll employment is decreasing. And NFP lagging what should be the case if the historical correlation between national and Wisconsin employment held, after Governor Walker's inauguration.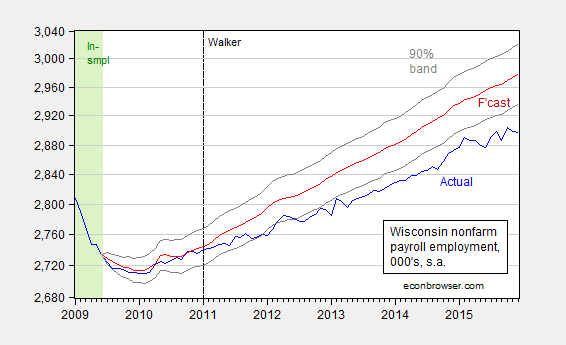 Figure 1: Wisconsin nonfarm payroll employment (blue), forecast from error correction model estimated over 1990M03-2009M06 (red), and 90% confidence band (gray lines), all on log scale. Dashed line at 2011M01 when Walker takes office, and light green denotes sample period. Source: BLS, author's estimates (as described here).
2015 was the year that witnessed the slowest increase in private NFP employment, and the slowest growth rate, since the end of the last recession.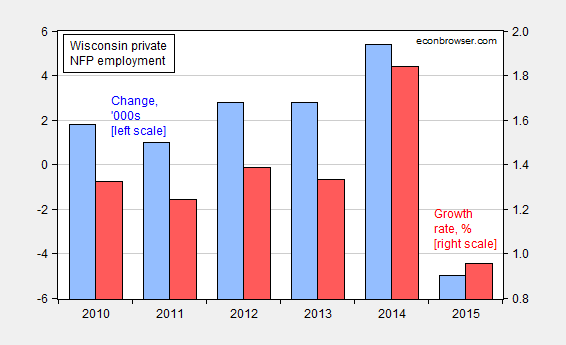 Figure 2: Wisconsin private NFP growth, in levels, 000's (blue bar, left scale), and percent (red bar, right scale). Source: BLS, DWD, author's calculations.
And 2015 was the year in which mass layoff notifications jumped.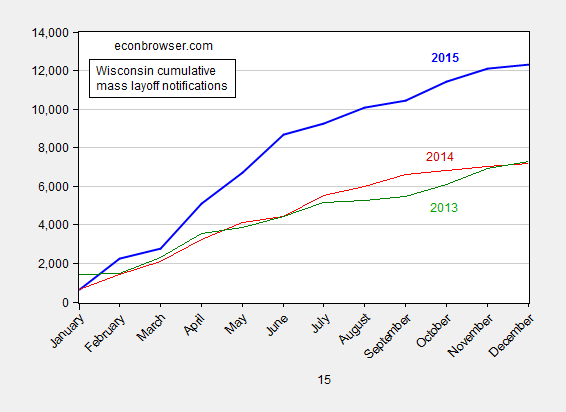 Figure 3: Wisconsin cumulative mass layoff notifications by end-month, for 2015 (bold blue), 2014 (red) and 2013 (green). Source: DWD and author's calculations.
Makes one wonder what it looks like when the state of the state is weak.