The Kauffman Foundation has just released its report on startup activity. Wisconsin comes in last place in startup density.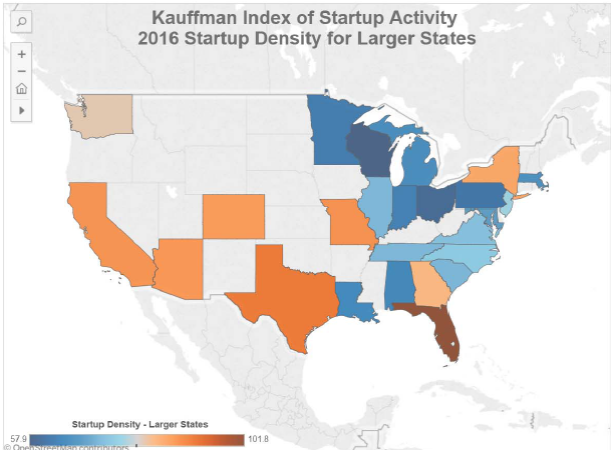 Figure 1: Source: Kauffman Foundation.
From the Milwaukee Journal Sentinel:
For the second year in a row, Wisconsin has earned a bottom-of-the-barrel ranking for start-up business activity, a new report says. Whether that's as bad as it sounds or simply an unfairly skewed way of looking at the state's economy depends on the beholder.

According to the report released Thursday by the respected Ewing Marion Kauffman Foundation, start-up activity in the U.S. overall rose in 2016 for the second year in a row. But among the 25 largest states, Wisconsin came in either last or second-to-last in each of the three categories the foundation evaluated.

…

Walker is committed to providing tools that ensure businesses' long-term success once they're up and running, Evenson said. Those tools include a tax credit for investors in qualified early-stage businesses, a micro-grant program that helps technology start-ups get federal R&D funding, an entrepreneurial training program on University of Wisconsin System campuses, and seed grant and accelerator programs.

WEDC, the state's commerce agency, also plans to launch a program in the next few weeks to support "entrepreneurial assistance efforts," Evenson said.

State policymakers, however, have drained funding from the start-up tax credits, said Joe Kirgues, a co-founder of gener8tor, which runs training programs for start-ups. They have also pursued additional cuts to the UW System and tried to pass stiffer non-compete legislation to further limit the supply of entrepreneurs, he said.

"The formula to turn around our job-creation performance includes a stronger UW system, the elimination of non-competes in Wisconsin and strengthening start-up tax credits to encourage additional investment in Wisconsin's entrepreneurs," Kirgues said. "Unfortunately, none of those things happened last year, and these rankings reflect the status quo."
Given past performance, I have little faith in WEDC accomplishing much in this arena (see e.g., [1]). I also do not see a turn-around in the Governor's approach to funding the UW system that would suggest a move toward strengthening the system.