From Politico's Morning Trade:
RAPID PACE OF STEEL PROBE DISCONCERTING: Some Democratic lawmakers could soon press the administration over concerns that a potential Trump decision to restrict steel imports to protect national security could be challenged at the World Trade Organization if the Commerce Department does not provide a convincing basis for any action, Morning Trade has learned.
The United States last used the Section 232 law to consider restricting imports in 2001, at the request of two congressmen. In that investigation, the department recommended President George W. Bush not curb imports of iron ore and semi-finished steel products because U.S. national security requirements were "easily satisfied by current domestic production, and could continue to be satisfied domestically" even if imports caused a further substantial decline in U.S. output.

The Bush administration held two public hearings and took eight months to complete that inquiry. It also sent surveys to about 175 U.S. iron ore and semi-finished steel producers and potential consumers, and conducted site visits at places associated with the production, shipment, and consumption of iron ore and semi-finished steel in California, Michigan, Minnesota, and Wisconsin.

The Trump administration has held one hearing in the current investigation looking at the possibility of restricting all steel imports and has been striving to complete the probe in less than three months. Trump also has indicated he plans to act quickly once he receives the Commerce Department's recommendations, instead of using the full 90 days allowed in the law to review the matter.
So, as I discussed in this post, the use of Section 232 is not your plain vanilla brand of protection. As Chad Bown has characterized it, it's the "nuclear option" of protectionist trade measures, likely to spur retaliation.
From Bloomberg:
[EU Trade Commissioner] Malmstrom said any general U.S. measure to limit steel imports would affect Europe dramatically, potentially threatening numerous jobs in the EU. A European response could entail a complaint to the World Trade Organization and "other things," she said.

"We will retaliate, of course," said Malmstrom, who declined to elaborate. She said that the European Commission, the EU's executive arm, is discussing the matter with member-state governments and that many of them have probably been in contact individually with the Trump administration. [Emphasis added]
Are the national security concerns valid? Not really, as discussed in this post. And will the measures hit China? Or will it primarily harm our allies? From WaPo:
Trump administration officials have argued that a spike in production by China has hammered the U.S. steel industry. They allege that China floods global markets with cheap steel, making it harder for U.S. producers to compete.

However, since the United States already imposes restrictions on Chinese imports of steel, any new barriers are likely to have more of an effect on close U.S. allies, such as Canada, South Korea, Mexico, Japan and Germany, said Chad Bown, a senior fellow at the Peterson Institute for International Economics.

Canada, for example, is the largest source of steel imports to the United States, providing 17 percent of all steel consumed here. …
So, our current allies will be most affected (well, in my interpretation; I suspect President Trump ranks Russia as a closer ally than Canada.)
In any case, aggregate statistics for the steel industry are already recovering.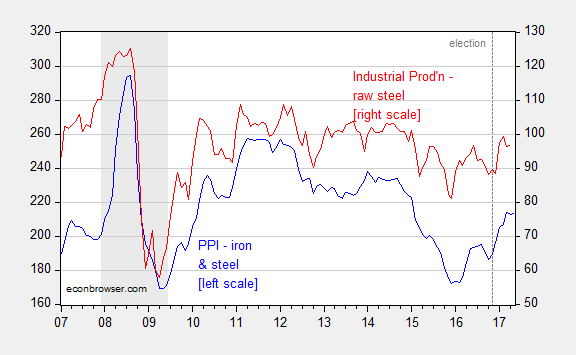 Figure 1: PPI for iron and steel (blue, left scale), and industrial production – raw steel (red, right scale). Source: BLS and Federal Reserve Board, via FRED.
In addition, the concept of effective rates of protection is important — to the extent that the resulting higher steel prices feed into the production chain, it'll harm the fortunes of steel consumers (e.g., tank producers).
But, I suspect that the Administration, eager to show that it can implement some sort of policy (where it has thus far been denied success in the dimensions requiring legislative action), will opt for show over substance.