In search of a "supply side success" after the end of the Kansas experiment, conservative observers turn to Wisconsin. The Manhattan Institute's Mr. Riedl declares victory:
Wisconsin's job growth over the past six years has been extraordinarily strong.
When last we met Mr. Riedl, he was explaining why fiscal policy could have no impact on GDP because, well, because. That does not augur well for his abilities an economic analysis, and indeed we can easily poke holes into the argument that Wisconsin's doing just great!
First, let's compare Wisconsin to its neighbor Minnesota (and the Nation). To paraphrase the President, "Sad!"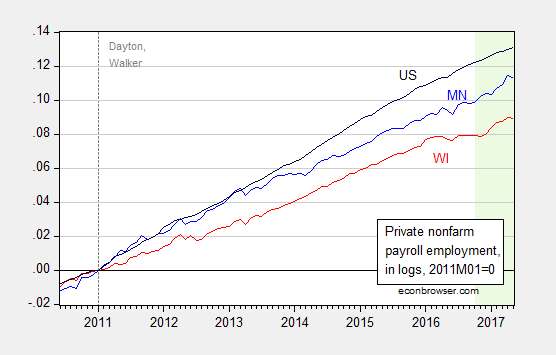 Figure 1: Log private nonfarm payroll employment in US (black), Minnesota (blue), and Wisconsin (red), all normalized to 2011M01=0. Light green shading denotes data not yet benchmarked to QCEW data. Source: BLS and author's calculations.
Note that the apparent surge in Wisconsin private nonfarm payroll employment in recent months is based on establishment survey data, not yet benchmarked (see this post). This is relevant because, while the BLS establishment survey provides the most accurate indicator of employment on a monthly basis, the nonfarm series can still be substantially revised, and previous surges have been "revised away", as discussed in this post.
Second, let's compare what Wisconsin private nonfarm employment looks like against a counterfactual based upon the historical correlation between US and Wisconsin log employment (nUS and n respectively). To do this, let's estimate an error correction model over the 1994M01-2010M12 period (so up until just before the Walker administrations):
(1) Δnt = -0.0036 – 0.036×nt-1 + 0.027×nUSt-1 – 0.178×ΔnUSt + one lag of first differences + ut
Adj-R2 = 0.65, SER = 0.0015, DW = 2.02, Obs.=204, sample 1994M01-2010M12. Bold face denotes significance at the 10% MSL, using HAC robust standard errors.
I then use this equation to dynamically forecast using ex post observations on national employment (this is sometimes termed an ex post historical simulation). I plot this forecast plus the 90% forecast interval against reported employment in Figure 2.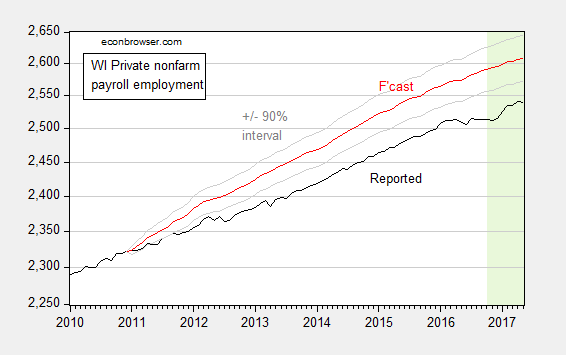 Figure 2: Wisconsin private nonfarm payroll employment, May release (black), and out-of-sample forecast (red), in 000's, s.a. 90% forecast interval (gray). On log scale. Light green shading denotes data not yet benchmarked to QCEW data. Source: BLS and author's calculations. See text.
Regression output is here. The methodology roughly follows that in Chinn (JPAM, 1991).
The results indicate that Wisconsin private employment has been lagging what one would have expected given historical correlations with US employment.
To paraphrase the President, again: "Sad".
Third, Mr. Reidl argues employment growth has lagged in Wisconsin because everybody's employed that can be employed.
In fact, job growth has slowed recently only because Wisconsin essentially has run out people who are unemployed due to broad economic factors.

In other words, one cannot reduce a jobs deficit that no longer exists.

As background, economists consider an unemployment rate of around 4% to be "full employment." Even when jobs are plentiful, roughly 4% of the workforce is temporarily transitioning between jobs at any given moment. Economists typically set aside this base level of unemployment, and look for additional joblessness that would reflect economic weakness or labor market deficiencies.

And yet Wisconsin's current unemployment rate — 3.2% — is even better than full employment.
Well, it's of interest to note that Wisconsin on average experiences a lower unemployment rate than the Nation, by nearly a percentage point, over the 1986-2010 period. This idea of a "fixed effect" is critical if one wants to assess performance across individual states. Figure 3 presents the deviation of US unemployment relative to Wisconsin; despite the recent improvement in Wisconsin unemployment, the gap is not statistically significant.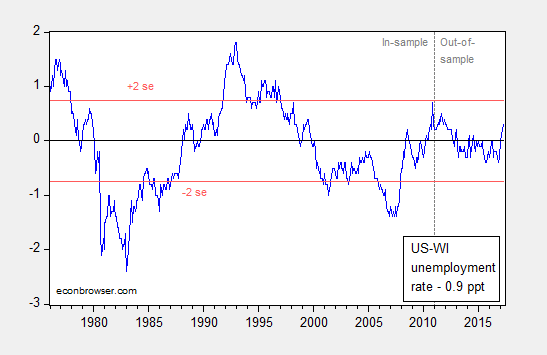 Figure 3: US-Wisconsin unemployment rate differential, adjusted by 0.90 ppts, in % (blue), and +/- 2 standard error band (red). Differential estimated using OLS, HAC robust standard errors lag length selected by AIC. Source: BLS, and author's calculations.
In any case, I would be reluctant to put too much weight on the unemployment rate at the state level, since that is the ratio of two very imprecisely measured variables (unemployed, labor force, both from the household survey). (See discussion of revisions to the Kansas employment series here).
By the way, some 2 years and 4 months after the target date (January 2015) for adding 250,000 new jobs, Wisconsin private nonfarm payroll employment remains nearly 33,000 below target. This Governor recommitted to this goal in August 2013.
Update, 5:30PM Pacific: Reader Mike v observes if labor slack was disappearing in Wisconsin, we should see wages rising fast, perhaps faster than in the US (or say Minnesota). Figure 4 depicts average hourly earnings relative to 2011M01.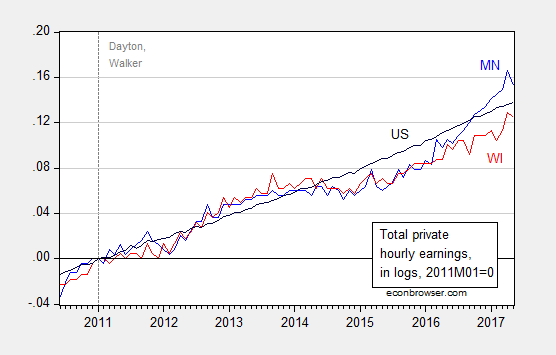 Figure 4: Log total private hourly earnings for US (black), Minnesota (blue), and Wisconsin (red), all normalized to 2011M01=0. Source: BLS and author's calculations.
So, I'd say the tight labor market argument seems empirically lacking — at least for Wisconsin. Better for Minnesota. Sad!