Reader CoRev continues to voice skepticism about the predictive ability of soybean futures. He asks for
proof, with successful predictions, of the validity of…your soybean price model….BTW, we are getting closer to the model's magic validation date.
Recall, earlier, CoRev had written:
it's a big IF that soybeans futures are LONG TERM predictors at all.
I keep on explaining "my" soybean price model (using futures, which is merely the model that soybean futures are the best predictor of future soybean prices), to no avail. It turns out "my" model (I think it better associated with Fama) works pretty well. To see this plainly and clearly, see the time series for the July 2019 soybean futures. I mark in red when Trump declares an intent to invoke Section 301 penalties on China; I mark in green the date one year before the expiration of the July 2019 futures.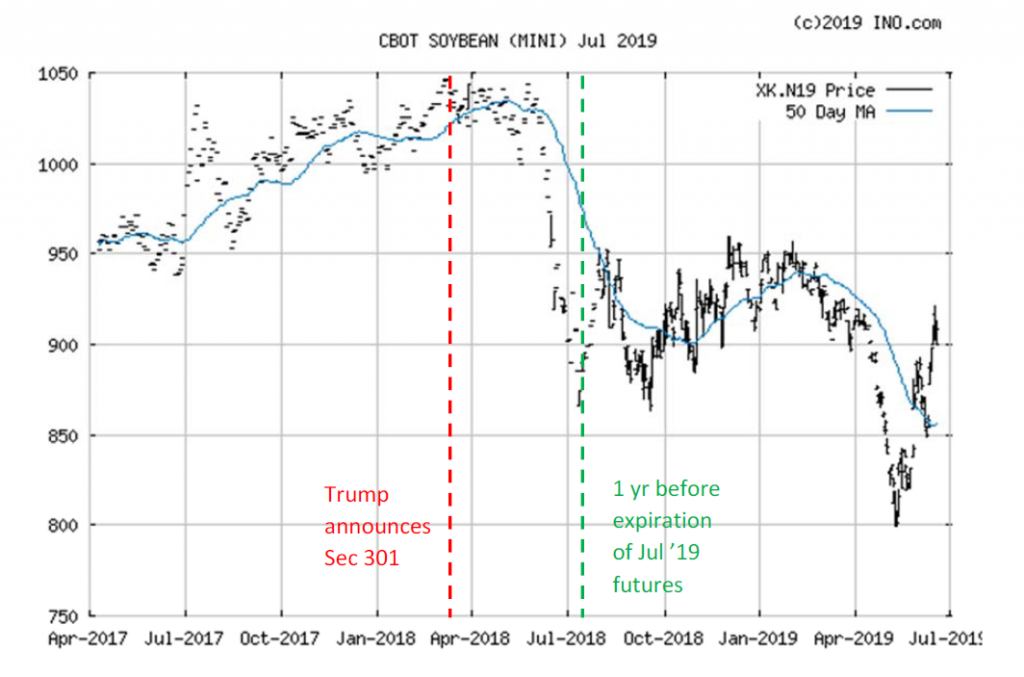 Figure 1: July 2019 Soybean Futures, from CBOT. Futures contract expires July 12, 2019. Source: ino.com as accessed on 6/19/2019, and author's annotations.
The astute reader will note that the July 12th 2018 reading for July 12th 2019 contract was about 900 ($9.00). The reading last I checked was 900.25…
By the way, the I wouldn't make a similar argument for precious metals, and other commodity futures. However, as Oli Coibion and I documented in our paper (2014), soybean futures beat other reasonable comparators at the one year horizon.
To see this result, one can estimate the following equation, using OLS.
st+k – st = α + β(ft,k – st) + ut+k
Where st is the log spot rate at time t, ft,k is the log futures rate for a transaction k periods hence, and u is an error term that is under the efficient markets hypothesis null a random expectations error (an innovation).
In Table I (from Chinn and Coibion, 2014), I highlight in yellow the SOYBEAN results of this regression for soybeans, at the 3, 6 and 12 month horizons.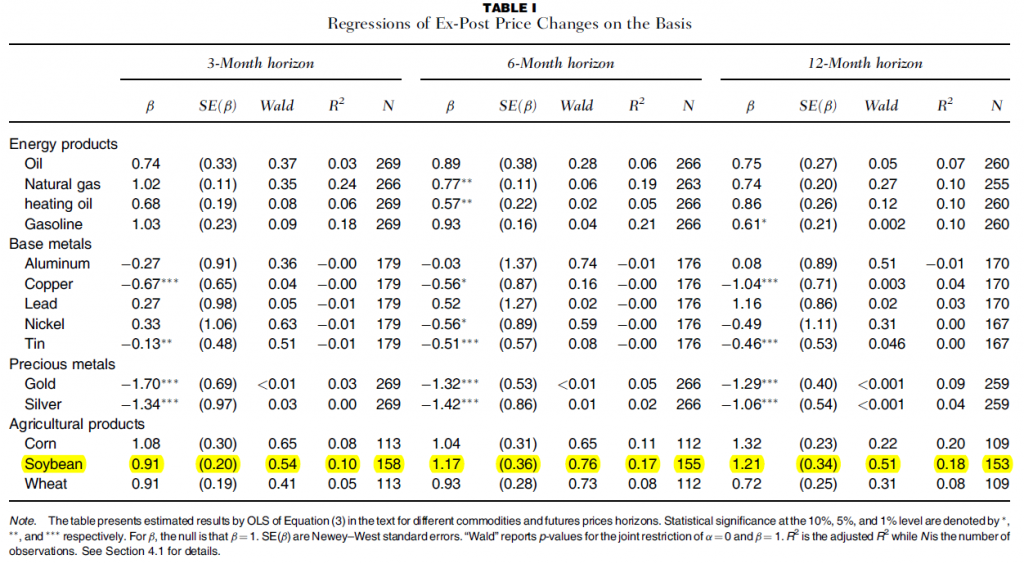 Table I from Chinn and Coibion, 2014.
Notice the point estimates are close to one, and statistically indistinguishable from that value, using standard errors robust to serial correlation and heteroskedasticity. Hence, the testing approach is conservative. A Wald test for the joint null α=0, β=1 is not rejected at conventional levels. That null hypothesis is consistent with the futures price being an unbiased predictor. In words, the results mean when the basis is 1%, the average change in the soybean price over the corresponding period will be…1%.
Interestingly, the R2's are high for soybeans. In contrast, similar results are not obtained for metal commodities. In particular, the estimated β's are often negative. Hence, we can conclude that futures are unbiased predictors of future spot soybean prices for horizons of up to a year, and have measurable predictive power. For more on prediction (warning: one needs to know at a minimum what an ARIMA is, better yet to know the characteristics of a DMW statistic, in order to understand the content), see this post.
I do not expect readers like CoRev to understand. So far he/she has not shown any evidence of trying to understand. CoRev concludes his comment today, in the misapprehension that he/she is close to proving "my" model wrong:
BTW, we are getting closer to the model's magic validation date.
Let me re-iterate: The July 12th 2018 reading for July 12th 2019 contract was about 900 ($9.00). The reading last I checked (less than an hour ago) was 900.25.