As the date of the resolution of the US-China trade dispute drifts further and further — perhaps past the 2020 elections according to Mr. Trump — it behooves us to look at what soybean futures contracts for September 2019 indicated as of Trump's announcement of Section 301 action against China ($10.30 bushel on 3/22/2018) vs $8.67 today (Sept. 2019 is the front month future for soybeans now).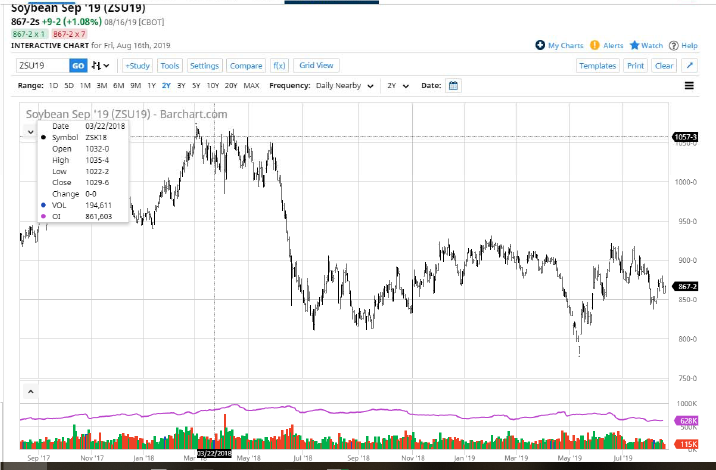 Source: Barchart.com, accessed 8/16/19 1:51pm Pacific.
While some forces have driven down prices relative to what they otherwise would have been — African Swine Fever — other factors have driven them up (bad harvests elsewhere). But certainly tariffs, and Chinese guidance to Chinese firms not to purchase American soybeans, have had an impact.
Interestingly, the Sept 2019 futures price has continued to trade at roughly the level achieved when Chinese tariffs on soybeans were actually implemented. In other words, the big nearly $1.60 impact seems to be a discrete shock associated with …tariffs (and "guidance").