From Mr. Riedl at Manhattan Institute:
I really hope the fiscal stimulus debate doesn't gain momentum. Not only is it premature…..but I don't have the writing bandwidth to remind everyone how Keynesian stimulus is an outdated theory (the multiplier is close to zero) with a terrible historical track record.
I'm pretty sure that many investment bank analysts are now predicting in at least one scenario one quarter of negative growth, so if not now, when? This argument takes on reinforced strength given the limitations on monetary policy.
But as someone who teaches macroeconomics (I'm not paid to blog on the subject), I have to take issue with the assertion that "the multiplier is close to zero". In fact, I anticipated Mr. Riedl would write this comment, so in August of 2019, I wrote this post, which is replicated below.
---
Prebuttal: Fiscal Policy Can Be Effective
In my mind, absent a shooting war, the economy is headed for a slowdown, if not a recession. I am confident that, should the administration or anybody else propose countercyclical fiscal policy, a set of the usual suspects will deny the efficacy of discretionary policy. Hence,  a prebuttal is called for.
A Typical Skeptic's View
Here's a quote from an article the last time the fiscal debate raged, in 2010. From Brian Riedl's The fatal flaw of Keynesian stimulus (Washington Times):
Last week, the Congressional Budget Office released a report claiming that the $814 billion "stimulus" has added 3.4 million net jobs.

…

Such implausible analysis does not come from actually observing the post-stimulus economy. Rather, it comes from Keynesian economic models that have been programmed to conclude that government spending injects new dollars into the economy, thereby increasing demand and spurring economic growth. In other words, these models are programmed to conclude that stimulus spending always creates jobs and growth, no matter how the economy actually performs.
Well, not quite. As I described in this post, there are a variety of ways in which multipliers are obtained. Oftentimes, the impacts are estimated either directly or indirectly, by estimating the marginal propensity to consume. The article continues:
But there is one problem with the government stimulus theory: No one asks where Congress got the money it spends.

Congress does not have a vault of money waiting to be distributed. Every dollar Congress injects into the economy must first be taxed or borrowed out of the economy. No new spending power is created. It is merely redistributed from one group of people to another.

It is intuitive that government spending financed by taxes merely redistributes existing dollars. Yet spending financed by borrowing also redistributes existing dollars today. The fact that borrowed dollars (unlike taxes) will be repaid some years later does not change that.
Here, I think the author, Mr. Riedl, is invoking Ricardian Equivalence, despite the fact that there is no empirical evidence, to my knowledge, that validates pure Ricardian Equivalence (actually, Ricardian equivalence wouldn't necessary hold for government spending on goods and services, anyway). Now, at this juncture, I thought that he might be invoking a real business cycle model, or an older, nonstochastic version of the RBC, namely a flex price Classical model. But then the next paragraph reads:
Some believe stimulus spending is the mechanism by which the Federal Reserve injects new dollars into the economy. Yet the Fed could run the printing press and then inject those dollars into the economy by buying existing bonds (with mostly inflationary results). It doesn't need an expensive stimulus bill to conduct monetary policy.
Accepting that the Fed can stimulate via monetary policy then implies either (1) sticky prices so an expansionary monetary policy can affect the real interest rate, or (2) a financial accelerator model such that collateral constraints or some other financial rigidity holds. In the latter case, it seems prima facie that Ricardian Equivalance cannot hold.
Next, I was thrown for a loop, because Mr. Riedl seems to conflate real saving and the monetary multiplier. He argues that government deficits can only be financed by foreign saving, private saving and "idle saving". This he describes thus:
Idle savings. The only government spending that truly increases current purchasing is the amount that would have otherwise sat idle in safes and mattresses. Those are the only dollars not already circulating through the economy as consumption, or through the financial markets as investment spending.

Idle savings are rare. People and businesses generally invest or bank their savings, where the financial markets transfer them to other spenders. Banks that receive savings either lend them out to a spender, or (when afraid to loan) invest them conservatively to earn some interest. They are not hoarding customer deposits in massive vaults (beyond the required cash reserves).
This is an odd conflation of saving, measured as a flow, and financial assets. But lets take the equation at face value, there is an incredibly counterfactual observation that there no reserves are behing held in excess of required cash reserves. According to the St. Louis Fed, excess reserves are now approximately $1 trillion dollars. Well, no need for facts to get in the way of a good polemic.
Mr. Riedl's main point is:
All government stimulus spending requires first borrowing dollars that would have otherwise been applied elsewhere in the economy. The only exception is money borrowed from "idle savings," which for reasons described above likely constitute a minuscule portion of the $814 billion stimulus.
As I've mentioned here and elsewhere, this is true in a full employment model. (I'm working off of textbook models; move to coordination models, or allow monopolistic power, and you have lots of other inefficiencies arising).
Mr. Riedl concludes:
Economic growth requires raising worker productivity to create more goods and services. Government stimulus spending represents a naive "magic wand" attempt to create purchasing power and wealth out of thin air.

No wonder the unemployment rate remains high.
Well, if we're in a Classical world, then there is no involuntary unemployment. If we're in a New Classical world, then whatever involuntary unemployment exists is not systematic. If there is involuntary unemployment, then there are resources that are not being utilized, and putting them to use naturally raises productivity (remember labor productivity is defined as output per man hour).
Empirical Evidence on the Fiscal Multipliers (from Peer Reviewed Publications, not Heritage Foundation Issue Briefs)
Instead of polemics, or reasoning from accounting identities, I'm going to appeal to empirical evidence. From my entry in the New Palgrave Dictionary of Economics:
2.5 A Survey of Basic Results

Obviously there is too voluminous a literature to review comprehensively. I focus first on the United States. CBO (2012a, Table 2) has provided a range of estimates the CBO considers plausible, based upon a variety of empirical and theoretical approaches.


Table 1: Ranges for U.S. Cumulative Output Multipliers. Source: CBO (2012a), Table 2.

For goods and services, the range is 0.5 to 2.5; in line with demand side models, the cumulative multiplier for government spending on transfers to individuals are typically lower, and range from 0.4 to 2.1. Tax cuts for individuals have a multiplier of between 0.3 to 1.5, if aimed at households with a relatively high marginal propensity to consume.

When assessing whether a government spending multiplier is large or small, the value of unity is often taken as a threshold. From the demand side perspective, when the spending multipliers is greater than one, then the private components of GDP rise along with government spending on goods and services; less than one, and some private components of demand are crowded out. (Since transfers affect output indirectly through consumption, multipliers for government transfers to individuals should be smaller than multipliers for spending on goods and services.)

Reichling and Whalen (2012) discuss the range of multiplier estimates associated with various approaches. Ramey (2011a) also surveys the literature, and concludes spending multipliers range from 0.8 to 1.5. Romer (2011) cites a higher range of estimates, conditioned on those relevant to post-2008 conditions.

The above estimates pertain to the US. Obviously, one can expand the sample to other countries and other times. Van Brusselen (2009) and Spilimbergo et al. (2009) survey a variety of developed country multiplier estimates.

Almunia et al. (2010) find, using a variety of econometric methodologies, that fiscal multipliers during the interwar years are in excess of unity, when looking across countries. Barro and Redlick (2009) incorporate WWII data in their analysis of US multipliers; critics have noted that rationing during the WWII period makes questionable extrapolation of their results to peacetime conditions.
Lessons from Recent Fiscal Experiment: TCJA and BBA
Since 2010, we've accumulated some additional observations on fiscal policy efficacy, in the form of the Tax Cuts and Jobs Act and the Bipartisan Budget Agreement, both of which substantially increased fiscal stimulus, exactly at a time when the economy was arguably close to full employment.
If multipliers are invariant to business cycle conditions, then conventional estimates suggests that in the absence of the fiscal stimulus, GDP growth would have decelerated. I show the counterfactual below, using estimated impacts from Cohen-Setton and Gornostay (2018).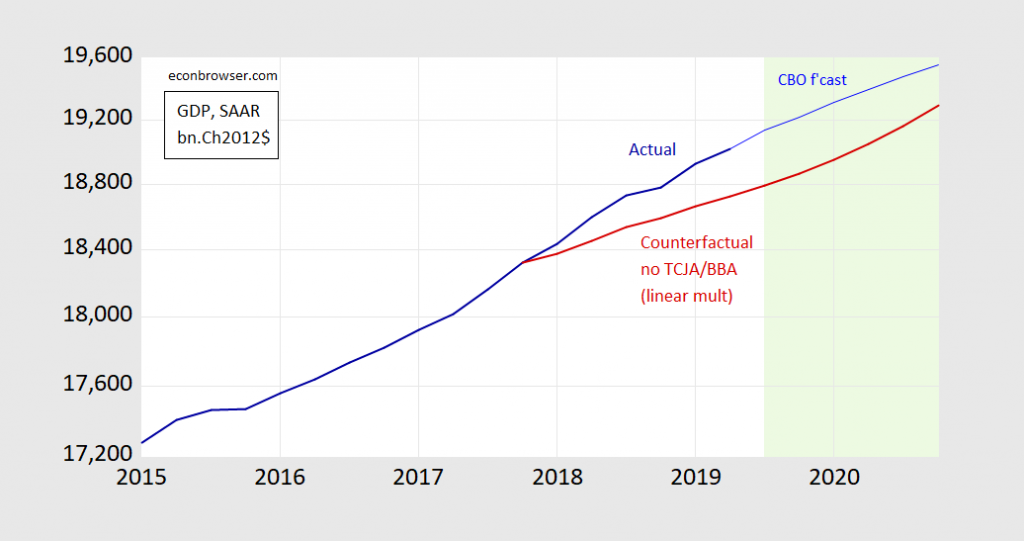 Figure 1: Real GDP as reported (dark blue), GDP as implied by CBO Jan. 2019 forecasted growth (blue), and counterfactual GDP under no TCJA/BBA (red) with linear multipliers; annual output difference interpolated using quadratic fit. Light green is forecast period. Source: BEA, CBO (January 2019), and Cohen-Setton and Gornostay (2018), and author's calculations.
This counterfactual seems implausible given the pre-TCJA/BBA trajectory of the economy. But perhaps this finding explains the mystery of the small impetus to GDP growth given by the Trump tax cut/spending increase. As noted in my survey:
5.1 State-dependent multipliers

The demand side interpretation of the multiplier relies upon the possibility that additional factors of production will be drawn into use as demand rises. If factors of production are constrained, or are relatively more constrained, as economic slack disappears, then one might entertain asymmetry in the multiplier.

Auerbach and Gorodnichenko (2012a,b) and Fazzari et al (2012) use VARs which allow the parameters to vary over expansions and contractions.[1] Baum et al. (2012) condition on the output gap. The common finding in these instances is that multipliers are substantially larger during recessions.

To highlight the variation in the multiplier for the US, I reproduce Figure 5 from Auerbach and Gorodnichenko's (2012b), which plots their estimates of the multiplier over time.

A different perspective on why long term multipliers are larger during periods of slack is delivered by Delong and Summers (2012).[2] They argue that long periods of depressed output can itself affect potential GDP, following the analysis of Blanchard and Summers (1986). The prevalence of high rates of long term unemployed is one obvious channel by which hysteretic effects can be imparted. When combined with an accommodative monetary policy or liquidity trap, then the long term multiplier can be substantially larger than the impact multiplier.

Source: Auerbach and Gorodnichenko (2012b).

Hence, fiscal multipliers are largest exactly at times when expansionary fiscal policy is most needed. Estimates of multipliers based on averaging over periods of high and low activity are hence useful, but not necessarily always relevant to the policy debate at hand.
[1] Auerbach and Gorodnichenko use a smooth transition threshold where the threshold is selected a priori. Fazzari et al. estimate a discrete threshold.

[2] Quantification of long term impacts of depressed activity on potential GDP can be found in CBO (2012b).
In other words, state dependent multipliers when near full employment are smaller. Using the estimates from Cohen-Setton and Gornostay, one finds that for the trillions of dollars worth of fiscal stimulus, we got precious little.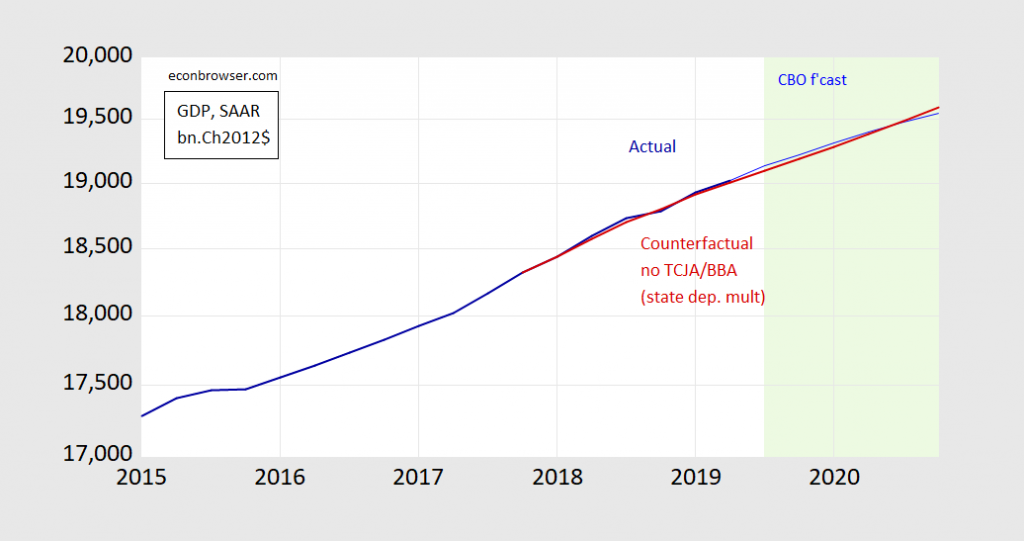 Figure 2: Real GDP as reported (dark blue), GDP as implied by CBO Jan. 2019 forecasted growth (blue), and counterfactual GDP under no TCJA/BBA with state dependent multipliers (red); annual output difference interpolated using quadratic fit. Light green is forecast period. Source: BEA, CBO (January 2019), and Cohen-Setton and Gornostay (2018), and author's calculations.
Conclusion
Let's hope we don't go through the next recession debating in the same way whether fiscal policy can affect GDP, particularly during periods of economic slack and accommodative monetary policy (e.g., Fama, Mulligan, etc.).
---
Now, given the way things are going, this is an instance where we have an aggregate demand shock conjoined with a supply shock. That doesn't mean a fiscal impulse has no impact on aggregate demand, just that its effect on output might be partly offset by supply chain/transportation disruptions.