From ABC News yesterday:
"I think we lean way too much in the direction of keeping the economy shut down to try to save every life, not realizing that we're causing huge hardship for citizens — again, people at the bottom and businesses — and we're going to suffer a big loss of living standards because of this," he said.

While Moore acknowledged that robust testing is essential, he argued the U.S. cannot wait until it becomes more widespread to start reopening the economy.

"I don't think we can wait two or three or four more weeks for testing….The rate of infection to the economy is very similar to the rate of infection of this disease."
When last we checked in on Mr. Moore, he was asserting "Once we get this thing contained…the market and the real economy will burst back to life". So, it is important to memorialize his prescriptions, to add to his forecast of Covid-19 "containment".
He states there is a tradeoff between lives saved and restarting the economy.
He states the rate of infection to the economy is very similar to the rate of infection of the virus.
On point (1), it is hard to see how the tradeoff works. In Eichenbaum et al. (2020), you can restart the economy earlier and have a smaller recession, but in the longer term, hours worked are lower — because you've got more dead! Similar conclusions follow in other papers; see Atkeson (2020). I don't know of a serious paper that says opening up early leads to a net positive outcome, given some positive weight on the cost of quality-adjusted-life-years. Of course, if you're rentier who can avoid contact, and let workers take on the risk of dying, for those the benefit-cost ratio is likely greater than one.
In fact, empirical evidence as reported by Correia et al. (2020)  [link fixed 4/22] suggests no tradeoff from the 1918-20 influenza epidemic. Cities/states that implemented more aggressive and extended public health interventions had stronger recoveries. But empirical evidence has never bother Mr. Moore much.
On point (2), I have no idea what he means by the statement. It sounds very insightful, but seems absent of content.
Mr. Moore made these statements as the fatality rate was projected to have peaked (but by some measures had not yet). If there should be a second surge in fatalities — as seems likely in the absence of an extensive testing system — then some of the blame must be laid at the feet of Mr. Moore, apparently a member of Trump's Council to Reopen America.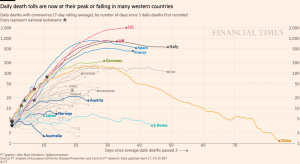 Note: On a log scale.