Look at this: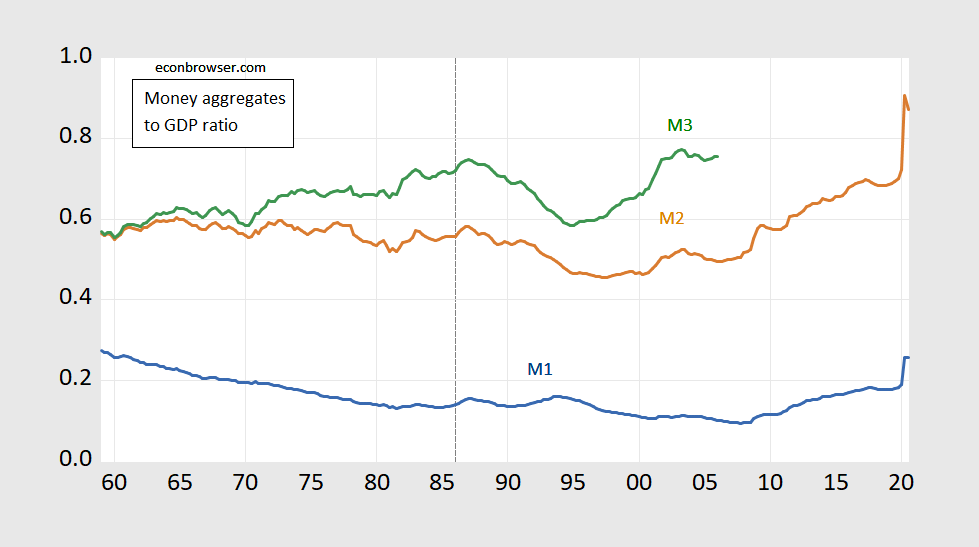 Figure 1: Ratio of M1 to real GDP (blue), of M2 to real GDP (brown), of M3 to real GDP (green), 1959Q1-2020Q3. Quarterly money data average of end of month data. Source: Federal Reserve via FRED, and BEA, 2020Q3 2nd release, and author's calculations.
Should I be worried about imminent inflation? The Economist thinks we should be on guard, even if not likely. If I believed in the Quantity Theory of Money (MV = PY), maybe I should. Let consider what it implies, given the sharp jump in money stock. At the end of November, M2 was about 22% above levels the previous November — so naively, one might expect over time a 22% increase in price level.
Let's consider the empirical content of various models of inflation. First, quantity theory — is there an error correction version that has any predictive power over the Great Moderation/pre-Covid period (1986Q1-2019Q4)?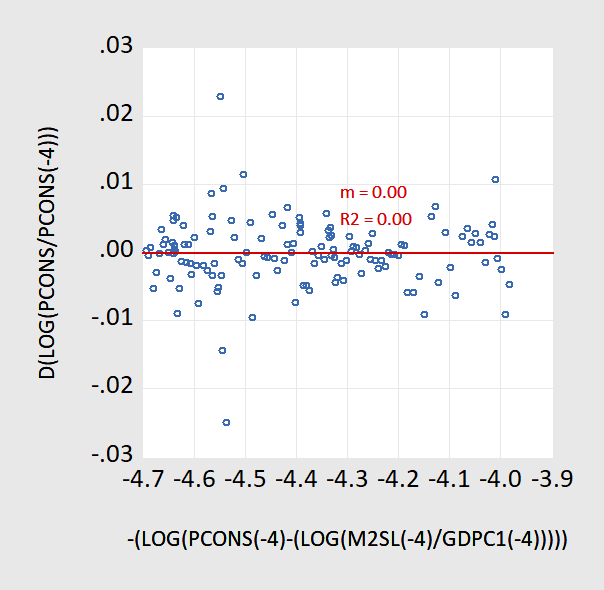 Figure 2: Year-on-year growth rate of consumption deflator versus error correction term implied by Quantity Theory (M2, no trend) lagged 4 quarters, inverted so implied positive coefficient, 1986Q1-2019Q4.
That is, assuming the PCE deflator and the M2/real GDP are cointegrated, we should see the growth rate of the PCE deflator respond with a negative coefficient. In the above graph, I've inverted the error correction term, so there should be a positive correlation. For the 1986-2019 period, there is none. In fact, there's essentially no correlation.
I can more carefully conduct a cointegration analysis. Over the entire 1959-2019 period, or the restricted 1986-2019 period, a multivariate cointegration test incorporating plausible assumptions regarding constants and/or trends in the specifications fails to reject the no cointegration null.
What about a simple Phillips Curve specification involving the output gap (as defined by the CBO)? Here one finds a little more supportive evidence, but not overwhelming.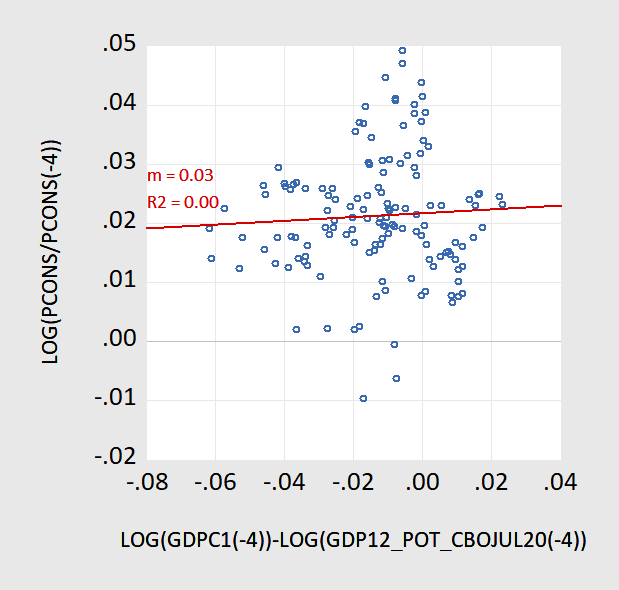 Figure 3: Year-on-year growth rate of consumption deflator versus output gap lagged 4 quarters, 1986Q1-2019Q4. Source: BEA 2020Q3 2nd release, CBO Economic Outlook Update (July 2020), author's calculations.
There could be many reasons for this outcome — instability in the slope relationship, failure to account for expectations (anchored vs. accelerationist), or mismeasurement of potential GDP — but at first glance one would be hard pressed to determine the better predictor of inflation. Of course, there is a very large literature resurrecting the Phillips curve (Coibion et al. for measuring expectations correctly, Blanchard et al. for accounting for structural breaks, among others), so one rightly be more persuaded by the Phillips curve approach.
Personally, I find the idea of a nonlinearity in the Phillips curve interesting. If one uses a "plucking" model of potential GDP as a motivation, one can see the correlation between inflation and maximal output pretty clearly.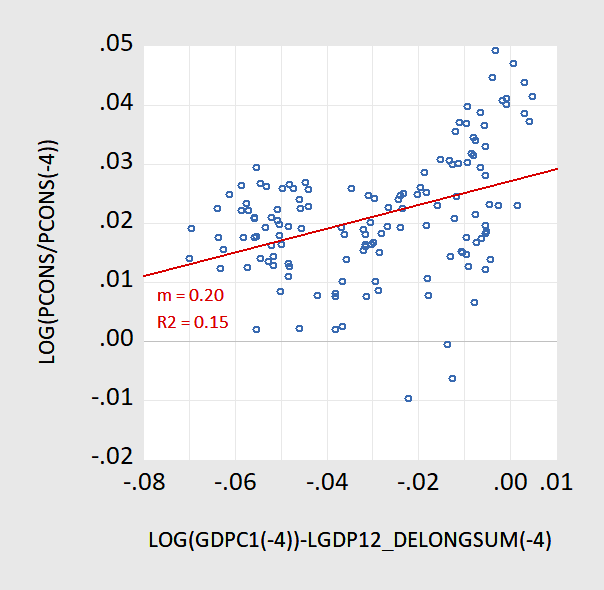 Figure 4: Year-on-year growth rate of consumption deflator versus slack lagged 4 quarters, 1986Q1-2019Q4. Slack measured using author's implementation of Delong-Summers trend output, discussed in this post. Source: BEA 2020Q3 2nd release, author's calculations.
As I discussed previously, the focus on slack is consistent with this plucking model. The Fed's new monetary strategy is also consistent with this view.
Does this mean we have no need to worry. If one believes that we will be way below potential GDP for a while, then no. Using the WSJ's December survey mean forecast, and the CBO's estimate of potential GDP, end-2022 is when one might start worrying about inflation, using this criterion; later still if using my estimate of maximal output (which depends on the actual evolution of output).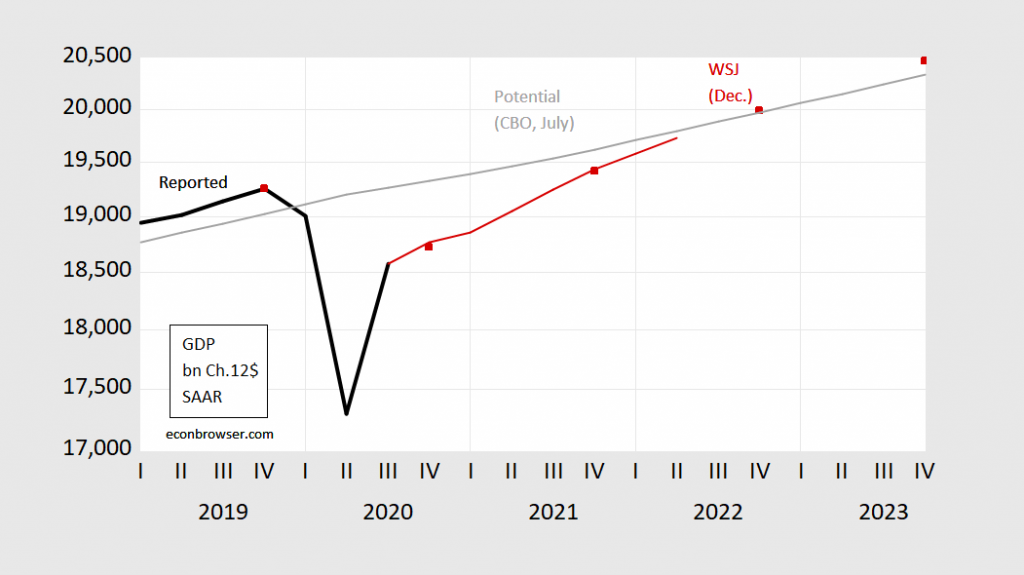 Figure 5: GDP as reported (black), WSJ December mean survey by quarter (red), by Q4/Q4 (red square), CBO potential GDP (gray). Source: BEA 2020Q3 2nd release, CBO Economic Outlook Update (July 2020), WSJ December survey, and author's calculations.