Or, between identities vs. functions. Reader Corev comments:
… I'm amazed at the willful deceit and cognitive dissonance exhibited by liberals, especially economists. With production components, commodities' prices, rising by YUGE fractional amounts, these same folks can not admit their inflationary impacts. Worse, they won't and can not admit their future inflationary impacts. POLICY, POLICIES impact economics! Energy and other commodity production policies especially so.
At this juncture, it's useful to distinguish between identities and functions. Suppose the overall price index is given by the geometric mean of energy and nonenergy prices:
This implies, by definition:

So, it would seem that if energy price inflation is positive, then ceteris paribus, overall inflation must rise. However, buried in there is an assumption of nonenergy price inflation not changing in a correlated fashion. If nonenergy prices fall, then it's possible for the overall inflation rate to be higher, lower or even unchanged.
This seems obvious, but this sort of reasoning-by-identity logic shows up elsewhere, such as the argument that by merely eliminating the trade deficit, output would be commensurately higher. That too is reasoning by identity.
Now, it might very well be the case that rising energy (and other input price) inflation will push up overall inflation. That logic usually comes from an augmented Phillips curve. But one of the interesting aspects of such energy shocks over the past few decades is how little an impact there's been on inflation, as discussed in this post. Jim provides a somewhat different view.
How to reconcile the alternative views. First, it's to realize that inflation can generally be described by a Phillips curve specification, which nests different views about nonstructural parameters.
Notice the "=" sign implies this is a function, not an identity, about inflation π. The z variable summarizes the impact of input price inflation on overall inflation (so maybe z is given by:

Unless one is taking a strict New Keynesian interpretation of the Phillips curve (in which case the output gap should be some measure of marginal cost), then one doesn't "know" the parameter values — one has to estimate them.
What you believe will happen with higher energy (or other input) price inflation then depends on your belief about parameter values. For a "recent-ish" survey on Phillips curves, see Blanchard, Cerutti and Summers (2015).
More on short and long term inflation expectations here.
Below is a figure of CPI overall, energy, and relative price of energy to nonenergy.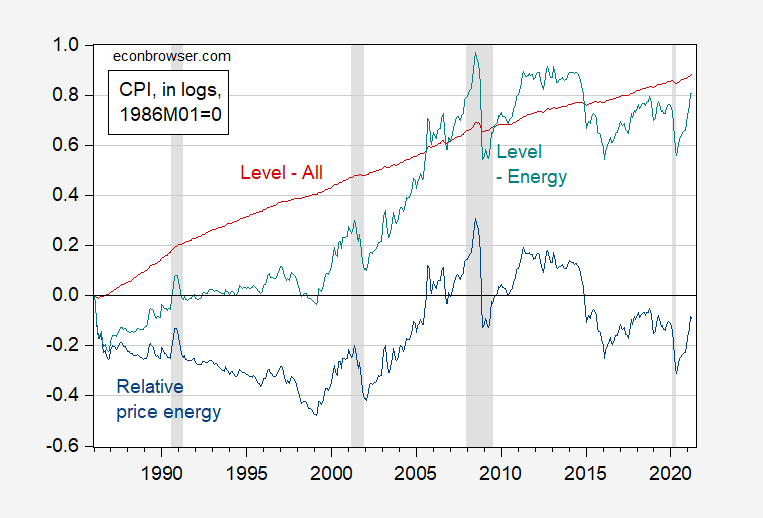 Figure 1: Log of relative price of energy to nonenergy components of CPI (blue), of overall CPI-urban (red), and of energy CPI (teal), all 1986M01=0, s.a. NBER defined recession dates shaded gray; assumes last recession ends 2020M04. Source: BLS via FRED, NBER, and author's calculations.