From NBER today:
The Business Cycle Dating Committee of the National Bureau of Economic Research maintains a chronology of the peaks and troughs of US business cycles. The committee has determined that a trough in monthly economic activity occurred in the US economy in April 2020. The previous peak in economic activity occurred in February 2020. The recession lasted two months, which makes it the shortest US recession on record.
Here is the resulting graph (monthly) showing some key indicators: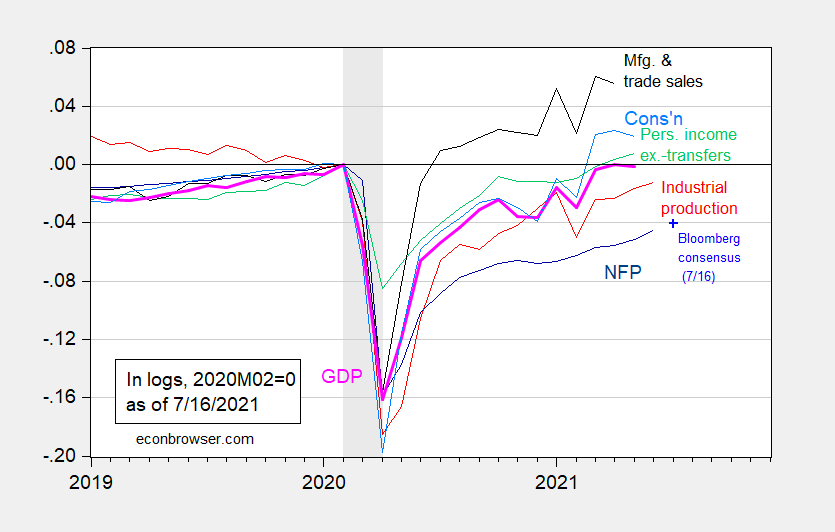 Figure 1: Nonfarm payroll employment from June release (dark blue), Bloomberg consensus as of 7/16 for July nonfarm payroll employment (light blue +), industrial production (red), personal income excluding transfers in Ch.2012$ (green), manufacturing and trade sales in Ch.2012$ (black), consumption in Ch.2012$ (light blue), and monthly GDP in Ch.2012$ (pink), all log normalized to 2020M02=0. Source: BLS, Federal Reserve, BEA, via FRED, IHS Markit (nee Macroeconomic Advisers) (7/1/2021 release), NBER, and author's calculations.
ECRI places the business cycle monthly peak at February 2020, and for growth rate cycles, peak at December 2017 and trough at April 2020.
For quarterly data, peak is at 2019Q4, trough at 2020Q2.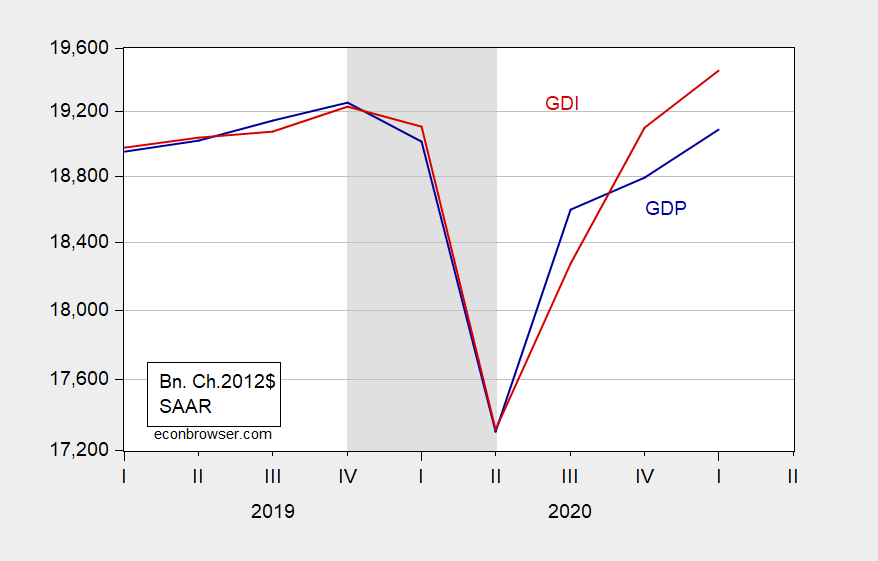 Figure 2: GDP (blue) and GDI (red), both in billion Ch.2012$, SAAR. NBER recession dates shaded gray. Source: BEA, 2021Q1 3rd release, NBER. 
Chronologies for other countries, see this post.
Update, 7/20, 11:50am Pacific:
See also https://www.bloomberg.com/news/articles/2021-07-19/u-s-recession-in-2020-lasted-two-months-academic-panel-says