Is slower than for those that didn't. From Steve Englander/Standard Charter Bank: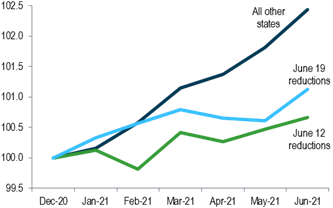 Source: Englander, "US – Benefit cuts not linked to job gains so far," Global Research/Standard Charter Bank, 16 July 2021.
From the newsletter:
We found evidence that cutting or eliminating federal COVID-linked benefits reduced the numbers receiving benefits (see UI recipients drop in states cutting benefits), but June Bureau of Labor Statistics (BLS) state employment data do not indicate that the states that cut or had impending benefit cuts had higher employment gains (Figure 1). The first round of states cutting benefits (Alaska, Iowa, Mississippi, Missouri) clearly lagged other states. The eight states that reduced benefits a week later also lagged, but by a smaller margin.

…

We see this as a modest disappointment for those who expected to see a big, immediate impact from benefit reductions, but the conclusion is very tentative because of the survey dates. July state data should be more definitive on this score.
A more detailed examination, confirming little evidence of any effect, is provided by Arindrajit Dube in this blogpost (h/t dilbert dogbert).
So what has been the impact so far on the labor market? How have the policy changes impacted the number of people receiving UI benefits? And have these policy changes boosted jobs in those states so far? Here I use recent data from the Household Pulse Survey (HPS) collected by the Census Bureau to assess the short term impacts of the June expiration. Specifically, the HPS asks whether the respondent received UI in the last 7 days, which allows us to assess the impact of the policy expiration on recipiency. In addition, the HPS also asks whether the respondent is currently working, which allows us to evaluate the employment impacts. The most recent data goes through July 5, 2021.

…

Overall, the mid-June expirations of pandemic UI seem to have sharply reduced the share of population receiving any unemployment benefits. But this doesn't seem to have translated into most of these individuals having jobs in the first 2-3 weeks following expiration. However, there is evidence that the reduced UI benefits increased self-reported hardship in paying for regular expenses. Of course, this evidence is still early, and more data is needed to paint a fuller picture.