Today, the CEA published a blogpost on how the administration's infrastructure and Build Back Better plans won't be inflationary. I think it's of interest to see how the market (which will undoubtedly turn out to be wrong) thinks inflation and output will evolve.
For medium term inflation expectations, I look to the five year inflation breakeven, and the expected inflation over the next five years as inferred using the breakeven and additional survey and market information.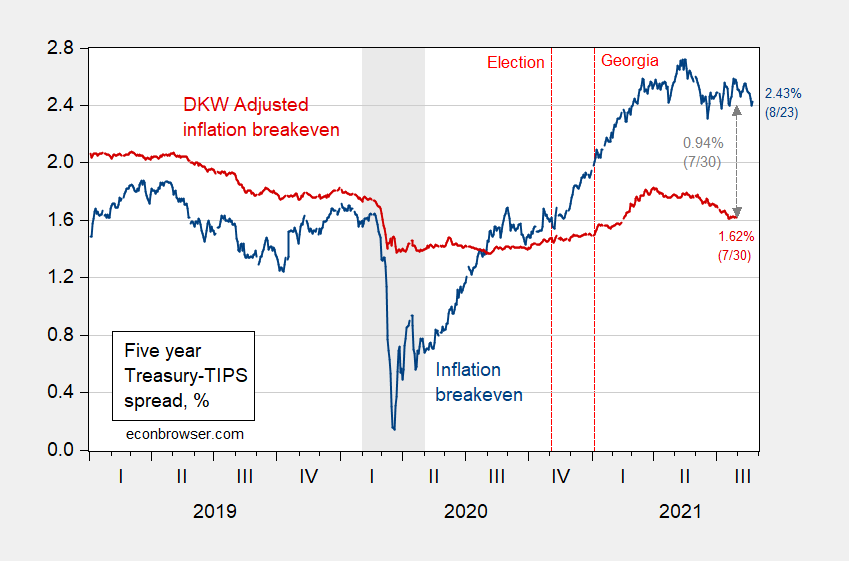 Figure 1: Five year inflation breakeven calculated as five year Treasury yield minus five year TIPS yield (blue), five year breakeven adjusted by inflation risk premium and liquidity premium per DKW (red), all in %. NBER defined recession dates shaded gray (from beginning of peak month to end of trough month). Source: FRB via FRED, Treasury, KWW following D'amico, Kim and Wei (DKW) accessed 8/5, NBER and author's calculations.
The implied inflation rate from the simple breakeven calculation is the same as it was around 6/9/2021, for the last two and a half months.
In part, the moderation in expected inflation over the past five months is due to an anticipated deceleration in growth, as implied by the term spread.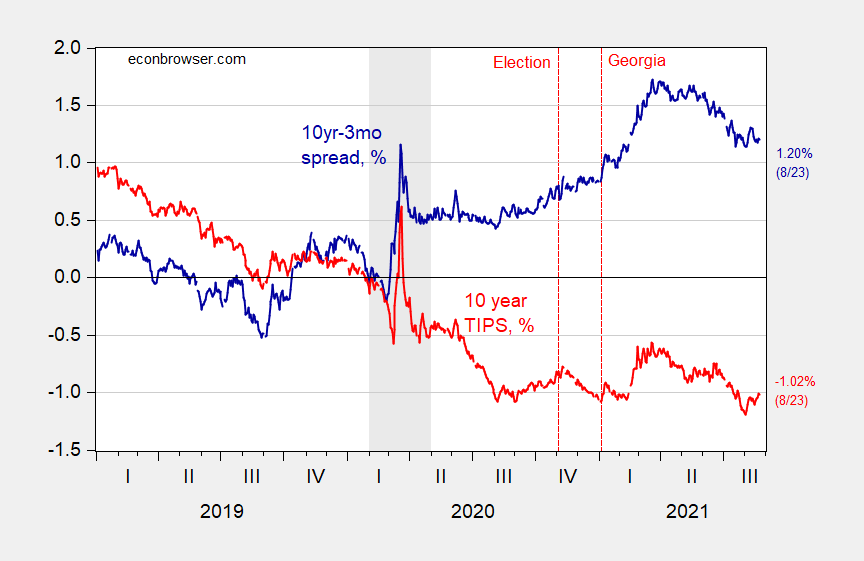 Figure 2: Ten year three month Treasury spread (blue), and ten year TIPS yield (red), both in %. NBER defined recession dates shaded gray. Source: Treasury, NBER, and author's calculations. 
Admittedly, the link between the term spread and growth (as well as recessions) is loose, but the implication of marked down anticipated growth is buttressed by the decline in the real rate as measured by the TIPS 10 year yield.
To me, this is suggestive of a continuing decline in inflation anxieties, and rising worries over the pace of recovery (see also this post).