Today we are pleased to present a guest contribution written by Jongrim Ha (Senior Economist), M. Ayhan Kose (Chief Economist and Director) and Franziska Ohnsorge (Manager) from the World Bank's Prospects Group. The findings, interpretations, and conclusions expressed in this blog are entirely those of the authors. They do not necessarily represent the views of the World Bank, its Executive Directors, or the countries they represent.
The COVID-19 pandemic plunged the global economy into its deepest recession since the Second World War. Amid a collapse in demand and tumbling oil prices, global consumer price inflation declined by 0.9 percentage point between January and May 2020 (Figure 1). This decline was about one-third more pronounced in advanced economies than in emerging market and developing economies (EMDEs).
Since May 2020, however, inflation has picked up. By April 2021, inflation had risen above pre-pandemic levels in both advanced economies and EMDEs. The inflation pickup was broad-based and present in about four-fifths of countries. As a result, the 2020 global recession featured the fastest subsequent inflation upturn, after the most muted inflation decline, of the five global recession episodes of the past 50 years.
 Figure 1. CPI inflation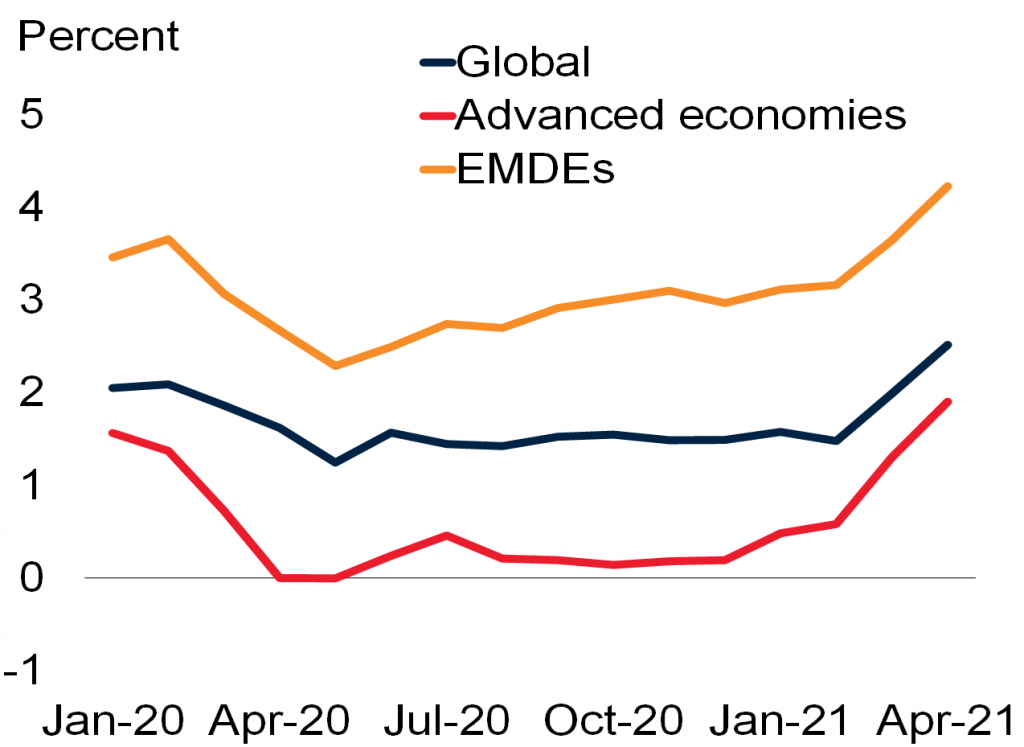 Sources: Haver Analytics, IMF International Financial Statistics, World Bank. Note: Median of year-on-year headline consumer price index (CPI) inflation in a sample of 81 countries, of which 31 are advanced economies and 50 are EMDEs.
Looking ahead, as the global economy gradually reopens, monetary and fiscal policies continue to be accommodative to support the recovery, and pent-up demand is being released in advanced economies. For major advanced economies, some have raised concerns that this confluence of factors may generate significant inflationary pressures (Summers 2021; Blanchard 2021; Landau 2021).
Others, in contrast, see little reason for concern, at least for many advanced economies, because of the temporary nature of price pressures, well-anchored inflation expectations, and structural factors still depressing inflation (Ball et al. 2021; Gopinath 2021; Krugman 2021; Powell 2021; Clarida 2021).
In a new study, we analyze the main drivers of recent developments in global inflation and consider prospects for inflation in coming months (Ha, Kose, and Ohnsorge 2021).
Drivers of recent movements in inflation
Fluctuations in aggregate demand, oil price movements, and supply disruptions contributed to global inflation developments during the pandemic. We estimate the role of each of these factors in a factor-augmented vector autoregression (FAVAR) model that consists of global inflation, global output growth, and oil prices. The model deviates from recent work in this area (Charnavoki and Dolado 2014; Ha et al. 2019) in three dimensions to accommodate the circumstances of the 2020 pandemic. First, the model employs monthly data rather than quarterly or annual data, to minimize concerns over endogeneity among variables. The use of monthly data is particularly important when the pace of recessions and recoveries differs. Second, on top of the standard sign restrictions, an additional set of narrative restrictions is imposed for the periods of large oil price fluctuations. Third, the model allows for time-varying volatility in the global variables to reflect large fluctuations in these variables around global recessions and oil price shocks.
The estimation results suggest a sequence of changing disinflationary forces in January-May 2020 that were subsequently unwound (Figure 2).
Between January and May 2020, four-fifths of the decline in global inflation reflected the collapse in global demand as consumption and investment dropped sharply amid lockdowns and uncertainty about policies and growth prospects. Another one-fifth reflected the plunge in oil prices. Within this five-month period, however, the forces affecting inflation shifted. In February and March 2020, the decline in global inflation was in almost equal measure due to the plunge in oil prices and a collapse in global demand, but the disinflationary impact of the collapse in global demand intensified in April.
 During June 2020-February 2021. From June 2020, as international trade and global manufacturing activity rebounded, supply factors began to lower inflation. A sharp rebound in demand, however, raised inflation as consumption shifted from in-person to online transactions. For the period from June 2020 to February 2021, demand pressures accounted for virtually all of the increase in global inflation and these were partially offset by improved supply conditions.
Figure 2. Contributions to monthly changes in global CPI inflation: 2020-21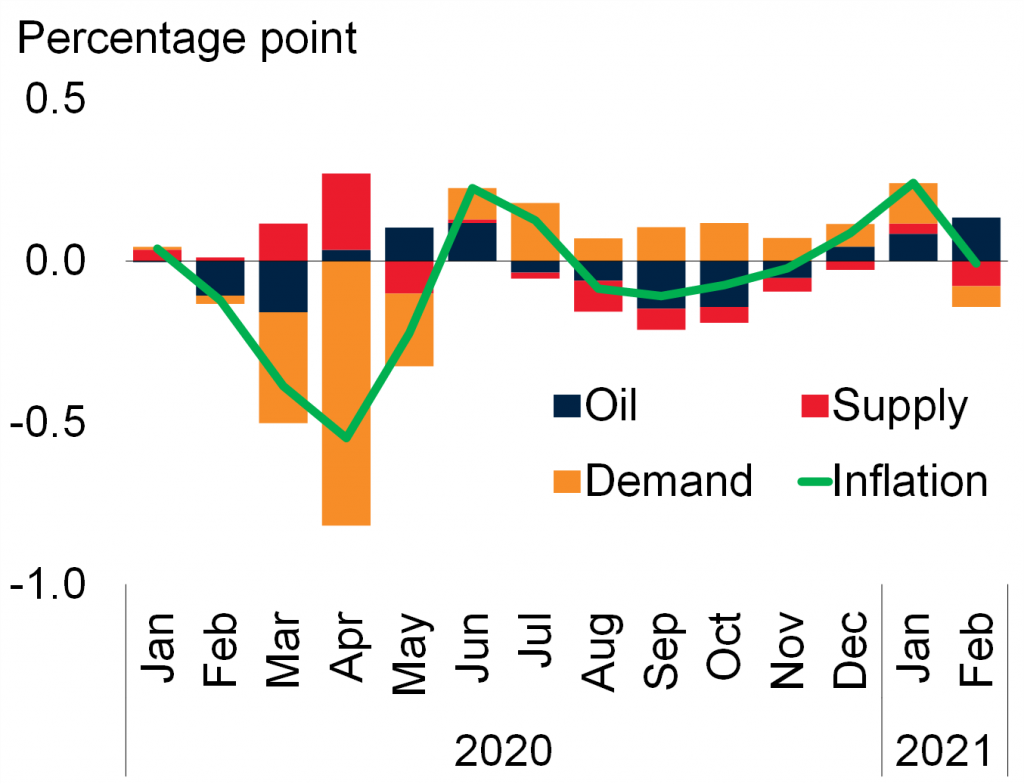 Source: Ha, Kose, and Ohnsorge (2021). Note:  Contributions to changes in year-on-year headline consumer price inflation from the previous month for 81 countries, of which 31 are advanced economies and 50 are EMDEs, based on a factor-augmented vector autoregression (FAVAR) estimation. Monthly data. Residual is omitted from the graph.
Near-term inflation prospects
 The global recession of 2020 was unusually severe but short. This was also reflected in inflation developments. The accompanying inflation decline was unusually muted and short-lived. Looking ahead, some factors point to an increase in inflation over the near term but stable low inflation over the long term. The same FAVAR model is used to project global, advanced-economy and EMDE inflation in coming months that would be consistent with the growth and oil price forecasts presented in the June 2021 Global Economic Prospects report of the World Bank. 
Global inflation. Global output growth is expected to be 5.6 percent in 2021 and oil prices are expected to average $62 per barrel over the year as a whole (World Bank 2021). This suggests an increase in global inflation by 1.4 percentage points in 2021 (from 2.5 percent in 2020 to 3.9 percent in 2021; Figure 3).
Figure 3. Model-based inflation prospects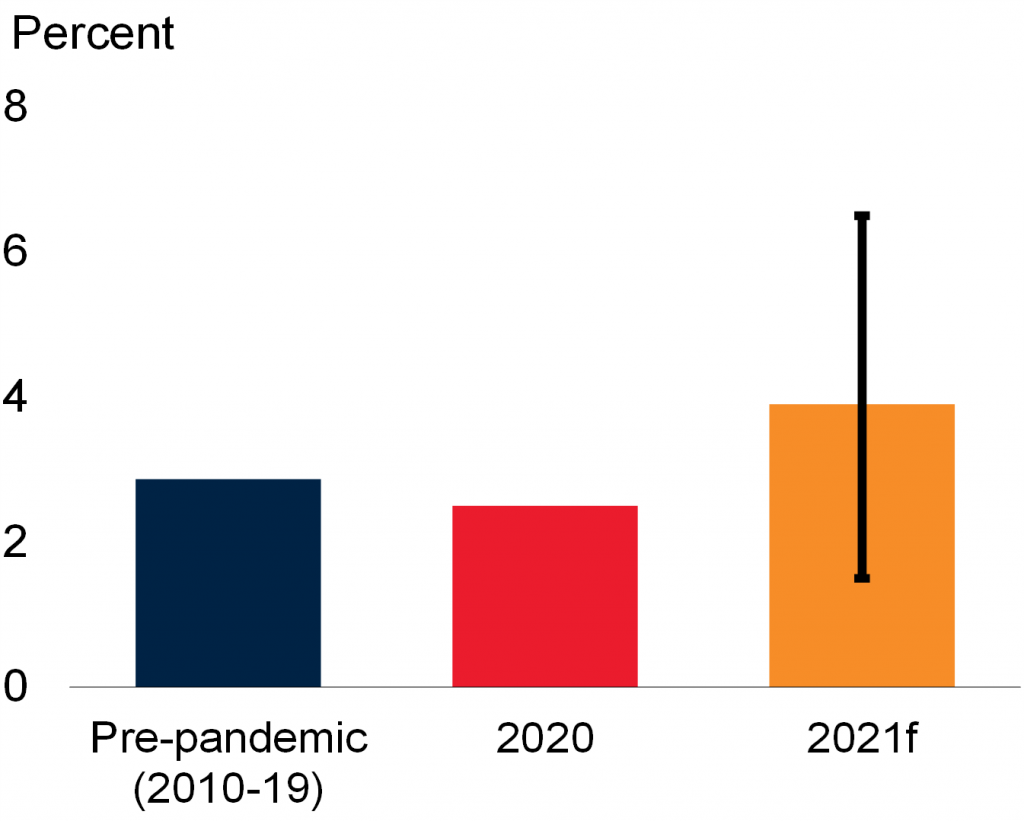 Sources: Ha, Kose, and Ohnsorge (2021). Note: Conditional forecasts of global inflation based on quarterly factor-augmented VAR model of global inflation, global GDP growth, and oil price growth. Vertical line indicates 16-84 percent confidence bands.
Inflation in advanced economies. In advanced economies, inflation is expected to rise to 1.8 percent in 2021 (from 0.5 percent in 2020)—a bit higher than the 1.4 percent average over the 2010s. For virtually all advanced economies, the model-predicted moderate inflation rise would bring inflation closer to inflation targets.
Inflation in EMDEs. For EMDEs, estimations suggest that inflation will rise to 4.6 percent from 3.1 percent, well above the average over the 2010s of 3.8 percent. It would be a touch above the mid-range (3.8 percent), but still below the 5.1 percent upper bound of the average inflation-targeting EMDE's target range.
Inflation expectations. Consistent with the model-based inflation forecasts, survey-based consumer price inflation expectations suggest that global inflation is expected to rise by about 1 percentage point in 2021, from its low rate in 2020 (Figure 4). The expected inflation rise is broad-based, in both advanced economies and EMDEs. Forecasts of headline CPI inflation by major central banks also suggest a moderate increase in inflation in 2021 (by 1.5 percentage points in G7 economies and 1.2 percentage points in seven large EMDEs). Finally, although the data are limited to a few advanced economies, market-based inflation expectations point to a similar conclusion: breakeven implied inflation (measured as the spreads between nominal and real 5-year bond yields) has risen since April 2020 and recovered to pre-pandemic level by January 2021.
 Figure 4. Survey-based inflation prospects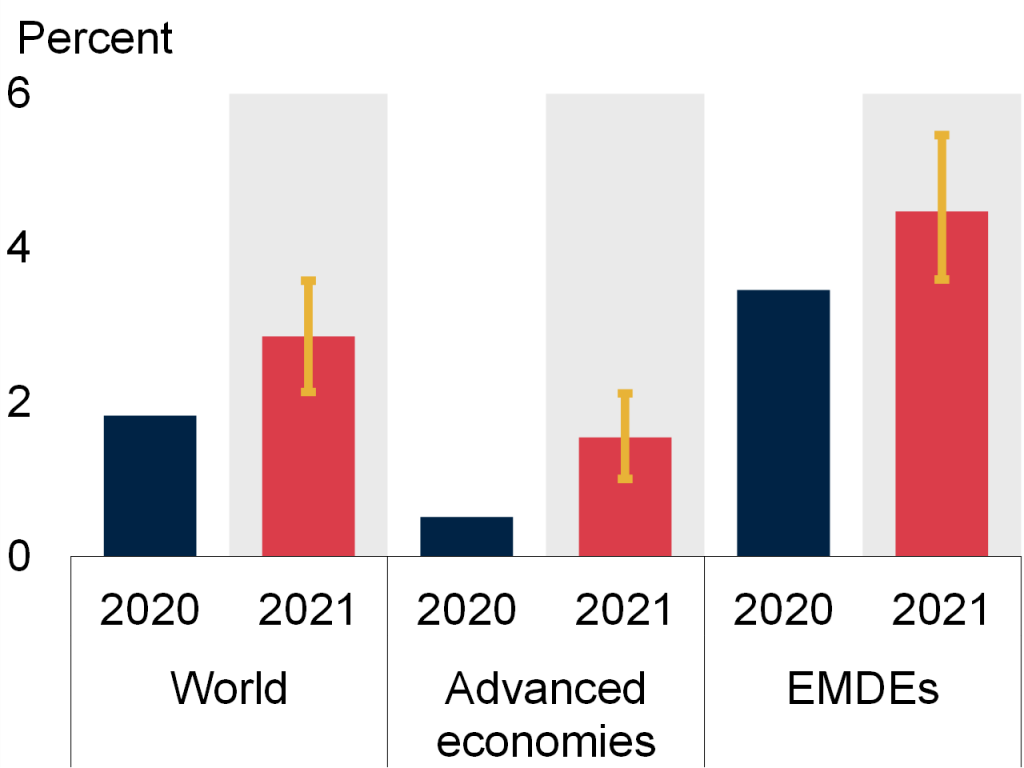 Sources: Consensus Economics, IMF World Economic Outlook, World Bank. Note: Average headline CPI inflation expectations for 2021 based on surveys of May 2021 in 57 countries (31 advanced economies and 26 EMDEs). 2020 indicates actual inflation rates. Yellow whiskers indicate maximum and minimum minimal responses.
Policy implications
Inflation is expected to moderate beyond 2021 as global growth settles at a lower level, commodity prices stabilize, and supply bottlenecks are eased. Over the longer-term, well-anchored inflation expectations point to continued low and stable inflation. As long as expectations remain anchored and any inflation increase—even above target ranges—is temporary, there may not be a need for a monetary policy response. The short-term increase in inflation might, however, extend over the longer term if policy makers are unable to keep inflation expectations anchored.
Structural factors—such as demographics, forces of globalization, and improvements in policy frameworks—supported disinflation over the past decade. However, if the recovery from the pandemic coincides with a turning point in some of these forces, the expected inflation pickup in 2021 may extend and, in EMDEs, could risk de-anchoring inflation expectations. Concerns over poorly anchored inflation expectations and the possibility of permanently higher inflation may compel EMDE central banks to tighten monetary policy earlier, or more strongly, than warranted by their cyclical positions.
Similar policy responses may also become necessary in some EMDEs if concerns about advanced-economy inflation prospects causes investors to reassess inflation risks and result in a sudden increase in global borrowing costs. In EMDEs with flexible exchange rates and limited financial vulnerabilities to exchange rate movements, currency depreciation may help buffer some of the impact of tightening financial conditions on activity. In other EMDEs, however, financial stability concerns may force central banks to tighten monetary policy more than warranted by the strength of their economies' recovery. In part due to concerns about financial stability and inflation expectations, a number of EMDE central banks that had implemented expansionary monetary policy in 2020 have begun to tighten policy in 2021.
References
 Ball, L., G. Gopinath, D. Leigh, P. Mishra, and A. Spilimbergo. 2021. "U.S. Inflation: Set for Take-off?" VoxEU.org, CEPR Policy Portal, May 7.
Blanchard, O. 2021. "In Defense of Concerns over the $1.9 Trillion Relief Plan." Peterson Institute for International Economics blog, February 18.
Charnavoki, V., and J. Dolado. 2014. "The Effects of Global Shocks on Small Commodity-Exporting Economies: Lessons from Canada." American Economic Journal: Macroeconomics 6 (2): 207-237.
Clarida, R. 2021. "U.S. Economic Outlook and Monetary Policy." Speech at the NABE International Symposium, May 12.
Gopinath, G. 2021. "Structural Factors and Central Bank Credibility Limit Inflation Risks." IMF Blog, February 19.
Ha, J., M. A. Kose, and F. Ohnsorge, and H. Yilmazkuday. 2019. "Sources of Inflation: Global and Domestic Drivers." In Inflation in Emerging and Developing Economies: Evolution, Drivers, and Policies, edited by J. Ha, M. A. Kose, and F. Ohnsorge, 143-204. Washington, DC: World Bank.
Ha, J., M. A. Kose, and F. Ohnsorge. 2021. "Inflation During the Pandemic:  What Happened? What is Next?" Working Paper DP 16328, CEPR.
Krugman, P. 2021. "Stagflation Revisited. Did We Get the Whole Macro Story Wrong?" Krugman wonks out (blog), February 5.
Landau, J. 2021. "Inflation and the Biden Stimulus." VoxEU.org, CEPR Policy Portal, February 8.
Summers, L. 2021. "The Inflation Risk is Real." Washington Post. May 24.
World Bank. 2021. Global Economic Prospects. June. Washington, DC: World Bank.
---
This post written by Jongrim Ha, M. Ayhan Kose and Franziska Ohnsorge.