With today's employment situation release, we have the real-time Sahm rule indicator through June:

Source: FRED, accessed 7/8/2022.
This indicator does not suggest that we were in recession as of mid-June (when the survey was taken), contra suggestions (e.g.). For other high frequency based indicators through June, see this post.
Here are some of the key indicators followed by the NBER's BCDC: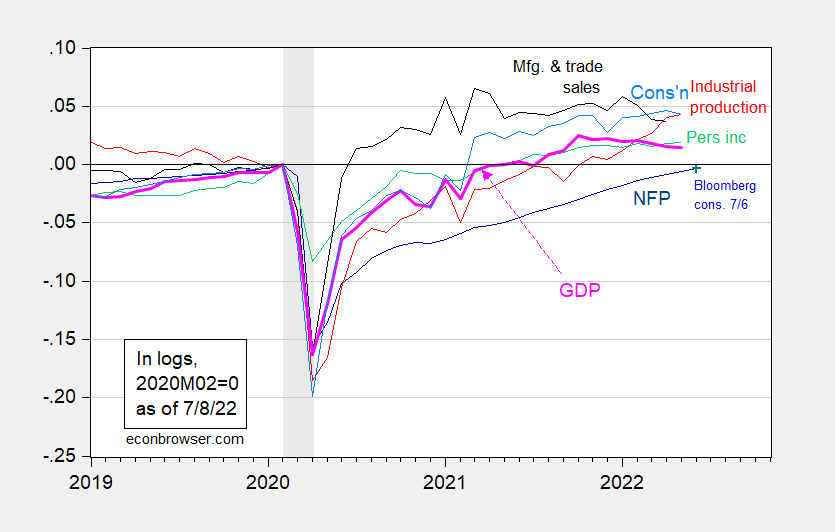 Figure 1: Nonfarm payroll employment (dark blue), Bloomberg consensus for NFP as of 7/6 (blue +), industrial production (red), personal income excluding transfers in Ch.2012$ (green), manufacturing and trade sales in Ch.2012$ (black), consumption in Ch.2012$ (light blue), and monthly GDP in Ch.2012$ (pink), all log normalized to 2020M02=0. NBER defined recession dates, peak-to-trough, shaded gray. Source: BLS, Federal Reserve, BEA, via FRED, IHS Markit (nee Macroeconomic Advisers) (7/1/2022 release), NBER, and author's calculations.
Update, 7/10/2022, 4:30pm Pacific:
Jason Furman discusses whether revisions in labor market data could push us into negative employment growth, and hence arguably into recession. He's skeptical this could be true for June, less skeptical for the future.
One concern with using job growth to "nowcast" a current or imminent recession is that these estimates will be revised (revisions to the unemployment rate, which is solely survey-based, only reflect updated seasonal factors and are typically minor). Specifically, to estimate job growth, the Bureau of Labor Statistics (BLS) supplements the information reported by employers with a model-based estimate of the number of new businesses that were created and destroyed. Since BLS's model does not know when the economy is at a turning point, it will tend to overestimate jobs when the economy is turning down and underestimate jobs when it is turning up. That means that subsequent revisions, which incorporate administrative data like tax reports, will tend to be negative. For example, it was originally estimated that the economy lost 159,000 jobs in September 2008, but the most recent estimate is that the economy actually lost 460,000 jobs that month.

In the five recessions prior to the pandemic recession, the average revision to total job growth in the six months leading up to the recession was -0.2 percentage points, or the equivalent of about 50,000 jobs per month now. As shown in figure 6, even if the recent jobs numbers are eventually revised down, they are still very likely to be much higher than is typical before a recession.