Order of Battle, Izium area: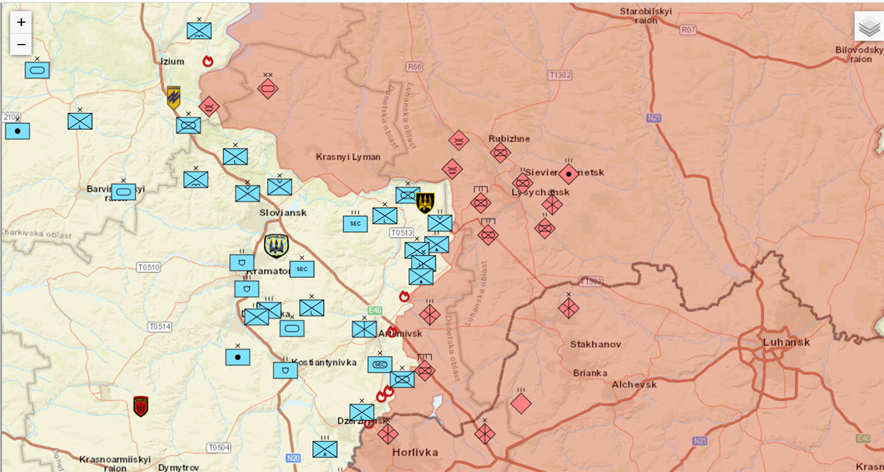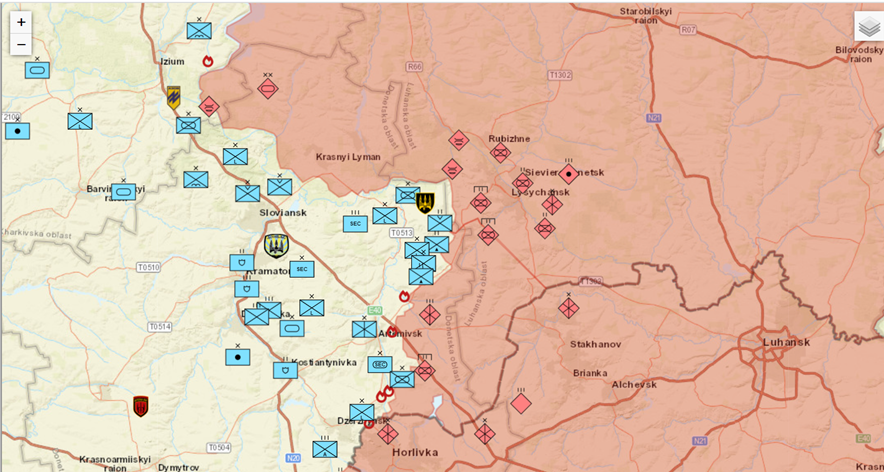 Source: MilitaryLand, 9/12.
ISW reports for 9/12:
Ukrainian forces continued to consolidate gains in eastern Kharkiv Oblast on September 12. The Kharkiv Oblast detachment of Ukrainian Azov Regiment Special Forces stated that Ukrainian troops have taken control of the entire northeastern part of Kharkiv Oblast along the Vesele-Vovchansk line.[4] Ukrainian sources confirmed that Ukrainian troops have retaken Dvorchina (100km east of Kharkiv City) and Ternova (30km northeast of Kharkiv City), demonstrating the range of the Ukrainian advance in northeastern Kharkiv Oblast.[5] Ukraine's Airborne Assault Command also claimed that Ukrainian paratroopers took control of Bohorodychne, a small settlement in northwestern Donetsk Oblast directly along the southeastern Kharkiv Oblast border.[6] Geolocated imagery additionally shows that Ukrainian troops have taken full control of Sviatohirsk, 3km due east of Bohorodychne.[7]

Russian sources claimed that the front has largely stabilized at the Oskil River, which runs just west of the Kharkiv-Luhansk Oblast border.[8] Russian milbloggers reported that Ukrainian and Russian forces are fighting around Lyman, but that Lyman remains under the control of Russian and proxy forces.[9] Some Russian sources also voiced concerns that Ukrainian troops are trying to cross the Siverskyi Donets River around Zakitne (about 15km southeast of Lyman) to take back Yampil.[10] Russian sources are seemingly focused on the Lyman-Yampil line as the next potential target for Ukrainian advances.

Russian forces are failing to reinforce the new frontline following Ukrainian gains in eastern Kharkiv Oblast and are actively fleeing the area or redeploying to other axes. Ukrainian sources claimed that all Russian forces have left Svatove, Luhansk Oblast (about 45km east of current Ukrainian positions along the Oskil River), and that only militia elements of the Luhansk People's Republic (LNR)—possibly locals—remain in Svatove.[11] Social media footage shows lines of cars stretching for kilometers near Schastia and Stanysia Luhanska, which are both along the border of long-held LNR territory and close to the Russian border.[12] Russian forces and pro-Russian collaborators are likely experiencing the psychological pressure of rapid Ukrainian gains and seek to remove themselves from settlements near the new frontline that they perceive as vulnerable to Ukrainian advances. Certain proxy forces are also reportedly already redeploying from Kharkiv Oblast to southwestern Donetsk Oblast, indicating that the Russian command is not prioritizing reinforcing vulnerable positions east of the Oskil River.[13]
I think this is a good answer to JohnH's question of 9/2: "How is that [Ukrainian] trap working out?"