The Survey of Professional Forecasters February survey was released on Friday. The median outlook has improved considerably since early January.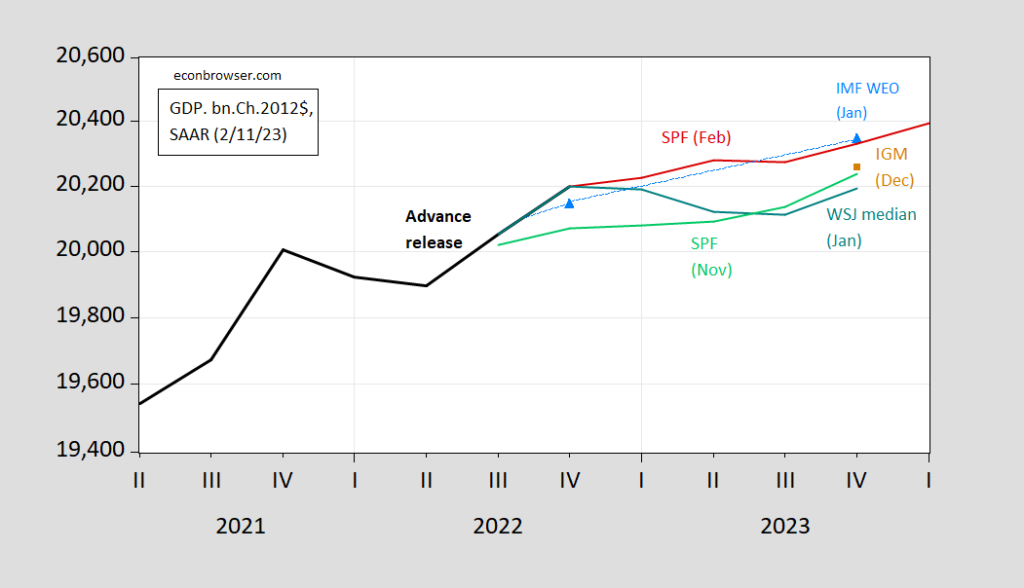 Figure 1: GDP as reported (bold black), Survey of Professional Forecasters median  February 2023 (red), November 2022 (light green), WSJ January 2023 median (teal), FT-IGM median (tan square), and IMF January 2023 WEO projection (sky blue triangle), all in bn.Ch.2012$ SAAR. All forecast levels based on growth rates and GDP level available at time of forecast, except for SPF. Source: BEA (2022Q4 advance), Philadelphia Fed SPF (various), WSJ (January), FT-IGM (December), IMF WEO (January 2023 update), and author's calculations. 
Notice the trajectory of GDP in the February SPF forecast is elevated because of the reporting of 2022Q4 GDP (which was stronger than earlier anticipated)  and faster projected growth relative to that seen in the WSJ January survey (in my experience, when the SPF and WSJ surveys were reported in the same month, they usually looked very similar; the WSJ survey now comes out on a schedule one month off of the SPF mid-quarter timing).
The probability of a negative quarter of GDP growth (q/q) has gone down since November 2022's survey, with the highest probability associated with 2023Q3 (previously, it was 2023Q2).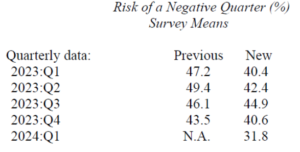 Source: Philadelphia Fed (February 2023).
The SPF provides a picture of the distribution of year-on-year growth for 2023 (note that in Figure 1, the SPF median quarter-on-quarter growth implies a one quarter negative growth rate in 2023Q3).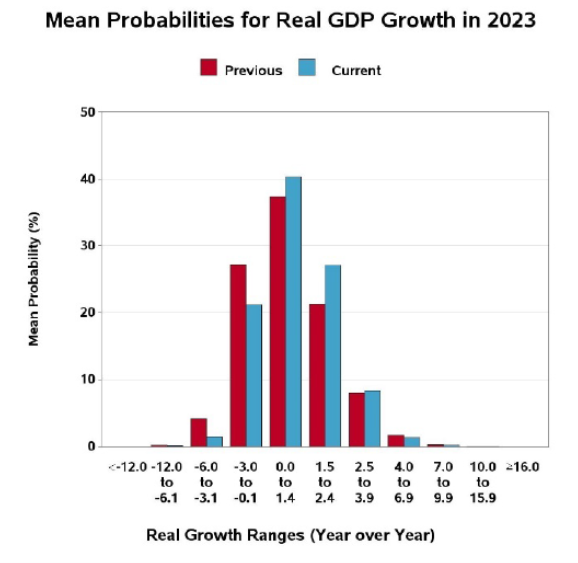 Source: Philadelphia Fed (February 2023).
Employment growth was also revised upward, although the forecasts do not appear to reflect the benchmark revisions that pushed December 2022 NFP employment by over 800K (see discussion here).
Figure 2: Nonfarm payroll employment from January 2023 (benchmark revised) release (dark blue), from December 2022 release (sky blue), Survey of Professional Forecasters February 2023 survey (dark red), and November 2022 survey (pink), all in 000's, s.a. Source: BLS via FRED, and Philadelphia Fed (various). 
The median forecast shows 2023Q2 NFP employment growth at essentially zero, as opposed to -14,500/month in 2023Q4, in the November survey. By this measure, no recession occurs in 2023 (recalling that NBER places primary weight on employment and personal income ex-current transfers, see here).