Reader JohnH asserts pgl makes up crazy output gaps. My search of Economists View turns up this 2017 exchange. I don't see a "crazy"  assertion by pgl (certainly not as crazy as the Friedman view of a -18% gap), even if it was in disagreement with CBO's assessment (and Furman's) at the time, that the economy was near full employment.
The exchange (in response to Furman):
pgl said…
I guess Jason Furman is inviting the wrath of some with his title. The last line summarizes his post:

"Adding this 0.5-percent growth in labor inputs and 1.3-percent growth in productivity yields the 1.8-percent annual potential growth rate."

OK – even if we accept his premise, we should not accept his other assumption that current output = potential output. If the output gap is around 5% as I and others have argued, output growth can exceed potential growth by 1% from now until 2021. So a little arithmetic tells us that we can have growth rates closer to 3%.

ReplyWednesday, March 22, 2017 at 01:25 AM
BenIsNotYoda said in reply to pgl…
pgl,
5% output gap would be huge. I would like you to present evidence that speaks to this. Very interested.

ReplyWednesday, March 22, 2017 at 04:47 AM
BenIsNotYoda said in reply to BenIsNotYoda…
I agree with pgl that growth rate of 3% is achievable. Upper limit of 2% is a ridiculous conclusion.

ReplyWednesday, March 22, 2017 at 04:50 AM
JohnH said in reply to BenIsNotYoda…
pgl is known to make up whatever output gap he wants, then to call others liars for citing official estimates…
Personally, I think I was closer to CBO than to Friedman, and was skeptical of -5% output gap, that -5% (or larger) estimate was backed up by statistical (as opposed to bean-counting) approaches, such as the Blanchard-Quah methodology (see DeLong):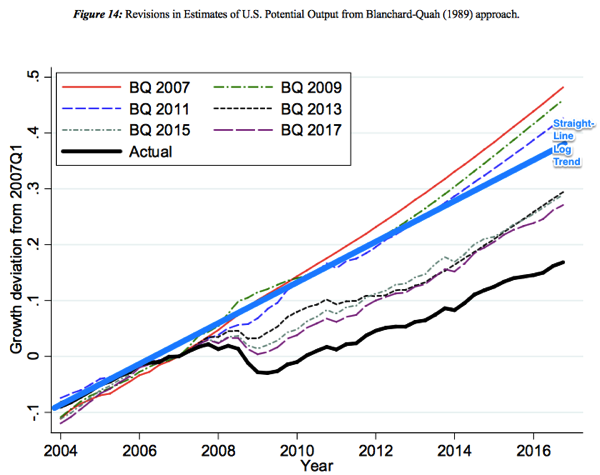 Figure 1. Cumulative GDP growth deviation; DeLong edit of Coibion, Gorodnichenko, Ulate. Source: DeLong (2017).
BQ 2017 indicates something like a 10% output gap, very large, but not as large as the Friedman gap of  -18% at end 2015.
Bottom Line: Unlike GDP, there is no "official series" for output gap. CBO's comes closest in the sense that a government agency estimates it and as part of its mission reports it. But for instance, there is no official Fed potential (although there is a green book estimate; there are also many internal Board estimates based on a series of methodologies, as well as estimates throught the Federal Reserve bank research departments). There is a US output gap reported by the OECD, but that's not what anybody would say is the official estimate of potential GDP. So we can "make up" estimates of the output gap, in a way we can't "make up" the GDP number, or the CPI number…