So the world sometimes gets better. ShadowStats reports May CPI y/y inflation at above 7.5%.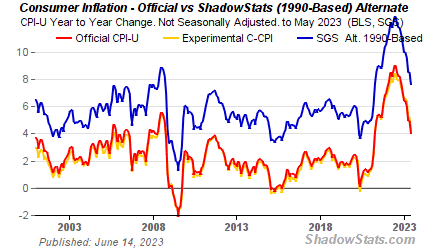 Source: ShadowStats, accessed 11/10/2023.
Official CPI y/y inflation in May was 4.1%, research series (CPI chained) was 3.9%.
Jim Hamilton on ShadowStats, in 2008, with rebuttal from Williams.
Commenters on ShadowStats' side: Blissex, W.C.Varones, Ricardo, ppcm, and Dave Cohen.