November employment figures are out. Time to re-evaluate this assessment from two years ago in Political Calculations that California was in recession.
Going by these [household survey based labor market] measures, it would appear that recession has arrived in California, which is partially borne out by state level GDP data from the U.S. Bureau of Economic Analysis. [text as accessed on 12/27/2017]
The release provides an opportunity to revisit this question. It's (still) unlikely that a recession occurred in California.
On employment: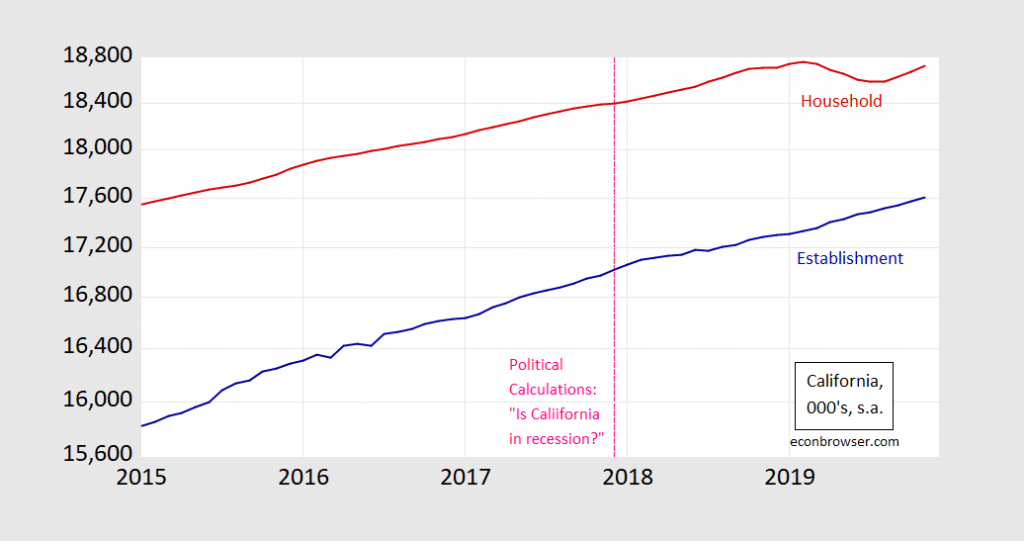 Figure 1: California nonfarm payroll employment (dark blue), civilian employment (red), in 000's  s.a., on log scale. Source: BLS.
As recounted in a previous post, the household series (which Ironman in Political Calculations relied upon) is subject to large revisions (even in as large a state as California), so the dip should be taken with a grain of salt.
On GDP:
Figure 2: California GDP, in mn. Ch2012$ SAAR (blue). NBER defined nation-wide recession dates shaded gray. Source: BEA and NBER.
Wells Fargo summarizes:
Job growth appears to be gaining some momentum at the tail end of the year. Nonfarm payrolls rose by a sturdy 28,400 net new jobs during November and overall job growth picked up to a 1.9% year-over-year pace. Furthermore, the state appears to be on pace to add over 320,000 new jobs for 2019 as whole, which would mark a solid improvement from the 278,400 jobs added the previous year.
For previous assessments, see: [1] [2] [3] [4] [5] [6] [7], [8], [9], [10], [11], [12], [13], [14], [15], [16], and [17].