Goldman Sachs (Phillips/Briggs/Mericle, 3/13) document some aspects of the American Rescue Plan, signed into law by President Biden.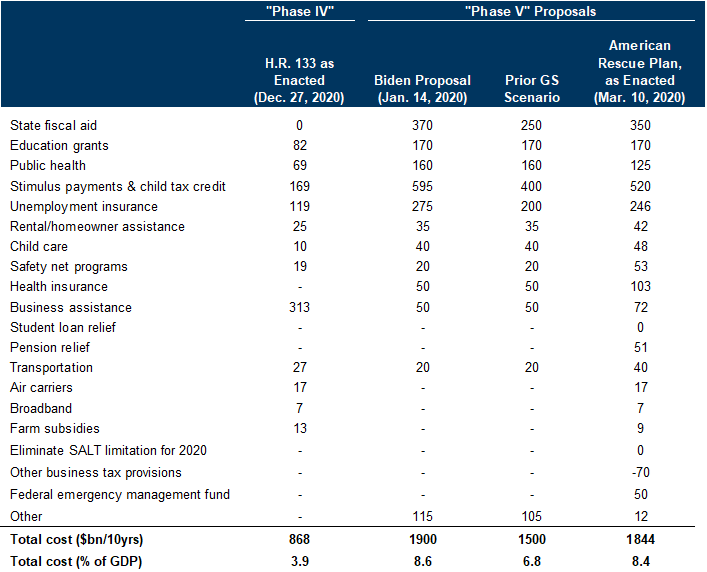 Source: Goldman Sachs (Phillips/Briggs/Mericle, 3/13).
Goldman Sachs outlines their estimates of the fiscal impulse resulting from the ARP.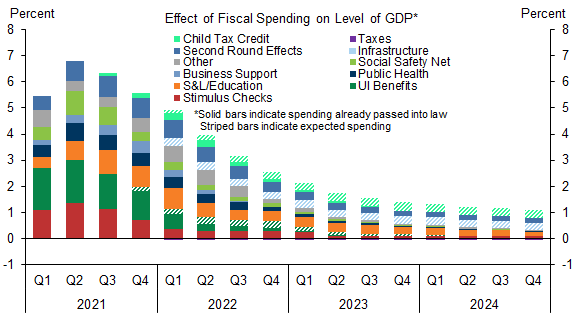 Source: Goldman Sachs (Phillips/Briggs/Mericle, 3/13).
Peak impact is estimated for 2021Q2, at a 7 percentage point higher level of GDP. This estimate is predicated upon multipliers of a certain size (note interestingly there is little debate over the idea of positive "multipliers").
CBO has made adjustments for social distancing in its previous projections of the CARES act; estimates of fiscal impact on GDP have to be conditioned on expectations regarding the extent of pandemic. GS is somewhat above the WSJ mean forecast, suggesting expectations of a higher package size and/or larger multipliers.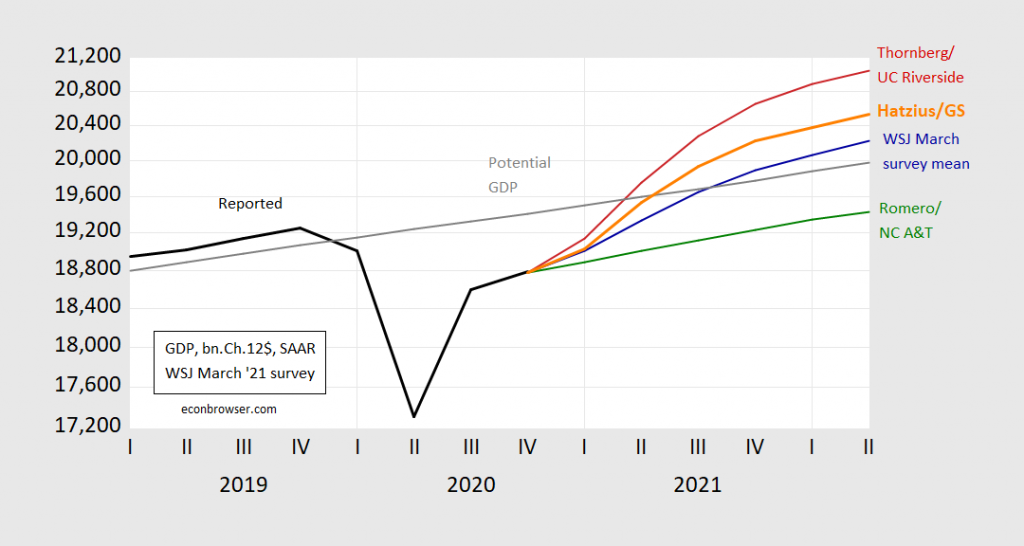 Figure 3: GDP actual (bold black), WSJ March survey mean (blue), Christopher Thornberg/UC Riverside Business School (red), Alfred Romero/NC A&T State University (green), Jan Hatzius/Goldman Sachs (orange), CBO estimate of potential GDP (gray), all in billions Ch.2012$, on log scale. Forecasted levels calculated by cumulating growth rates to latest GDP level reported. Source: BEA (2020Q4 2nd release), WSJ surveys (various), CBO (February 2021), and author's calculations.
Interestingly, GS does not foresee a lot of overheating since their estimate of slack is greater than that implied by CBO's estimate of potential.
Source: Struyven, Hatzius, and Bhushan, "There Is More Slack Than They Think?" Goldman Sachs, February 16, 2021.