On progress in implementing the minimum wage.
The NY Times notes that tomorrow's referendum vote in Arkansas is likely to raise the minimum wage (see also Politico). In contrast, Governor Walker's Department of Workforce Administration has recently certified that $7.25 is a living wage.[1] Perhaps that's because the Governor erroneously believes minimum wage jobs are "overwhelmingly jobs for young people" (something Politifact labeled as unambiguously false — not something I see very often!!!!)
I thought it useful to note that an increase in the minimum wage would have an impact on a good number of people in the 20-29 age group. As I get older, I tend more and more to think of these people as "younger", but I don't think they're teenagers, as the Governor suggests.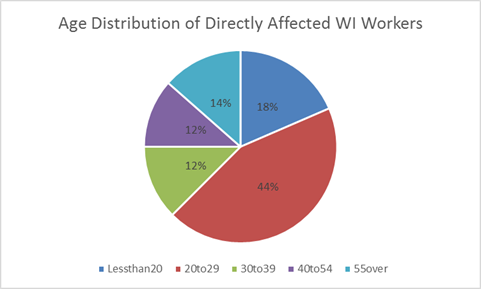 Figure 1: Age distribution of directly affected Wisconsin workers. Source: David Cooper, Economic Policy Institute Briefing Paper #371, December 19, 2013
The minimum wage has been declining in real terms since the late 1960's, with intermittent adjustments upward. This is shown in Figure 2.
Figure 2: Federal minimum wage, in $/hour (blue), and in 2013$/hour (red). Deflation uses CPI-all. NBER defined recession dates shaded gray. Source: BLS, NBER, and author's calculations.
Not only has the real minimum wage been generally declining since the late 1960's. The ratio to the average hourly earnings for production and nonsupervisory workers has also been declining, also since the late 1960's, to a little above 1/3.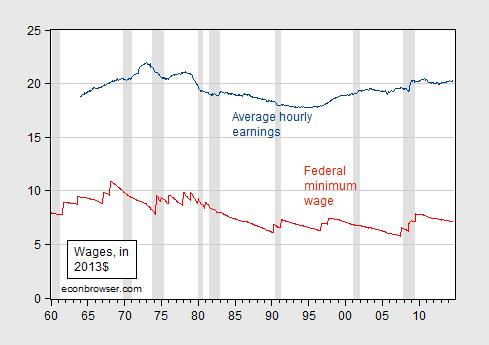 Figure 3: Average hourly earnings for production and nonsupervisory workers (dark blue), and Federal minimum wage (red), both in 2013$. Deflation uses CPI-all. NBER defined recession dates shaded gray. Source: BLS, NBER, and author's calculations.
Some observers have worried about a slowdown in job creation as a consequence of minimum wage increases. Thus far, the most recent minimum wage increases have not resulted in a measurable decrease in employment increase. Instead, job growth is (nonstatistically) faster in states that have raised the minimum wage.[2] On the other hand, there is some evidence that a higher minimum wage helps reduce poverty rates.[3]
Addendum: If you want to seem some funny "research", again from the MacIver Institute, see this "study", which indicates an astoundingly precise job loss of 91,521, if the minimum wage were to be raised to $15. It's unauthored, in the sense there are no names listed as authors. The data are not online, and there is no author to contact to get the data from. (The key referenced document is also not found by the Google…) This is even worse than my experience trying to get data from Sabia, who authored the Employment Policies Institute study on the minimum wage (and who still hasn't responded to my repeated requests for the data after six months).
Oh, and the WSJ plots where concern about jobs is highest. Here's the map, from Milwaukee Journal Sentinel: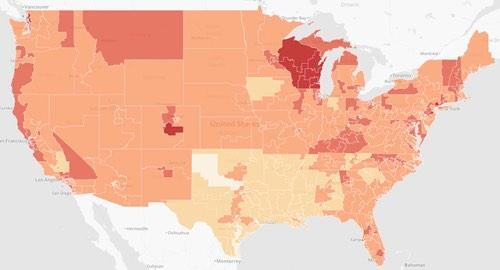 From the WSJ via the article:
In the above map, it's clear jobs, employment and economic security are important to Facebook users in Wisconsin, where incumbent Gov. Scott Walker, a Republican, has made the issue part of his campaign against challenger Mary Burke, the Democrat. The Facebook data are mapped by congressional district, rather than state, to add some granularity. It's clear the issue has been discussed statewide across all districts.
Since Wisconsin is currently 108,600 below the trend required to hit the Governor's 250,000 net new jobs promise, this is not surprising.