Reader Tom argues that economic discourse should not include discussion of variables that are unobservable, to wit (or at least indicate that it's an estimate):
You announce somebody's estimations of a theoretical, unobservable phenomenon as "the output gap" or "the actual output gap" as if you and they actually know them to be the output gap.
If we used this criterion, what variables would be ruled out from polite conversation? A lot…let's just take the real interest rate.
What is the real interest rate; conceptually (remember, this is a made-up concept), it is:
rt = it – πet+1
where it is the nominal interest rate at time t, and πt+1 is the inflation rate between time t and t+1, and the "e" superscript denotes the market's expectation.
Since the market's expectation is unobservable, then the real interest rate is in some sense not "knowable". This is demonstrated in Figure 1.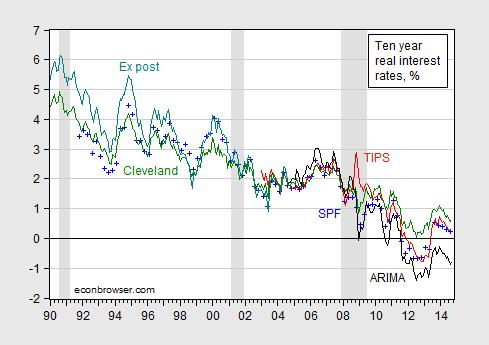 Figure 1: Real ten year interest rate measured as constant maturity ten year nominal interest rate minus median survey response from Survey of Professional Forecasters (blue +), minus Cleveland Fed expected inflation (green), minus ARIMA predicted ten year inflation (black), minus ex post inflation (teal), and from TIPS (red). ARIMA(1,1,1) estimated over 1967M01-2014M09 period. NBER defined recession dates shaded gray. Source: Federal Reserve Board via FRED, Philadelphia Fed, Cleveland Fed, BLS, NBER, and author's calculations.
In point of fact, in modern macroeconomics where expectations of the future are central, the most important variables are often not observable. So when one hears a criticism like that leveled by Tom, realize that taking such a criticism to its logical conclusion means that almost no macroeconomic discussion can proceed. Everything will have to have appended to it the adjective "estimated".
Now, to blow your mind, think about a stock price "fair value". A stock price should equal the present discounted value of the expected stream of dividends. Once one allows that this equality might not hold exactly (I think Summers, J.Finance (1986)), then "fair value" might be construed as a "counterfactual", in Tom's lexicon.
(So, on Friday, we should say "estimated" nonfarm payroll employment; we should be referring everywhere and always to "estimated" GDP; and so on and so forth.)
Update, 11/7, 10:20AM Pacific: In order to comply with Tom's requests, I have comprehensively edited as of yesterday the offending (to him) post, so that there should be no doubt about the uncertain nature of the relevant economic macro variables. I welcome readers assessments whether the text now reads better (reader Tom has not thus far responded).