A lot of chatter about a sugar high coming from the passage of the American Rescue Plan, previous fiscal and monetary measures, combined with the increase in CPI inflation. Time to step back and assess.
First, the chatter: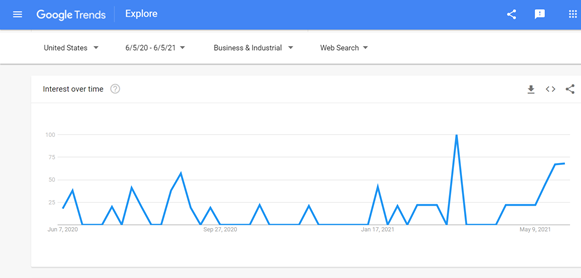 Figure 1: Google Trends count for "Sugar High", accessed 6/13/2021.
Will the economy overheat? Will the overheating cause inflation? Will this cause the Fed to over-react so as to crash the economy (or will the financial imbalances cause a crash a la 2008?).
On the overheating question, one can look to the forecasts of GDP, and estimates of potential GDP.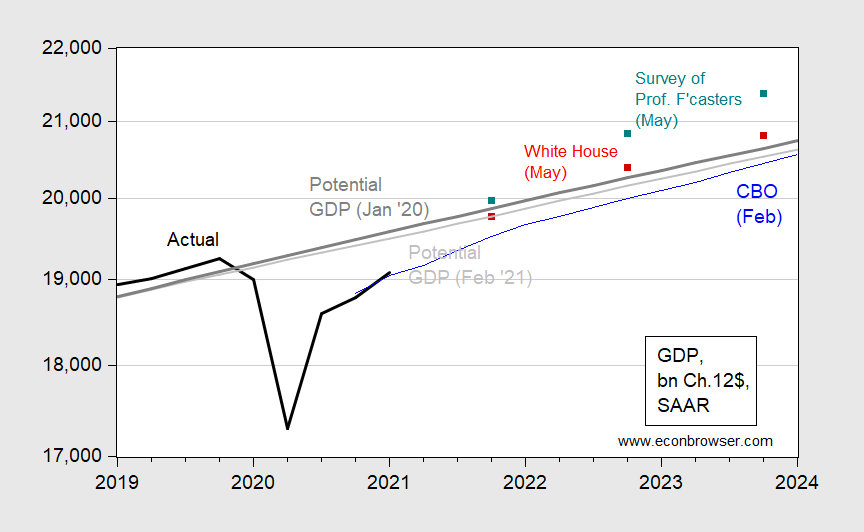 Figure 2: GDP as reported (black), CBO projection from February 2021 (blue), Survey of Professional Forecasters median (teal squares), White House forecast (red square), potential GDP from January 2020 CBO (dark gray), from February 2021 (light gray), all in billions of Ch.2012$, SAAR. Source: BEA 2021Q1 2nd release, CBO  Budget and Economic Outlook (January 2020 and February 2021), Survey of Professional Forecasters (May 2021), White House (May 2021), and author's calculations.
By Q4 of 2021, the White House is predicting output 1.2% above potential GDP as estimated by the CBO earlier this year (February). The Survey of Professional Forecasters (SPF) median predicts output slightly higher, 2.3%. Now, the implied output gap (actual minus potential GDP) depends critically on the estimate of potential GDP. The CBO's February 2021 estimate incorporated less scarring of the economy than the July 2020, but more than January 2020. Using the January 2020 estimate, we have a -1.1% gap according to the White House, and a -1.0% according to the SPF.
The foregoing is not to argue that one estimate of the output gap is preferred to the other. Rather, it's to note that a big surge in actual output (a "sugar high") has different implications depending on the path of potential GDP, which is unobserved. As Coibion, Gorodnichenko and Ulate (2018) note, conventional accounting approaches tend to understate potential output in real time. Hence, for instance, Goldman Sachs predicts rapid growth, but also sees potential output as being substantially higher than does the CBO, so that the implied output gap is more negative at the moment than the above graph suggest, and output less likely to overshoot potential substantially going forward (see Hatzius, "Why the Economy Won't Overheat," Goldman Sachs, June 7, 2021).
Even if output rises above potential, other key issues include (1) the slope of the Phillips curve, and (2) long term expected inflation (see this post for a graphical framework in which to put (1), (2) and the projected output gap in). I will point out that long term (5 year) expected inflation as implied by financial markets (the 5 year Treasury-TIPS breakeven) seems to not have surged much, despite the CPI surprise a few days ago, as shown in Figure 3.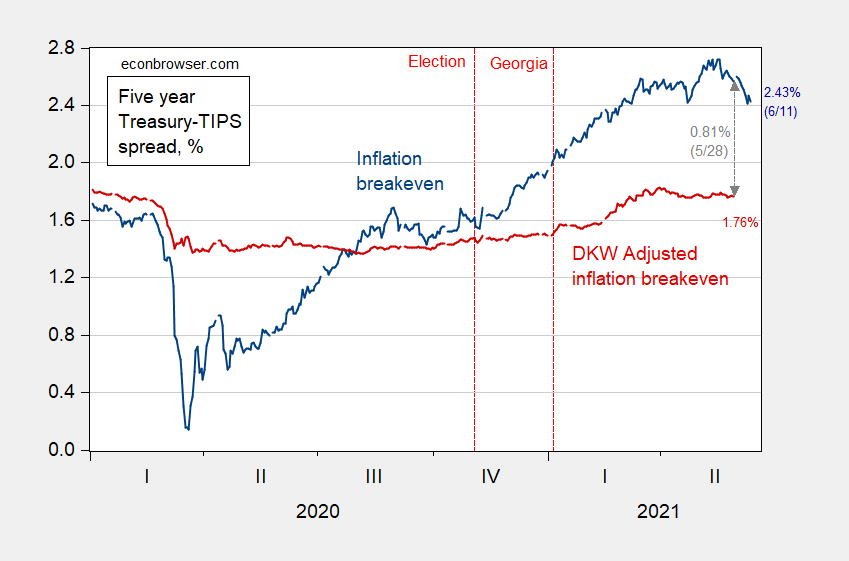 Figure 3: Five year inflation breakeven calculated as five year Treasury yield minus five year TIPS yield (blue), five year breakeven adjusted by inflation risk premium and liquidity premium per DKW, all in %. Source: FRB via FRED, Treasury, KWW following D'amico, Kim and Wei (DKW) accessed 6/4, and author's calculations.
Survey and market based data seem to ascribe only a slight increase in year-on-year inflation, at the mean, suggesting that none of the fears are part of the central scenarios contemplated by markets and forecasters.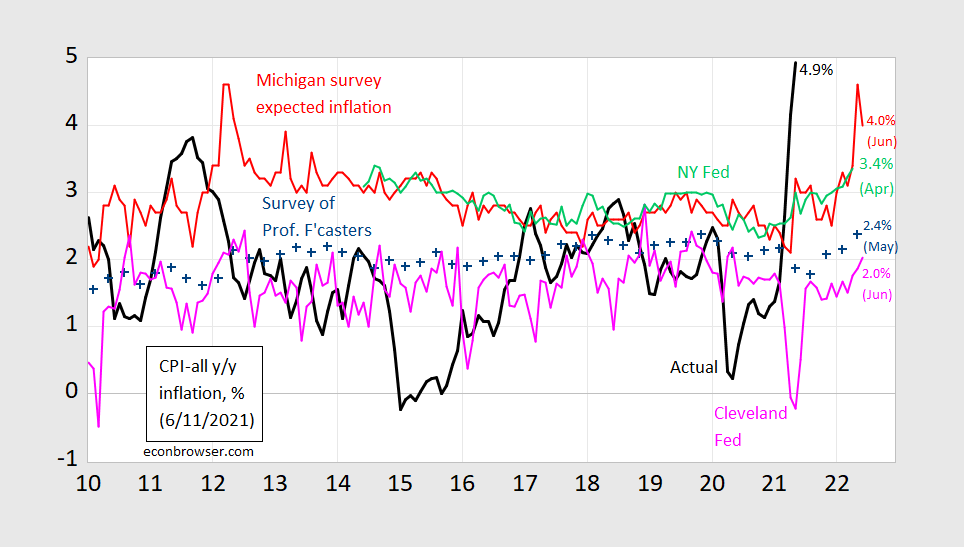 Figure 4: CPI inflation year-on-year (black), median expected from Survey of Professional Forecasters (blue +), median expected from Michigan Survey of Consumers (red), median from NY Fed Survey of Consumer Expectations (light green), forecast from Cleveland Fed (pink). Source: BLS, University of Michigan via FRED, Reuters, Philadelphia Fed Survey of Professional Forecasters, NY Fed, and Cleveland Fed.
While the Michigan survey implies pretty high year-on-year inflation (4% as of June), we know that such consumer/household based estimates are usually upwardly biased; perhaps better to focus on the changes. From November 2020 to June 2021, the Michigan (survey) measure has risen 1.2 percentage points, while the Cleveland Fed (hybrid market/survey) measure has risen only 0.6 percentage points.
This doesn't mean there aren't possible surprises far on the upside of inflation (say, due to supply shocks). However, my view is that the 7% y/y inflation forecasted by for instance former CEA Chair Kevin Hassett is not particularly plausible.
Finally, I think the "sugar high" analogy is meant to suggest we will have a financial crash a la 2008. With the origins of the boom cycle not being driven by overleveraging (thank you higher capital standards!), I don't think this is the right place to look for a crash. That doesn't mean we won't see one elsewhere, but I think the crash-in-finance scenario seems low probability.