In assessing market views on future lumber prices, reader JohnH writes:
Futures markets aren't foreseeing a decline in lumber prices any time soon.
https://www.barchart.com/futures/quotes/LS*0/futures-prices
Here's a graph of lumber prices over time, and futures as of 10/15: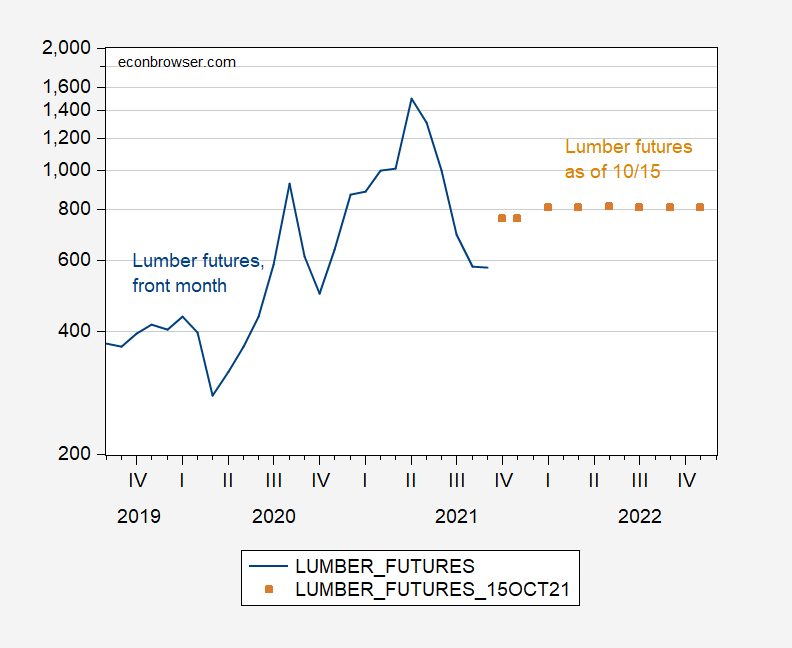 Figure 1: Front month lumber futures, monthly average of daily data (blue), and lumber futures as of Oct. 15, 2021 (brown squares); price per 110,000 board foot, from CME. Source: Macrotrends.com and barchart.com. 
While it is tempting to conclude that futures are good predictors of future spot rates, as Olivier Coibion and I have documented for a variety of commodities (Chinn & Coibion (2014), post), this is not always an appropriate thing to do (i.e., futures are so biased a predictor that it would be better to use a random walk). While we did not assess lumber, Lee in "A Comprehensive Study on Normal Backwardations in Futures Markets" (2013) has, and notes:
The most acute form of contangos in commodities can be found in the cocoa and lumber markets. For some reason, the buyers (e.g., chocolate makers, and lumber users like home builders) have lots of incentive to buy in this market to hedge their risk.
"Contango" is the condition wherein the futures price is above the expected future spot price, and lumber apparently exhibits this condition. (Kolb, J.Fut.Mkts (1995) also characterizes lumber as usually in contango, so this is not a unique finding).
Coibion and I estimate:
st+k – st = α + β(ft,k – st) + ut+k
Where st is the log spot rate at time t, ft,k is the log futures rate for a transaction k periods hence, and u is an error term that is under the efficient markets hypothesis null a random expectations error (this is sometimes called the Mincer-Zarnowitz regression). Mehrotra and Carter (2017) find the null hypothesis of beta=1 rejected at 10% msl at horizons up to 6 months, and the joint null hypothesis of alpha=0 & beta=1 rejected at 2% msl, at all horizons.
In sum: friends don't let friends use lumber futures to forecast future lumber prices willy-nilly.