That is reader Steven Kopits acknowledging his repeated assertion [1] [2] [3] [4] [5] that an increase in multiple job holders was an important factor in explaining the divergence between the household and establishment employment series.
One can also have spent 10 seconds constructing this graph (reprised from this post) to have realized the stupidity of making the original assertion once (let alone twice).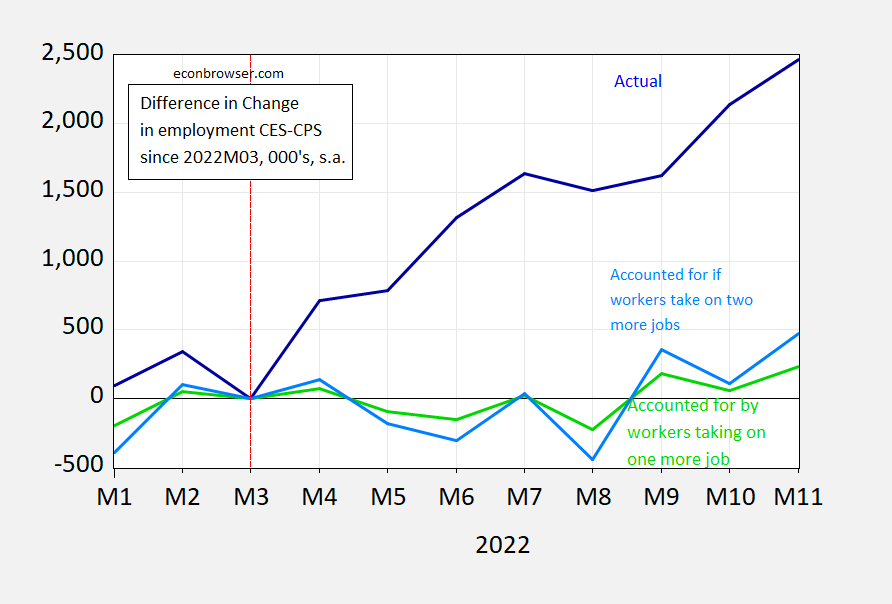 Figure 1: Difference in net job creation from nonfarm payroll series minus civilian employment series, since 2022M03 (dark blue), increase in multiple job holders since 2022M03, assuming workers increase from one to two jobs (green), and from one to three jobs (sky blue), all in 000's, seasonally adjusted. Multiple job holder series are BLS series LNU02026625, LNU02026631.LNU02026628.  Source: BLS via FRED, and author's calculations.
In order for multiple job holders to account for the full discrepancy, each worker who had one job at 2022M03 would've had to take on an additional 13 10.5 jobs by 2022M11. That seems unlikely. Just sayin'.
Not-seasonally-adjusted NFP increase 581 thousands more than (not-seasonally-adjusted) total covered Quarterly Census of Employment and Wages (QCEW), going from March to June 2022, as shown in Figure 2 of this post.