Last Thursday, I talked on WPR's Central Time about the national economy and Wisconsin's outlook given President Biden's policies. I noted that the macro outlook had improved substantially since last December, as the economy proved more resilient than expected, and inflation decelerated more than anticipated.  That was true nationally, as well as locally.
The Wisconsin Economic Outlook
Figure 1 shows the projections from the November Wisconsin Economic Forecast update and the December IHS Markit forecast for the nation (the Economic Forecast is based on national inputs from the IHS Markit forecast). Hence, the forecasted downturn in nonfarm payroll employment is driven by the downturn at the national level.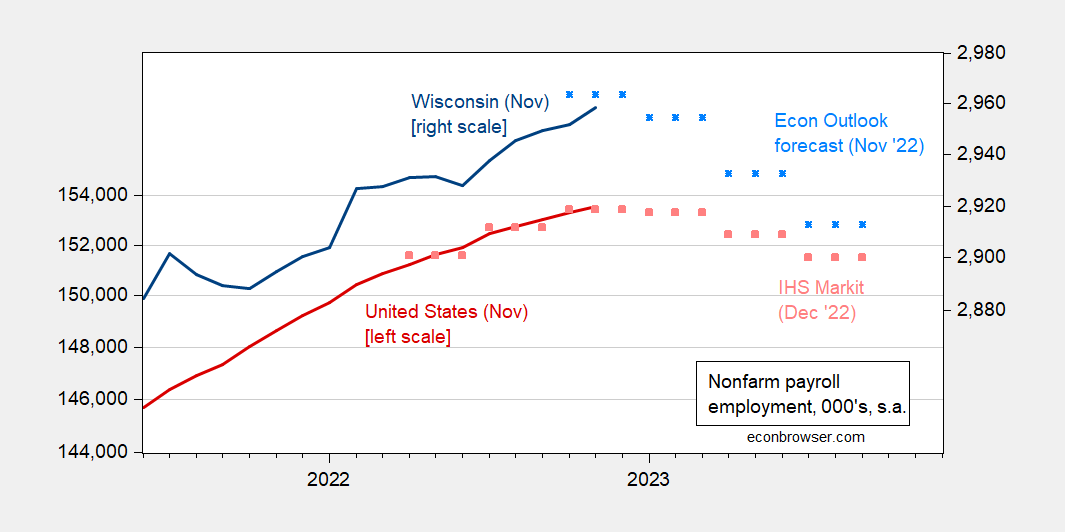 Figure 1: US nonfarm payroll employment, November release (red), and forecast from December IHS Markit forecast (pink squares), Wisconsin nonfarm payroll employment, November release (blue), and Wisconsin  Economic Forecast update of November (sky blue squares), all in 000's, s.a. Source: BLS via FRED, IHS Markit (Dec. 13, 2022), WI Dept of Revenue (November, released in Dec.)
Since November, the economic outlook has improved, as was discussed in this post from yesterday. Since the Department of Revenue forecast relies on IHS Markit forecasts, it pays to examine how the IHS Markit forecast has evolved since December, as shown in Figure 2.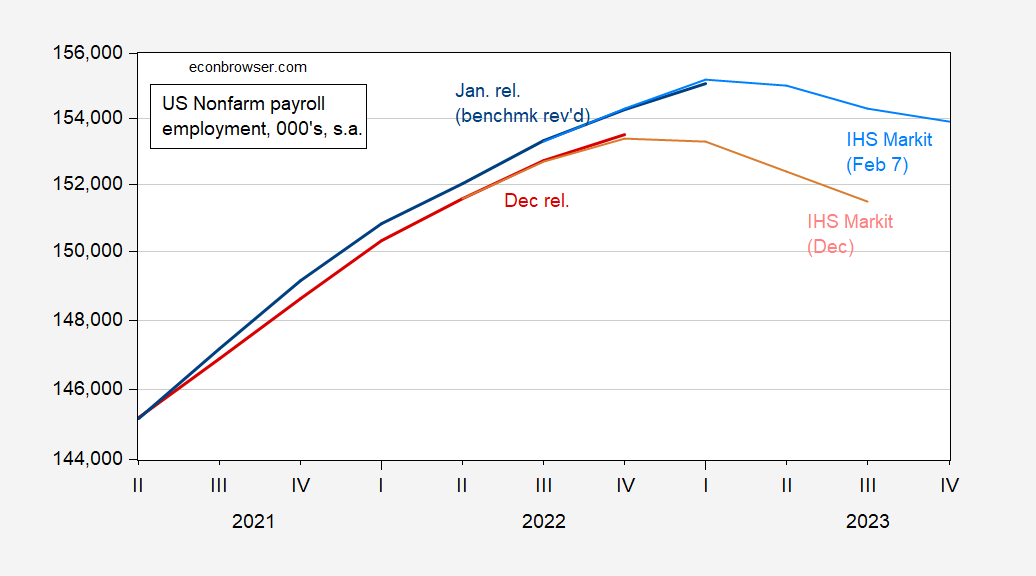 Figure 2: US nonfarm payroll employment from December release (red), from January release (blue), IHS December forecast (pink), and February forecast (sky blue), all in 000's, s.a. Source: BLS via FRED, IHS December 13, and February 7.
What does this imply for the Wisconsin outlook? Figure 3 shows the employment numbers from the December release (blue) and the November Department of Revenue forecast (sky blue squares).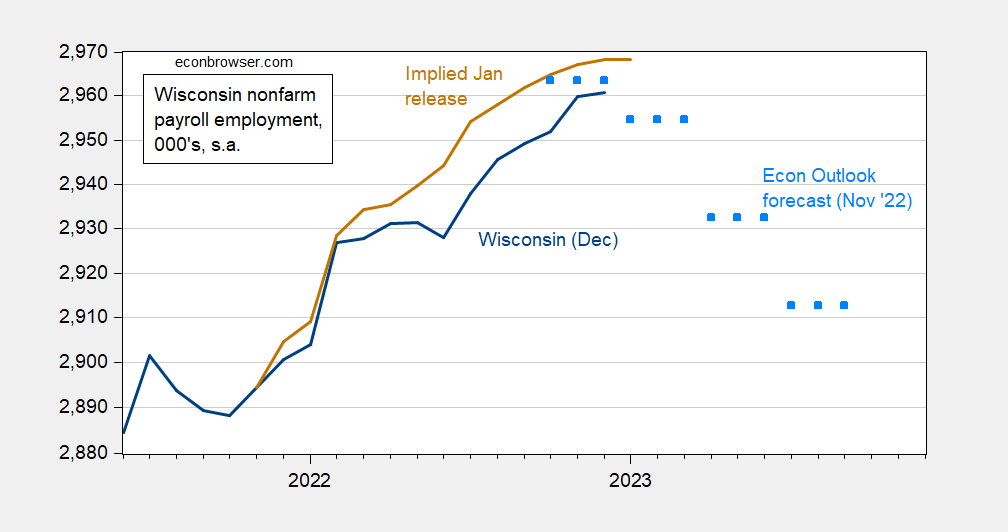 Figure 3: Wisconsin nonfarm payroll employment from December release (blue), Wisconsin Economic Forecast update of November (sky blue squares), and estimated Wisconsin nonfarm payroll employment from January release (brown line). Source: BLS, WI Dept of Revenue (November, released in Dec.), and author's calculations.
Given the upgrade in outlook, I would expect the next Wisconsin Economic Forecast to show a less pronounced — and a later — downturn in nonfarm payroll employment.  Given the national level benchmark revision which raised national level NFP employment in December by about 800K, we should anticipate an analogous effect on Wisconsin level employment. Unfortunately, we won't see the state level benchmark revisions and January numbers until early March. Hence, I use the first-difference relationship between Wisconsin  employment and national employment in logs, 2021M12-2022M12, to estimate a relationship:
ΔnpfWI = -0.002 + 1.44ΔnfpUS
Adj-R2 = 0.40, SER = 0.0017, DW = 1.90, Nobs = 13, bold denotes significance at 5% msl using HAC robust standard errors.
I then use the benchmark revised growth rates in national employment to predict the new level of Wisconsin employment (working off of the actual level of Wisconsin employment in 2021M11). This implied level shows up in Figure 3 as a brown line.
Federal Policies and Impact on Wisconsin
How has legislation enacted since January of 2021 affected the Wisconsin economy. I pointed out that several policy measures have been put into place, including the Bipartisan Infrastructure Law ($1.2 trillion over five years), the Inflation Reduction Act ($400-$800 billion in tax credits etc.), and CHIPS ($280 billion).
The first measure is the easiest to assess. As of November 2022, $2.7 billion had been allocated, of which $2.4 billion was to transportation. The Administration anticipates about $5.4 billion to be allocated to Wisconsin eventually. Using a rule of thumb that a $100 billion expenditure results in 1 million FTE years means that one gets about 54,000 person years of enhanced employment. Distributed over five years means that nonfarm payroll employment is about 1% higher than otherwise.
Another way to look at this is to think of $5.4 billion multiplied by 1.6 (Moody's number for infrastructure, CBO range is 0.4-2.2) is about 0.6% of GDP for each of 5 years (where Wisconsin GDP was $303 billion in 2021).
The other provisions are harder to assess. The Inflation Reduction Act provides tax credits and incentives for green technology investment, along with an extension of the Affordable Care Act, at about $400 billion. To the extent that Wisconsin, as a medium industry heavy state, is involved, the enhanced investment will spur further GDP and employment increases.
Finally, the CHIPS act ($280 billion) provides funds to subsidize the building of semiconductor chip facilities. Wisconsin came close to an investment from Intel (to use the Foxconn facilities – that is another story), but missed out. However, to the extent that semiconductor chip supply is enhanced, this will reduce the cost of production for Wisconsin manufacturing firms.
Then there are other non-actions. In particular, the Administration has retained the Section 232 aluminum and steel tariffs, as well as the Section 301 tariffs levied against China. Since Wisconsin is a user of steel and aluminum, as well as other intermediate inputs imported from abroad, on net the retention of these tariffs and restrictions is likely subtracting away from employment.
Russ (2020) estimates 75,000 jobs were lost in 2019 due to the steel and aluminum tariffs, with probably more occurring since then. Since Wisconsin accounted for about 3.8% of national manufacturing employment in 2019, that meant that Wisconsin lost perhaps around 3000 manufacturing jobs. That's roughly 0.6 of Wisconsin manufacturing employment in 2022. (A big number or not? Remember, the Scott Walker administration and Republican legislature were going to pay out as much as $3 billion in state funds to entice Foxconn to bring 13,000 jobs to Wisconsin.)