Or, the continuing investigation of how drought does not explain the Kansas economic debacle, using conventional econometric techniques.
In commenting on this analysis of Kansas GDP trends, reader Rick Stryker asserts the Kansas drought indicator can be best characterized as stationary, and argues treatment of that variable as nonstationary can lead to misleading inferences. He then concludes my ECM "results are illegitimate". Here, I re-estimate using an ARDL specification robust to such a possibility (interested readers can consult these results to decide for themselves whether the Kansas PDSI is best treated as nonstationary). I find drought is not a statistically significant determinant of agricultural output, nor an economically substantial determinant of Kansas economic output.
Kansas Agricultural Output
Using the default automatic selection procedure in EViews, the optimal relationship estimated between agricultural output (AGR, real value added in Ch.2009$) and the Palmer Drought Severity Index for Kansas (PDSI) is:
AGRt = 1182.4 + 0.688AGRt-1 + 12.483PDSIt
Adj-R2 = 0.45, N = 44, SER = 591.7, number of models evaluated = 20. bold face denotes significance at 10% msl.
The Kansas PDSI coefficient is not statistically significant. The results do not differ if agricultural output is entered in log terms (all regression output here.)
The Kansas Malaise and Drought
What about log real Kansas output (gdpKS) and the relationship to log real US output (gdpUS), and the Kansas PDSI? In that case, the drought variable coefficient is again not statistically significant. And controlling for Kansas government output, as well as the real value of the US dollar? Then one obtains:
gdpKSt = 0.708 + 0.582gdpKSt-1 + 1.070gdpUSt – 0.741gdpUSt-1 + 0.002PDSIt – 0.003PDSIt-1 – 0.001PDSIt-2 + 0.001PDSIt-3 + 0.376govt + 0.103govt-1 – 0.217govt-2 – 0.027rt
Adj-R2 = 0.96, N = 43, SER = 0.008, number of models evaluated = 2500. bold face denotes significance at 10% msl using HAC robust standard errors.
The fitted and dynamically forecasted values of Kansas GDP are shown in Figure 1.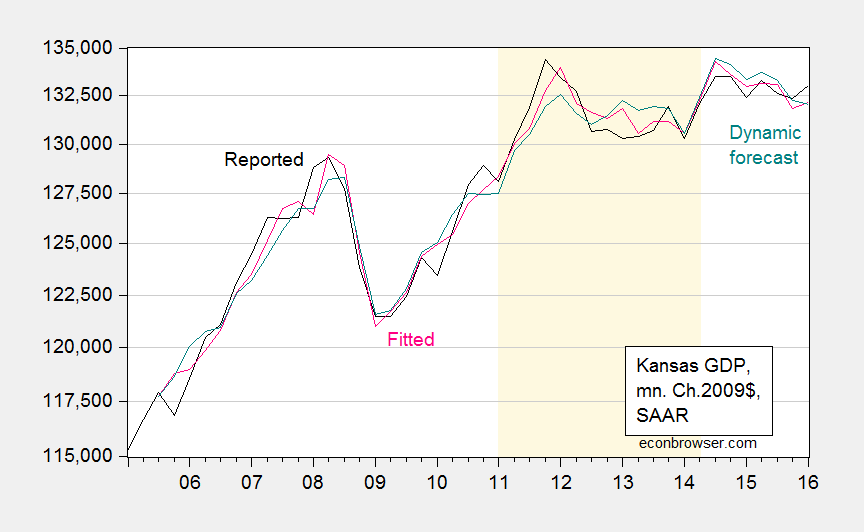 Figure 1: Kansas GDP (black), fitted (pink), dynamic forecast (teal). Drought dates as suggested by Political Calculations (light brown). Source: BEA, and author's calculations.
Only the third lag of PDSI is significant; contemporaneous government output is also significant. Since the two variables have different ranges, then it's hard to compare the impacts directly. One way to do this is to use standardized, or beta, coefficients. The (statistically significant) PDSI and government coefficients are 0.09 and 0.25, respectively, suggesting the impact of the latter is greater.
Counterfactuals
Another way to compare the relative importance of drought and government output in determining Kansas GDP is to do a couple of counterfactual exercises using the estimated equation. In Figure 2, I show the counterfactual output level holding the Kansas Palmer Drought Severity Index at 2010Q4 levels from 2011Q1-2014Q2 (red line) and government out at 2011Q1 levels (blue line).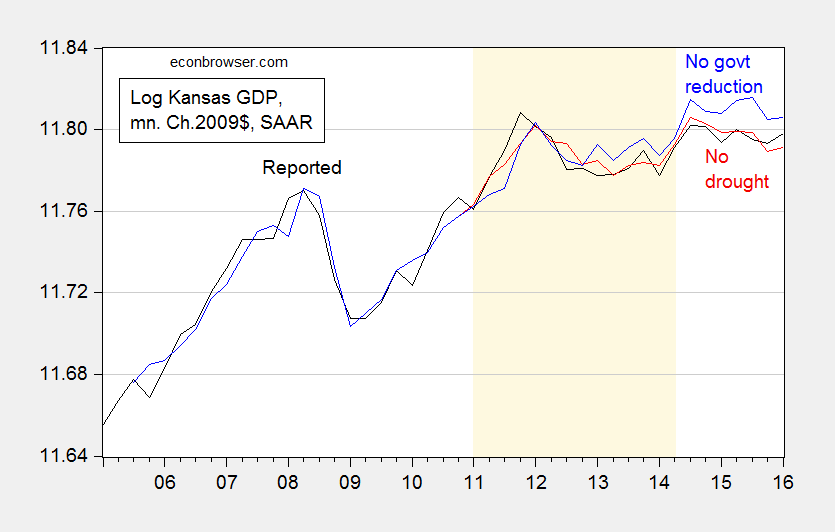 Figure 2: Log Kansas GDP (black), fitted values without drought (red), and without government output reductions (blue). Drought dates as suggested by Political Calculations (light brown). Source: BEA, and author's calculations.
Over the period identified as a drought by Political Calculations, the impact of reduced government spending is larger than that of drought. I would say this is not too mysterious, given that agricultural output was only 4.5% of total in the last quarter before the drought began.
Conclusion
If you believe the Kansas drought variable is better treated as a unit root process, drought does not substantially explain the Kansas downturn (see here). If you are agnostic about the Kansas drought variable, drought does not substantially explain the Kansas downturn. The downturn in government output better accounts for the Kansas downturn.
And of course, it is hard to appeal to drought as the cause of the recent downturn in Kansas economy, given the improvement in weather conditions since the beginning of the year, as documented here.