Or, the self-rehabilitation effort continues. In a WSJ op-ed entitled "Government Forecasters Might as Well Use a Ouija Board", he writes:
My analysis of 1999-2013 reveals that the CBO's real GDP growth forecasts for the next year were off, on average, by 1.7 percentage points, either too high or low. Administration forecasts were similarly off by a slightly larger 1.8 percentage points on average, also to high or too low. Given that the average growth rate during this period was only 2.1%, errors of this magnitude are substantial.
Perhaps most damning: History is a better predictor of annual growth than government forecasts. Simply assuming that GDP growth will be 3.1% in each year — the average annual rate for the 30 years that precede the study period — results in an average forecast error of 1.5 percentage points.
This is an interesting conclusion, and I don't have doubt that one could pick a number such that a no-change growth rate prediction could outperform forecasts. But it's not clear this finding is robust. It's also not clear it is a relevant comparison. Table 1 from CBO (2013) presents some information regarding forecast errors (for two year horizons).

Source: CBO, CBO'S Economic Forecasting Record: 2013 Update (January 2013).
Notice the bias and dispersion are similar across government and private sector forecasts. CBO in particular is on par with the Blue Chip. Note that RMSE and MAE seem roughly equivalent; MAE is more appropriate if the distribution of forecast errors is non-normal).
Lazear's criterion is focused on the second moment over a particular sample period. However, one might reasonably believe that forecasting accuracy is more critical at turning points (peaks, troughs). The CBO provides an interesting comparison of errors associated with CBO, OMB and Blue Chip forecasts.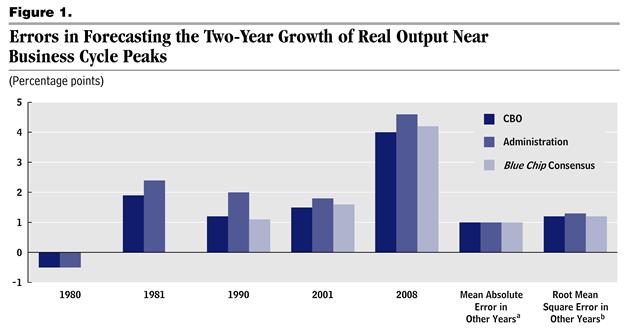 Source: CBO, CBO'S Economic Forecasting Record: 2013 Update (January 2013).
Notice the largest error in 2008 is that of the Administration. Relatedly, one of Ed Lazear's earliest appearances in Econbrowser is in this 2008 post, wherein he is quoted from a May 8th WSJ article:
"The data are pretty clear that we are not in a recession."
This was, and remains, a surprising comment. After all, 23 respondents in the May 2008 WSJ survey forecasted negative growth for 2008Q2.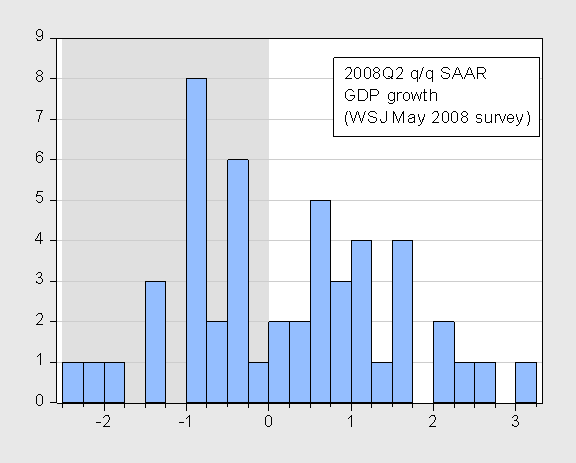 Figure 1: Quarter on quarter SAAR growth forecasts for 2008Q2, from Wall Street Journal May 2008 survey. Source: WSJ.
Interestingly, Liberty Street/FRBNY reports that about 45% of the research staff in April 2008 (I'm eyeballing the third figure) expected negative growth over 2007-08.
Now, readers can judge for themselves whether an unconditional no-recession statement was reasonable. To assist in your assessment, I present the data Ed Lazear knew as of May 8, 2008, relying upon the St. Louis Fed ALFRED database.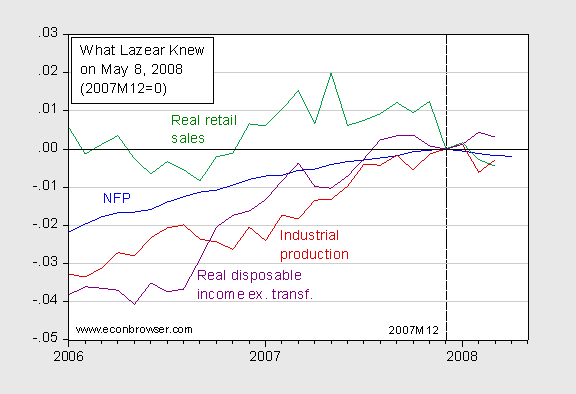 Figure 2: Log nonfarm payroll employment (blue), industrial production (red), real retail sales (green), and real disposable income excluding transfers (purple), all normalized to zero at 2007M12; data available as of May 8, 2008. Source: St. Louis Fed ALFRED database, and author's calculations.
I don't have the Macroeconomic Advisers monthly GDP series that Professor Lazear would have had, but here is a WSJ RTE post from three weeks before Professor Lazear's statement:
Forecasting firm Macroeconomic Advisers updated its monthly GDP estimate for February, showing a 1.2% decline in February. It was the second largest one-month decline in the nearly 16-year history of the index, behind a 1.6% drop in September 2001.

"The sharp drop in monthly GDP in February was led by a sharp decline in nonfarm inventory investment," said Macroeconomic Advisers. "Also subtracting from monthly GDP were declines in net exports, capital goods, and construction."

The firm currently expects GDP to grow 0.2% in the first quarter. The monthly GDP estimate is one of the estimates examined by the National Bureau of Economic Research when it is calculating when a recession has begun.
For a post soon: a tabulation of who predicted in 2008-09 massive inflation as a consequence of unconventional monetary policy…
For more on government agency forecasts across countries, see Frankel, OREP (2011). For other criterion in forecasting, in an exchange rate context, see Cheung et al. (2005). The direction of change criterion in particular seems useful (see Stekler (2011), p.116), but has not been applied in the context of government agency forecasts of GDP, with a few exceptions (e.g., Sinclair et al. (2010)).
Update, 10/28, 6:30PM: Reader Vivian Darkbloom criticizes me for focusing on 2008Q2 forecasts, but not the 2008Q3 forecasts from the May 2008 WSJ survey. First, note the 2 consecutive quarter recession criterion is merely a rule of thumb. Second, nine respondents out of 51 reported average negative 2 quarter growth. Third, the median probability of recession in the May survey is 65%.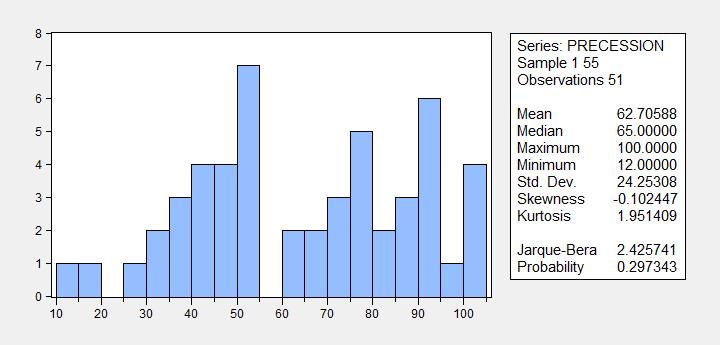 Source: WSJ May 2008 survey.
I think that's a relevant statistic.