At the beginning of the week (9/27), Bruce Bartlett forwarded me a link to a remarkable document, entitled "Scoring the Trump Economic Plan: Trade, Regulatory, & Energy Policy Impacts" (strangely, dated 9/29), coauthored by Peter Navarro* and Wilbur Ross. I'm way behind the curve, and there have been numerous examinations of the document, so I will not discuss the entire paper. Rather I'll focus on the following specific question: would renegotiating trade agreements and slapping tariffs on China, conjoined with the Trump fiscal policy, induce a drastic change employment and trade flows? The short answer — yes, but probably in a direction opposite of that posited by the authors.
Trade Flows under Exogenous Financial Capital Flows
There are (at least) two views of Donald Trump's threats to impose sanctions on Mexico and China. The first is as a negotiating tactic, which will wrest concessions from these parties so that in the end, tariffs will not be imposed. The second is that these are real threats that will be carried out in a Trump presidency. I'll take the second as given (since the US would not in my opinion have much basis for argument under the terms of the WTO).
If the 45% tariffs are imposed on China (presumably, as the Trump campaign website indicates, based on assertions of ongoing currency manipulation to undervalue the yuan, a dubious assertion), the most likely outcome is retaliation by China, of some sort. Hence, any sort of gain in jobs in import-competing industries would be mitigated by losses in exporting industries. In addition, it is likely that such sanctions would induce migration of production away from China and toward other East Asian countries where labor costs are still low (in other words, it would accelerate a process already underway). [For discussion of this single policy measure, see here] That means the impact on the overall US trade deficit with the rest of the world would be relatively small, and hence the impact on manufacturing jobs in the US would be small (or depending on the extent and nature of the retaliation, negative).
There are two important economic factors to remember when discussing this general issue of manufacturing. First, a lot of trade today is not in final goods, but rather intermediates. The canonical example is the i-phone; there is lots of US-China trade in the final products, but the value added actually comes from all over East Asia (and the US) [see this post, this paper], so a heavy tariff on Chinese goods would not address the basic problem that the relevant labor costs are much lower abroad. Second, labor productivity in manufacturing has grown rapidly since the passage of NAFTA and the granting of PNTR to China, and so even if production comes back to the United States (as some has already), jobs would not necessarily.
Finally, it is unrealistic to think that other factors will remain unchanged. The partial equilibrium/elasticities approach to trade balances implicitly holds the trade balance…balanced. Or at least the trade deficit fixed. That partial equilibrium approach is, I think, unrealistic.
What Determines Trade Balances? Macro vs. Micro
Recall the balance of payments:
CA + FA + ORT ≡ 0
The current account (CA) is approximately the trade balance (or net exports) for the US. FA is financial capital flows. ORT is official reserve transactions. For the United States on a full float, ORT can be thought of as zero. Then to a first approximation CA and FA must be of equal and offsetting magnitudes. Which account drives the other depends on the model? Most macroeconomists (of most flavors, be it Keynesian, Classical, Humean) would likely place primary importance at business cycle frequencies on macro factors.
If the full Trump agenda is implemented, the likely outcome is (1) an elevated government budget deficit which would tend to offset other contractionary effects of policies, and thereby supporting imports, (2) strengthen the dollar thereby further increasing imports and diminishing US exports to the rest of the world. Figure 1 depicts dollar/net export correlations.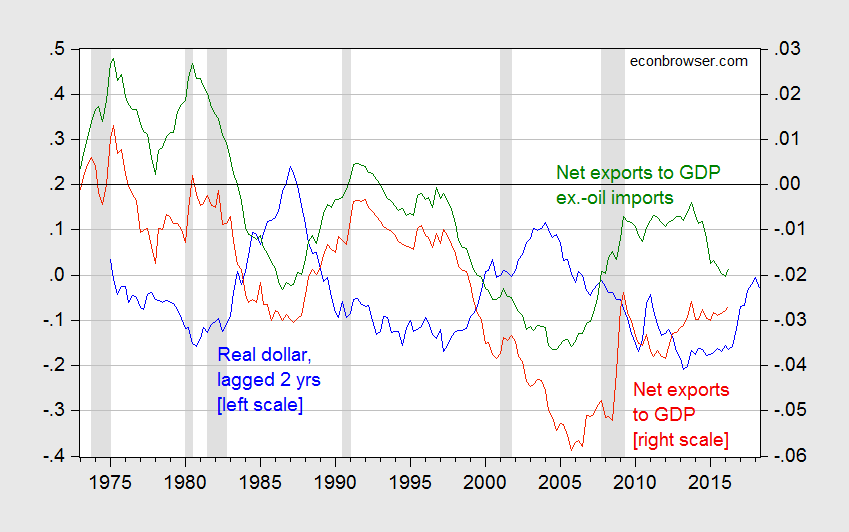 Figure 1: Log real value of US dollar lagged two years (blue, left scale), and net exports to GDP (red, right scale), and net exports to GDP ex.-oil imports (green, right scale). NBER defined recession dates shaded gray. Source: Federal Reserve, BEA (2016Q2 2nd release), NBER, and author's calculations.
Of course, it is conceivable that Mexico and China would roll over and just accept wholesale renegotiation of the conditions under which China accession to the WTO occurred (in the latter case), and NAFTA (in the former). Alternatively, as has been pointed out, withdrawal from NAFTA could be relatively easily implemented without retaliation, but I do not see how this would have a noticeable impact on manufacturing employment, on its own.
Quantitative analysis of partial implementation of the overall Trump agenda, discussed here.
---
* Full disclosure: I am a former coauthor with Peter Navarro [link].↩
Addendum 2pm Pacific: Goldman Sachs has a nice table outlining short run effects:


Source: Daan Struyven, "The Economics of Higher Tariffs," US Economics Analyst (Goldman Sachs Macro Economics Research, 30 September 2016) [not online].
Update, 10/3: I see that Mr. Trump has long been working hard to support the US manufacturing base, by purchasing Chinese made steel and aluminum instead of US produced materials.
Of Trump's last three construction projects, the first to use Chinese steel was Trump International Hotel Las Vegas, which opened in 2008.
…

According to government documents, the Chinese entity chosen by Trump to provide steel for the Las Vegas property is a holding company called Ossen Innovation Co. Ltd.–formerly known as Ultra Glory International Ltd. That British Virgin Islands entity in turn owns a second holding company called Ossen Innovation Materials Group Ltd., which, through a complex legal arrangement, indirectly owns Ossen Innovation Materials Co. Ltd., and through it, Ossen (Jiujiang) Steel Wire & Cable Co. Ltd., the operating business located in Shanghai. With such layers upon layers of corporate shells and divisions, builders like Trump can purchase their steel from less-expensive Chinese suppliers without the ultimate supplier being readily apparent. That steel was then used in the construction of the Las Vegas property.

When Americans like Trump purchase their steel through Ossen, they are providing financial benefits to an array of Chinese companies and even the government. For example, Ossen corporate records show Chinese banks provide all of its short-term financing in the form of loans that almost all mature after one year, and then are replaced by new loans; most Chinese banks are arms of the state, tightly controlled by the Chinese Communist Party, and provide financing to companies that are competitors to American manufacturers in other industries. (For example, the Chinese companies that manufacture suits and ties for the Donald Trump Signature Collection also obtain loans from mainland banks; Trump has said he has been forced to use the Chinese for his clothing lines because no American company makes those kinds of products anymore. That is not true—for example, all Brooks Brothers ties are made in New York, while about 85% of the company's suits are made in Massachusetts.)

Another recent Trump building that has used metal from China is Trump International Hotel and Tower in Chicago, which opened in 2009.

…

The building required tons of aluminum and Trump elected not to purchase the metal from Alcoa or any other similar American producer, but instead turn to a subsidiary of a Chinese aluminum manufacturer. Because American businesses have been turning to cheaper aluminum from overseas, the industry is collapsing. For example, in just the last two years, more than half of the country's aluminum smelters in states like Ohio, West Virginia and Texas have closed as a result of being undercut on price by competition from overseas.

…

For the Chicago project, tracing the metal back to China is once again a difficult process. To construct the exterior panels, Trump hired an entity called Permasteelisa Cladding Technologies Ltd., which is based in Connecticut. That company, in turn, is a division of Permasteelisa North America Corp., which, despite its name, has been identified by the American government as an importer of steel, aluminum and other metals from its affiliated companies, Permasteelisa South China Factory and Permasteelisa Hong Kong Limited.

During the time of the Trump Chicago construction, according to documents filed with the United States Court of International Trade by the Department of Justice and the Department of Commerce, Permasteelisa was dumping aluminum used in curtain walls, meaning it was using predatory pricing to sell the products below the cost of production or the amount charged in China. The beneficiaries of trade dumping are users of the material, like Trump, who save significant sums of money on construction, thus increasing their profits. The losers are the American competitors like aluminum producers who cannot possibly compete with foreign companies that are willing to take losses on the sales of their building materials in hopes of driving companies in the United States out of business.