As noted by Jeff Frankel:
In terms of what the president can actually control to reduce inflation, one neglected tool is trade policy. Former President Donald Trump put these tariffs on aluminum and steel, and everything we import from China — all kinds of goods. The tariffs raise prices to consumers. It seems to me a no-brainer to undo those barriers. Biden should be able to get China and other countries to reciprocally lower some barriers against us. But with or without that, removing tariffs could bring down consumer prices and prices to businesses for steel and aluminum and all kinds of inputs immediately. That's the one thing that the government could most rapidly control.
Relevant to the discussion of inflation, one of the things that differ between the 1970's and the 2020's is the openness of the US economy: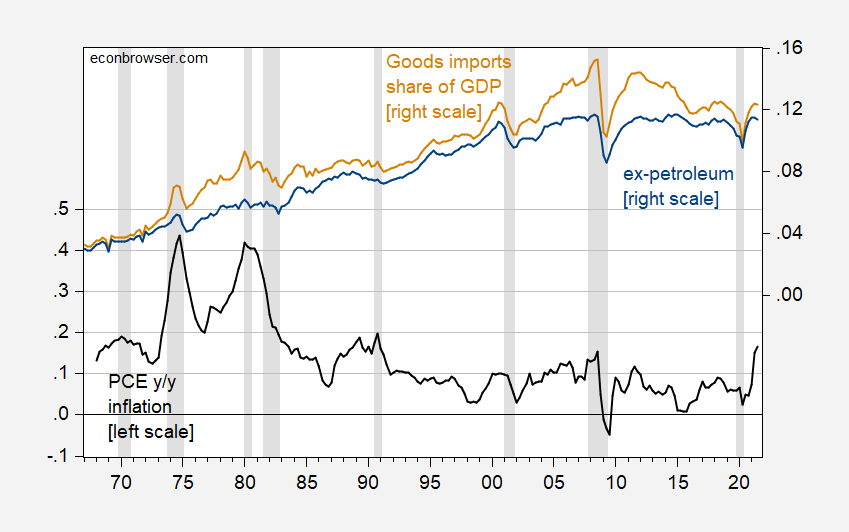 Figure 1: Personal consumption expenditure deflator inflation, year-on-year (black, left scale), and goods import share of GDP (brown, right scale), and goods ex-petroleum imports share of GDP (blue, right scale). NBER defined recession dates peak-to-trough shaded gray. Source: BEA 2021Q3 advance release, NBER, and author's calculations.
Before inflation surged in 1974, non-oil goods imports were about 4.1% of GDP (1972Q3). Prior to the trade war, that ratio was 11.4% (2018Q1). While it's not clear that external influences will always moderate inflation — after all prices could be rising faster in our trading partners (or it could be the shrinking world output gap now matters more), or the dollar could be depreciating. However, to the extent that one is not relying upon solely or mostly domestic suppliers, and foreign suppliers are exerting competitive pressures, openness would tend to reduce inflationary pressures. At least that's more true if quotas and tariffs and combinations thereof are not limiting competitive pressures from abroad (see this post; it's not a given that changes in import prices translate into broader price indices, but for iron and steel, it's suggestive). See also Flaaen and Pierce (2019) for estimated impacts on producer prices arising from the 2018 tariff barriers.
To me, getting rid of the Section 232 tariffs, which were placed largely on US allies (and largely a gift to US steel firms), should be a no-brainer.
As an aside, here's a interesting picture of effective tariff rates on imports from China, from Flaaen, Langemeier and Pierce (2021) (the new tariffs were Section 301 tariffs, since most of the iron/steel imports from China were already sanctioned under anti-dumping/countervailing subsidy measures).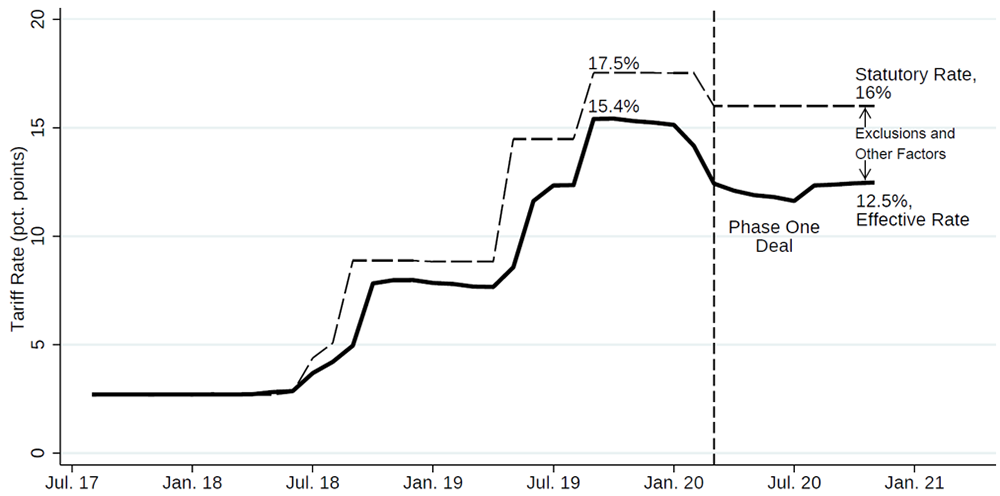 Source: Flaaen, Langemeier and Pierce (2021)