Reader Steve Kopits writes about the debate over employment numbers:
At the same time, I thought it possible that both surveys were in fact correct, but garbled with the effect of the recovery from the suppression, thereby creating misleading impressions because we were misinterpreting the data. That still seems possible, though I've read that others think the CES was manipulated to provide a more rosy picture heading into the election.
This statement joins a long pile of such allegations, e.g.,  Senator Barraso, Jack Welch, former Rep. Allan West, Zerohedge, Mick Mulvaney, among others. All I can say is that if there was a conspiracy, they didn't do a very good job. With the benefit of the January benchmark revision, we can update our assessment of how badly the purported conspirators performed their job.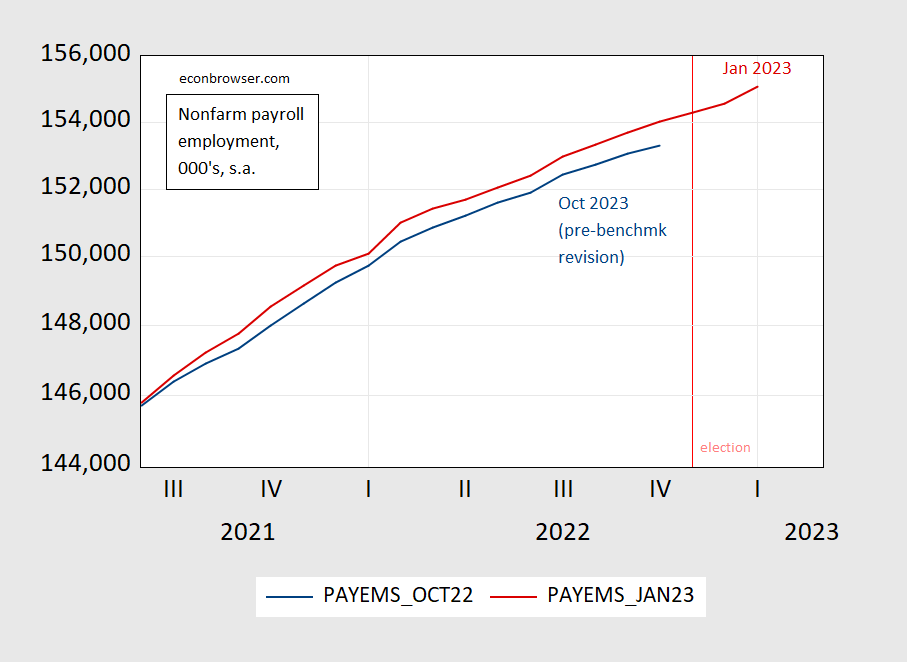 Figure 1: Nonfarm payroll employment in January 2023 release (red), in October 2022 release (blue), in 000's, s.a. Source: BLS via FRED.
Now, it may turn out eventually (after another benchmark revision the results of which will be released in February 2024) that in Q2 NFP will turn out to be lower than indicated in the CES. But for purposes of deceiving the electorate in November 2022, this seems like a lousy way of doing it.
In any case, before people start crying that the data are manipulated, I wish they would read the BLS technical notes on (1) revisions and mean absolute revisions, (2) benchmark revisions, (3) the calculation of seasonal adjustment factors, (4) the application of population controls in the CPS. Before they start citing the various series, I wish they understood the informational content (relative to business cycle fluctuations) of the CPS employment series vs. that of the CES employment series. That understanding can be obtained by reading works by people who understand the characteristics of the macro data (Furman (2016); CEA (2017); Goto et al. (2021)).
From a sociological perspective, I do wonder why conspiracy theories are so attractive to some individuals. Here's a Scientific American article laying out some of the character traits that are associated with adherence to conspiracy theories.