Paul Krugman notes Governor Walker's advisers on economics at a recent meeting are Larry Kudlow, Stephen Moore and Arthur Laffer. These folks make appearances in the Econbrowser archives.
Larry Kudlow
From The Financial Crisis: Foreseeable and Preventable (Feb. 2011). Jeff Frieden asks, in the NY Times, why warnings of imminent housing collapse and financial crisis were ignored:
Ideology probably mattered. Larry Kudlow, economics editor of the conservative National Review, in 2005 dismissed "all the bubbleheads who expect housing-price crashes in Las Vegas or Naples, Florida, to bring down the consumer, the rest of the economy, and the entire stock market." Of course, the bubbleheads were exactly right, but the predictions did not accord with Kudlow's partisan commitments or his ideology.

And so it is with the post-mortems. Politicians, special interests, and ideologues all have their reasons to insist on a particular interpretation of the crisis. And those connected to the Bush administration have strong incentives to deny that the administration could have done anything differently. But they are wrong.
Stephen Moore
From State Employment Trends: Does a Low Tax/Right-to-Work/Low Minimum Wage Regime Correlate to Growth?, it's shown that the Laffer-Moore-Williams Rich States, Poor States ranking of business environment does not correlate with growth. 47th ranked California outpaces 17th ranked Wisconsin (or 15th ranked Kansas). Using the entire 50 state ranking, I also show that there is little apparent correlation.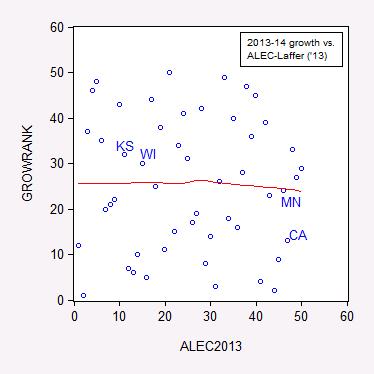 Figure 1: Ranking by annualized growth rate in log coincident index 2013M01-2014M03 versus 2013 ALEC-Laffer "Economic Outlook" ranking. Nearest neighbor nonparametric smoother line in red (window = 0.7). Source: Philadelphia Fed, ALEC, and author's calculations.
Arthur Laffer
I first met Arthur Laffer more than 30 years ago. His presence on Econbrowser has been consistent, most recently in Whistling past the intellectual graveyard…the Extreme Supply-Sider one in Topeka, that is. Additional appearances, on seasonals (joint appearance with Professor Casey Mulligan), and in spirit, supply side responses (joint appearance with Bill Beach/Heritage Foundation), tax elasticities (joint appearance with Governor Mitt Romney).
I am ever thankful for the likes of Kudlow, Moore, and Laffer, even as they drag down the level of economic discourse. They just provide too many examples of how not to conduct serious analysis.
(For those who don't recognize the allusion in the title, see here.)
Update, 8PM Pacific:
NB: Rick Stryker Notes that these men are not formally Governor Walker's economic advisers. That observation is correct; they merely hosted the private meeting that Walker was guest of honor and provided their advice, as discussed here. The Governor has a set of official economic advisers in Wisconsin state government.
Update, 2/22, 9:30PM Pacific: Here is an article on one of the Governor's economic advisers.
Update, 2/25, 2:30PM Pacific: Here is a Bloomberg article on the Wisconsin economy's progress under Governor Walker.