(Somewhat repetitive of a 2007 post…)
Steven Englander of Standard Charter writes several weeks ago (not online):
"From the Treasury's perspective, the purpose of a strong dollar policy is less a strong dollar itself than to encourage foreigners to lend to the US on favourable terms even when the dollar is under pressure. The success of a strong dollar policy is reflected in the absence of USD risk premium on US assets when the USD is weak. In fact, the preferred asset market outcome is probably for the US to gain an export advantage via a weak dollar without paying a price on the financing side. But to be clear, the negative correlation between the USD and US yields over a period of decades suggests that neither an overtly strong nor an overtly weak USD policy affects borrowing costs significantly"
Is there a link between the interest rate and the currency's value, in theory or in practice? At this point, it's important to distinguish between the level of the currency's value and the rate of change in the currency's value.
The overshooting model of the exchange rate due to Dornbusch and Frankel says the real interest differential determines the value of the currency (higher relative real interest rates induce a stronger currency), while interest rate parity (a building block of the overshooting model) indicates currency depreciation must equal nominal interest differential, ignoring risk premia. Even if real interest rates only explain a small proportion of exchange rate levels, they are about the only one that works empirically.
Regarding the concern about higher US long term interest rates (short rates discussed here), the question is whether longer term interest rates — which are more relevant to financing costs of the Federal government — do indeed hold to uncovered interest parity. Actually, there's a second question if the answer to the first is "yes" – that is whether it's US interest rates or foreign interest rates that move in response to expected depreciation. (On this, I'm not aware of much research, aside from Bruneau and Jondeau (1998). Chinn and Frankel (2006) find a role for US government bond yields on for foreign government bond yields, but not vice versa).
On the first, we have some evidence, from Chinn and Quayyum (2013) following up on Chinn and Meredith (2004). They find that there is some evidence for US based exchange rates that the unbiasedness hypothesis – the joint hypothesis of uncovered interest parity and rational expectations – holds at the 10 year horizon, a bit less clear for 5 year horizon. (Here I'm not taking into account the liquidity premium associated US Treasurys that Engel has demonstrated is important; accounting for them would probably make the unbiasedness hypothesis hold more strongly.)


So, there is a tendency for ex post exchange rate changes to compensate for interest differentials at maturities of five to ten years. Of course, there is still the question whether foreign interest rates, US interest rates or both would move in response to increasing expected depreciation (or indeed if expected depreciation moves — a no arbitrage profits conditions doesn't tell us what causes what…). So, here's the current configuration of interest rates in some major economies.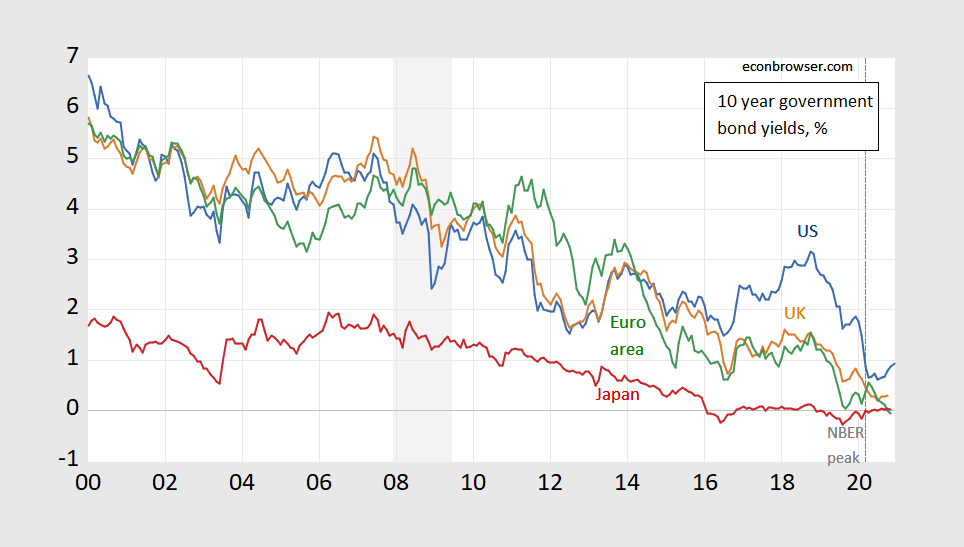 Figure 1: Ten year government bond yields for US (blue), UK (brown), Euro area (green) and Japan (red). NBER defined recession dates, peak, shaded/dashed gray. Source: FRED, NBER.
For those of us who believe a weak dollar is desirable on expenditure switching grounds, but don't want a weakening dollar to induce higher US government financing costs, it's possible to square the circle by having a discrete dollar depreciation to a long term equilibrium that is associated with no further depreciation. To get there, though, or to get to say 2014 levels will take some more depreciation.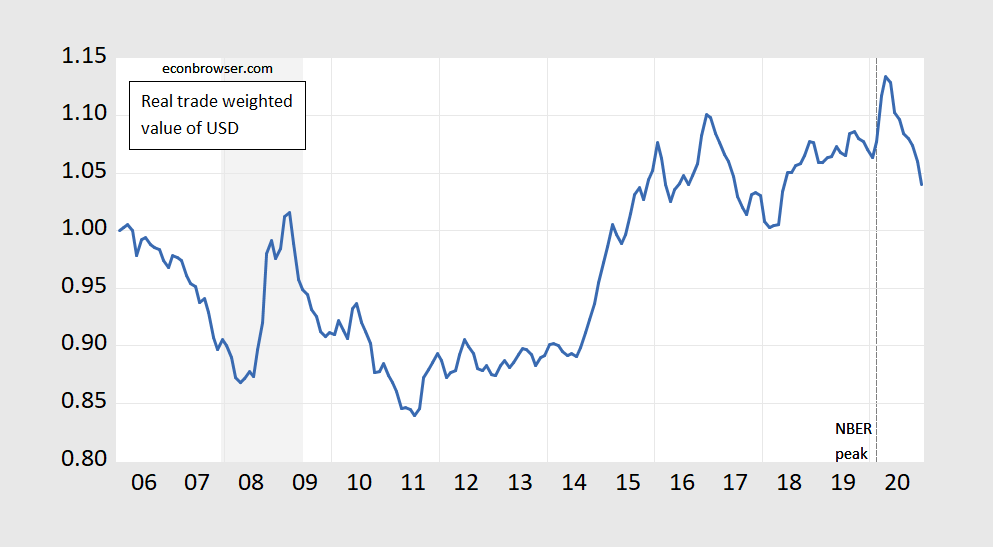 Figure 2: Real value of the US dollar against broad basket of currencies, trade weighted, 2006M01=1. NBER defined recession dates, peak, shaded/dashed gray. Source: FRED, NBER.