Some observers argue the rise in unemployment insurance claims signals we are in, or soon to be, in a recession (e.g., [1]). Here's an alternative view (A follow up on "So you think we might be in a recession today" Part I, Part II, Part III, Part IV, Part V, Part VI, as well as "So you think we might be in recession as of mid-June", Part I and Part II, and "So you think we might be in a recession as of mid-July".)
From R. Walker in Goldman Sachs today:
Initial jobless claims have increased by nearly 100k since their March low of 166k. While the level of claims remains historically low at 260k, the rapid deterioration has convinced some market participants that the labor market has slowed by more than other indicators might suggest.

However, we find that two distortions explain most of the increase in initial claims. First, about half of the rise appears to be a statistical illusion resulting from residual seasonality that appeared after the Labor Department reintroduced multiplicative seasonal adjustment to the series earlier this year. …

Second, there have been outsized increases in initial claims in Connecticut and Massachusetts over the last month (roughly +20k in total) that likely overstate the actual number of layoffs.
After adjusting for these two distortions, GS concludes there's been a much less pronounced increase in unemployment insurance initial claims.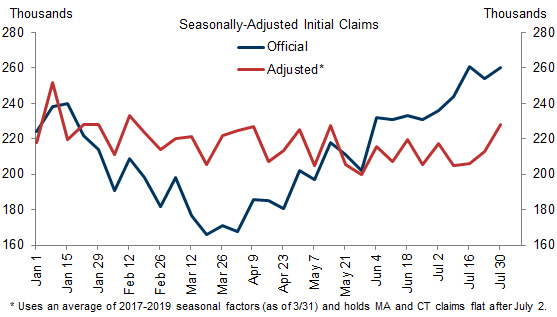 Source: Ronnie Walker, "Explaining Away the Recent Rise in Initial Jobless Claims," Goldman Sachs, August 10, 2022.
If one is dubious of these adjustments, one can also calculate a 3 year change in the seasonally unadjusted series to see if indeed claims are rising rapidly.